Persepsi Mahasiswa Terhadap E-commerce melalui Facebook di
Kecamatan Sumbersari Kabupaten Jember
Senna Saflianda Cendikia Putra

Jurusan Manajemen, Fakultas Ekonomi dan Bisnis, Universitas Jember Jln. Kalimantan 37, Jember 68121

Ketut Indraningrat

Jurusan Manajemen, Fakultas Ekonomi dan Bisnis, Universitas Jember Jln. Kalimantan 37, Jember 68121

Abdul Halim

Jurusan Manajemen, Fakultas Ekonomi dan Bisnis, Universitas Jember Jln. Kalimantan 37, Jember 68121
Abstract
This study aimed to describe the students' perceptions of E-commerce via Facebook in the subdistrict Sumbersari
district of Jember. Research approach used in this study is a qualitative research, study subjects are set in a way
that amounted to 7 Sampling Snowball informants students. Informants were selected based on experience using the
E-commerce via Facebook and advised his colleagues who had similar experiences to serve as the next informant.
The method used is Triangulation of data, whereas the method of analysis using descriptive analysis aims to
determine the depiction of the condition of the research is based on interviews of informants answer. The data
collection process begins with interviews and retrieval of documents directly to the informant. The results showed
about their perceptions of E-commerce via Facebook divided into two groups, namely that the E-commerce via
Facebook is a trend to shop online nowadays, and is considered very good, effective and efficient. Also obtained
information that the majority of informants using E-commerce via Facebook on its own initiative and rest on the
recommendation of a friend.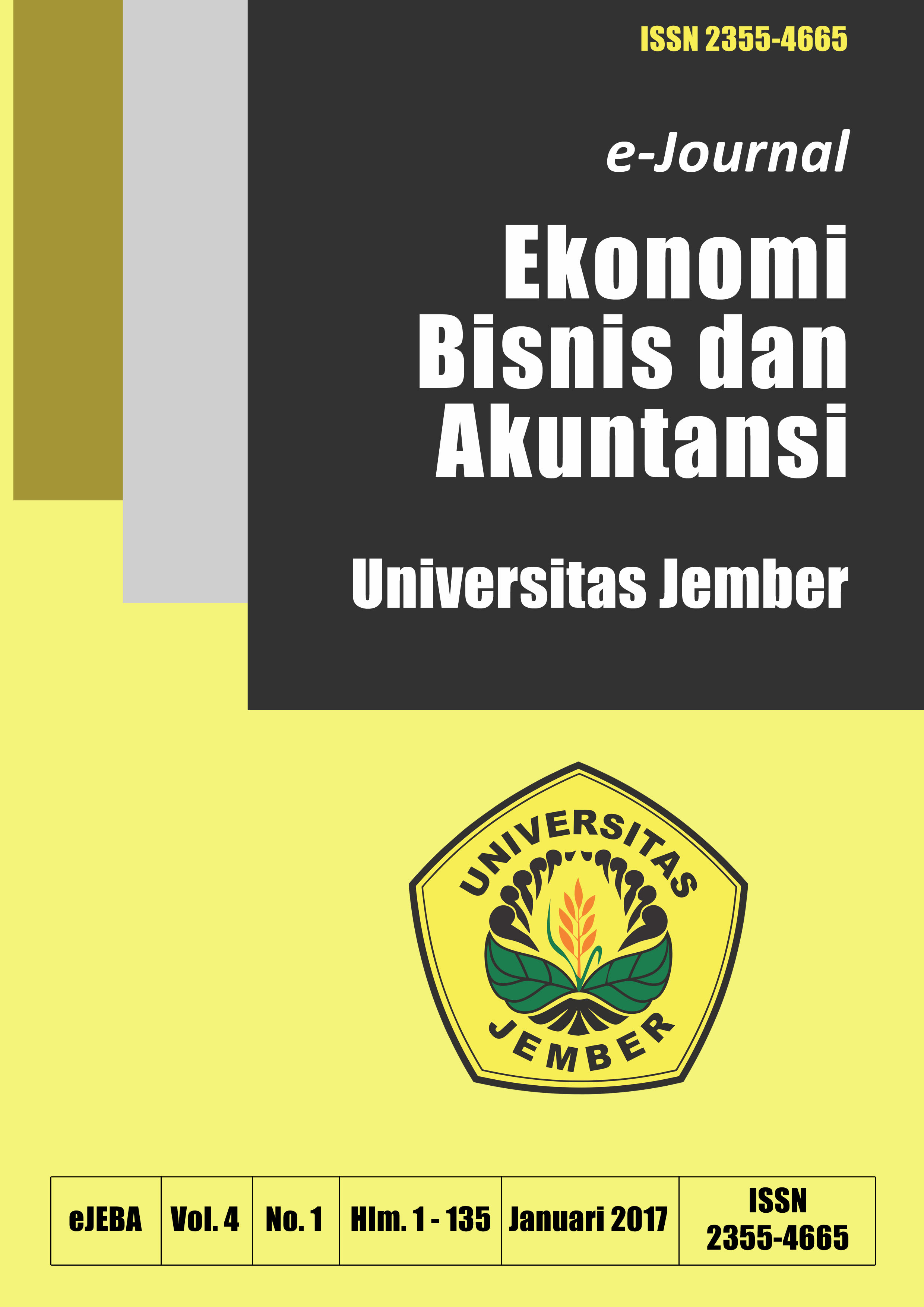 Penulis yang mengusulkan naskahnya untuk dapat diproses penerbitannya pada e-JEBA dianggap telah menyetujui beberapa hal sebagai berikut:
1. Penulis tidak dapat menarik naskah yang telah usulkan untuk diproses hingga mendapat jawaban dari Ketua Dewan Penyunting atas status naskah artikel ilmiahnya (diterima atau ditolak untuk diterbitkan).
2. Penerbit tidak bertanggung jawab terhadap kasus plagiasi atas artikel yang terbit pada e-JEBA.
3. Penerbit tidak bertanggung jawab atas data dan isi dari artikel yang diterbitkan pada e-JEBA, dan sepenuhnya merupakan tanggung jawab penulis.
4. Penulis yang artikelnya diterbitkan pada e-JEBA menyetujui lisensi berikut:

eJEBA by University of Jember is licensed under a Creative Commons Attribution-NonCommercial 4.0 International License.