Persepsi Petani Terhadap Konsep Ketahanan Pangan Melalui Ekonomi Kebersamaan di Kabupaten Situbondo
Duwi Yunitasari

Fakultas Ekonomi dan Bisnis, Universitas Jember

Fivien Muslihatinningsih

Fakultas Ekonomi dan Bisnis, Universitas Jember

Herman Cahyo Diartho

Fakultas Ekonomi dan Bisnis, Universitas Jember

Endah Kurnia Lestari

Fakultas Ekonomi dan Bisnis, Universitas Jember

Agus Lutfi

Fakultas Ekonomi dan Bisnis, Universitas Jember
Abstract
Tujuan penelitian ini untuk mengidentifikasi persepsi petani terhadap konsep ketahanan pangan melalui model ekonomi kebersamaan di Kabupaten Situbondo. Sumber data penelitian ini diperoleh dengan observasi, FGD dan kuesioner dengan metode data menggunakan analisis regresi logistik dengan unit analisis petani (tanaman pangan, peternak dan pembudidaya ikan) di kabupaten Situbondo.Berdasarkan persamaan regresi logistik biner menunjukkan bahwa presepsi petani, peternak dan pembudidaya ikan yang berpengaruh positif dan signifikan terhadap konsep ketahanan pangan model ekonomi kebersamaan adalah pendapatan dan infrastruktur. Sehingga bagi petani, peternak dan pembudidaya seiring dengan peningkatan pendapatan yang diperoleh serta dibarengi semakin mudahnya peluang dalam mendapatkan akses infrastruktur pasar dari pemerintah daerah maka konsep ketahanan pangan dengan model ekonomi kebersamaan dapat diterima.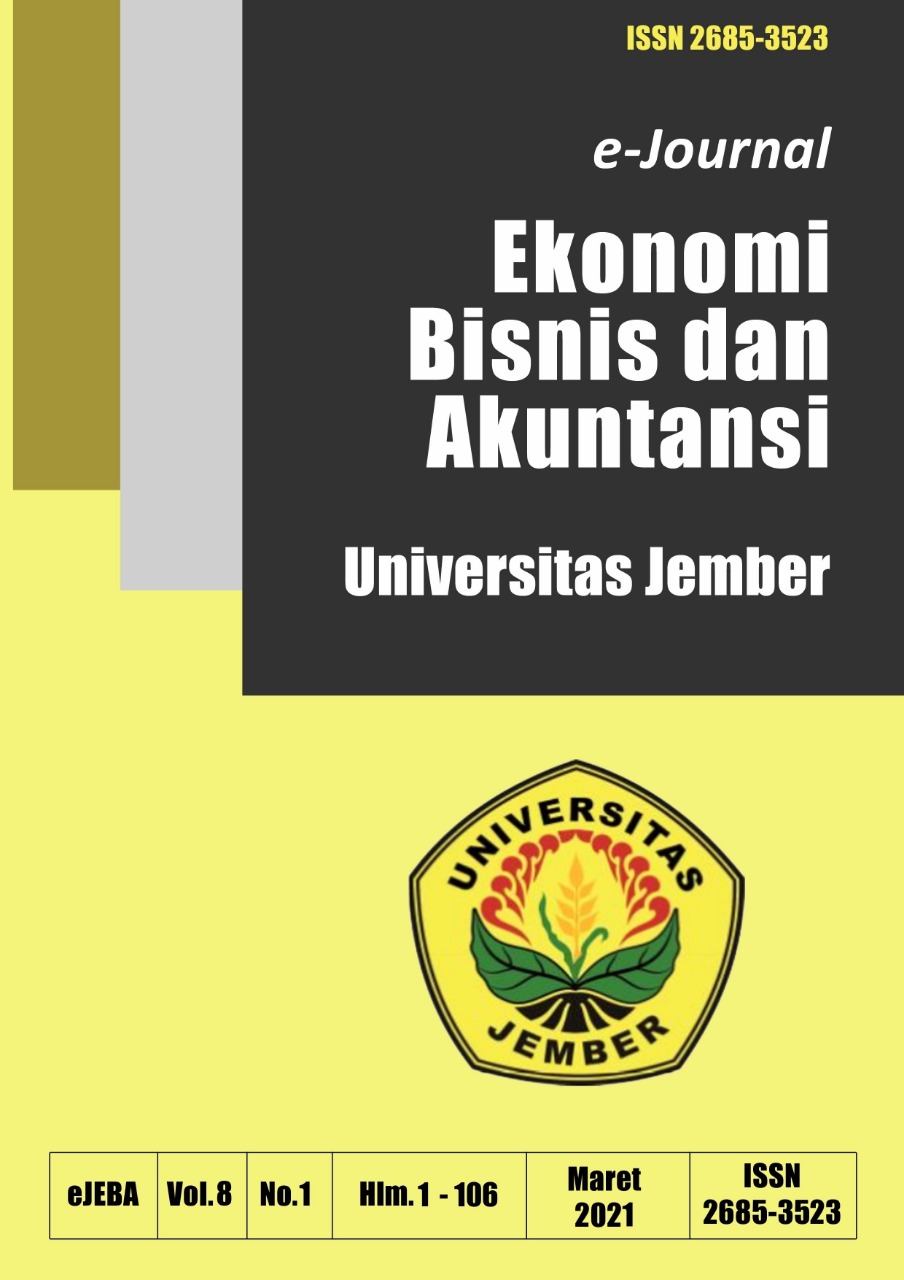 Section
Ekonomi Pembangunan
The author who proposes his manuscript to be processed for publication on e-JEBA is deemed to have agreed to the following: [1]. The author cannot withdraw the manuscript that has been proposed for processing until it receives an answer from the Chief of Editor regarding the status of the scientific article manuscript (accepted or rejected for publication). [2]. The publisher is not responsible for plagiarism cases for articles published on e-JEBA. [3]. The publisher is not responsible for the data and content of the articles published on e-JEBA, and is entirely the responsibility of the author. [4]. Authors whose articles are published on e-JEBA agree to the following licenses:

eJEBA by University of Jember is licensed under a Creative Commons Attribution-NonCommercial 4.0 International License.