Pengaruh Servant Leadership, Empowerment dan Komitmen Organisasi Terhadap Organizational Citizenship Behavior Pada Karyawan Royal Hotel n'Lounge Jember
Retmita Tata Elsa Manora

Fakultas Ekonomi dan Bisnis, Universitas Jember

Purnamie Titisari

Fakultas Ekonomi dan Bisnis, Universitas Jember

Mochammad Syaharudin

Fakultas Ekonomi dan Bisnis, Universitas Jember
Abstract
Organizational citizenship behavior merupakan kontribusi individu yang melebihi tuntutan peran di tempat kerja. Banyak faktor yang dapat mempengaruhi organizational citizenship behavior yaitu servant leadership, empowerment dan komitmen organisasi. Populasi pada penelitian ini adalah seluruh karyawan di Royal Hotel n'Lounge Jember. Sampel pada penelitian ini sebanyak 45 responden menggunakan metode yang digunakan adalah teknik sensus dimana seluruh populasi diambil sebagai sampel. Metode analisis yang digunakan adalah analisis regresi linier berganda. Hasil penelitian ini menunjukkan bahwa nilai signifikan servant leadership sebesar 0.003, variabel empowerment signifikansinya sebesar 0.009 dan variabel komitmen organisasi signifikansinya sebesar 0.018 lebih kesil dari nilai ketetapan signifikansi sebesar 0.05. kesimpulan yang didapat dalam penelitian ini yaitu bahwa servant leadership, empowerment dan komitmen organisasi berpengaruh terhadap organizational citizenship behavior. Pemimpin perusahaan disarankan meningkatkan gaya kepemimpinan yang melayani, perusahaan memberikan tanggung jawab dan otonomi kepada karyawan dan karyawan perusahaan diharapkan mempertahankan komitmen terhadap organisasi.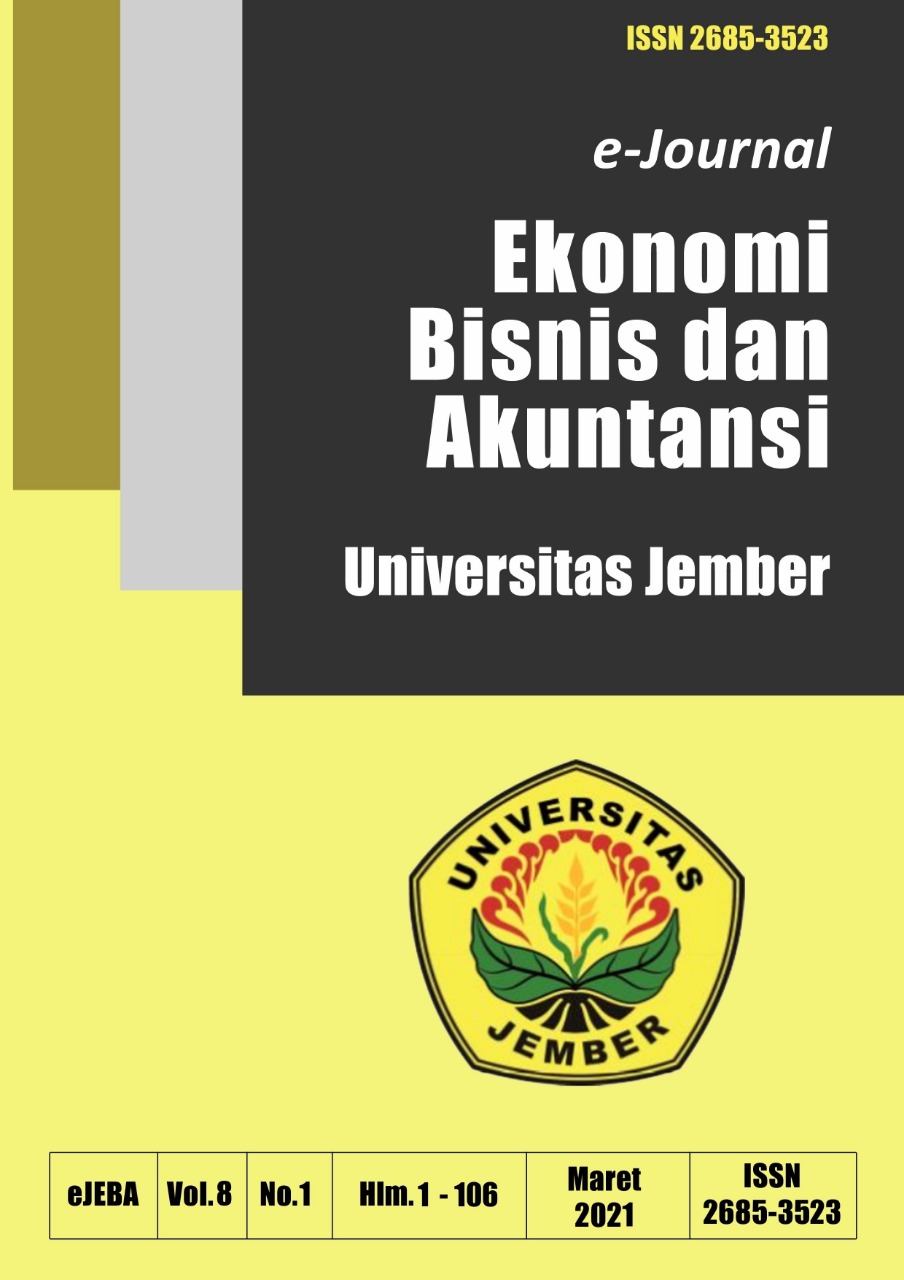 The author who proposes his manuscript to be processed for publication on e-JEBA is deemed to have agreed to the following: [1]. The author cannot withdraw the manuscript that has been proposed for processing until it receives an answer from the Chief of Editor regarding the status of the scientific article manuscript (accepted or rejected for publication). [2]. The publisher is not responsible for plagiarism cases for articles published on e-JEBA. [3]. The publisher is not responsible for the data and content of the articles published on e-JEBA, and is entirely the responsibility of the author. [4]. Authors whose articles are published on e-JEBA agree to the following licenses:

eJEBA by University of Jember is licensed under a Creative Commons Attribution-NonCommercial 4.0 International License.