Pengaruh Citra Destinasi dan E-WOM di Media Sosial Instagram serta Persepsi Konsumen Terhadap Keputusan Berkunjung ke Objek Wisata B29 di Kabupaten Lumajang
Ainun Nur Illah

Jurusan Manajemen, Fakultas Ekonomi dan Bisnis, Universitas Jember (UNEJ)

Raden Andi Sularso

Jurusan Manajemen, Fakultas Ekonomi dan Bisnis, Universitas Jember (UNEJ)

Bambang Irawan

Jurusan Manajemen, Fakultas Ekonomi dan Bisnis, Universitas Jember (UNEJ)
Abstract
The research aims to analyze the effect of destination image and electronic word of mouth and consumer perceptions of visiting decisions probability to visit of object B29 in Lumajang The research approach used in this study is a quantitative research. The pulation in the research are all society from inside of Lumajang Regency and from outside of Lumajang Regency who have never visited B29 tourism object as many as 130 respondents. In this study the total number of indicator variables totaled 13. Data analysis method used in this research is logistic regression analysis. Hypotesis test use was showed that the destination image and electronic word of mouth and consumer perception have a significant influence on the decision to visit B29 tourism object in Lumajang Regency.
Keywords: Destination Image, Electronic Word of Mouth, Consumer Perception, Visiting Decision.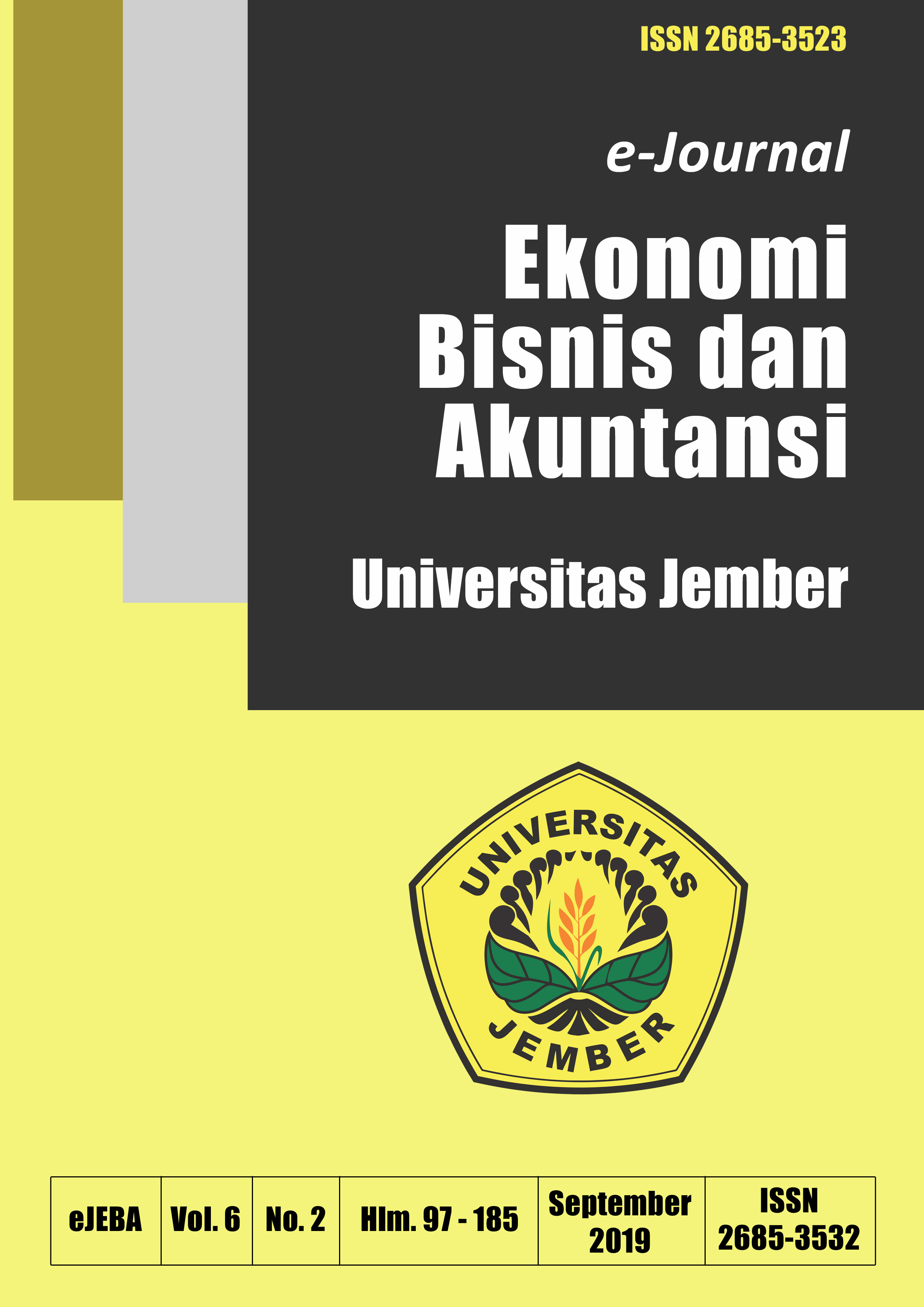 Penulis yang mengusulkan naskahnya untuk dapat diproses penerbitannya pada e-JEBA dianggap telah menyetujui beberapa hal sebagai berikut:
1. Penulis tidak dapat menarik naskah yang telah usulkan untuk diproses hingga mendapat jawaban dari Ketua Dewan Penyunting atas status naskah artikel ilmiahnya (diterima atau ditolak untuk diterbitkan).
2. Penerbit tidak bertanggung jawab terhadap kasus plagiasi atas artikel yang terbit pada e-JEBA.
3. Penerbit tidak bertanggung jawab atas data dan isi dari artikel yang diterbitkan pada e-JEBA, dan sepenuhnya merupakan tanggung jawab penulis.
4. Penulis yang artikelnya diterbitkan pada e-JEBA menyetujui lisensi berikut:

eJEBA by University of Jember is licensed under a Creative Commons Attribution-NonCommercial 4.0 International License.