MELIHAT SASTRA ANAK DUNIA SEBAGAI ALAT PERJUANGAN IDEOLOGI
Anang Santoso

Universitas Negeri Malang
Abstract
From a critical perspective, children's literature is considered a public discourse. It is a collection of ideas championed in the public sphere about something happening or being discussed that forms a particular point of view. Children's literature often becomes a tool of ideological struggle. The authors, primarily adults, consciously or unconsciously, tend to impose certain ideologies on young readers. So, children's literature is constantly exposed to a specific ideology. Researching children's literature is essentially revealing the ideology championed by the author. In this qualitative study, data were collected from research on children's literature which was utilized as a means of struggle or the cultivation of certain ideologies. The results show that there are at least seven world children's literature groups that are used as a tool for ideological struggle: (1) naturalizing the ideology of racial domination, (2) naturalizing heroic stories, (3) debating controversial historical stories in the past, (4) fighting for environmental ideologies, (5) comparing competing state ideologies, (6) forming ideological criticism, and (7) naturalizing critical perspectives and awareness.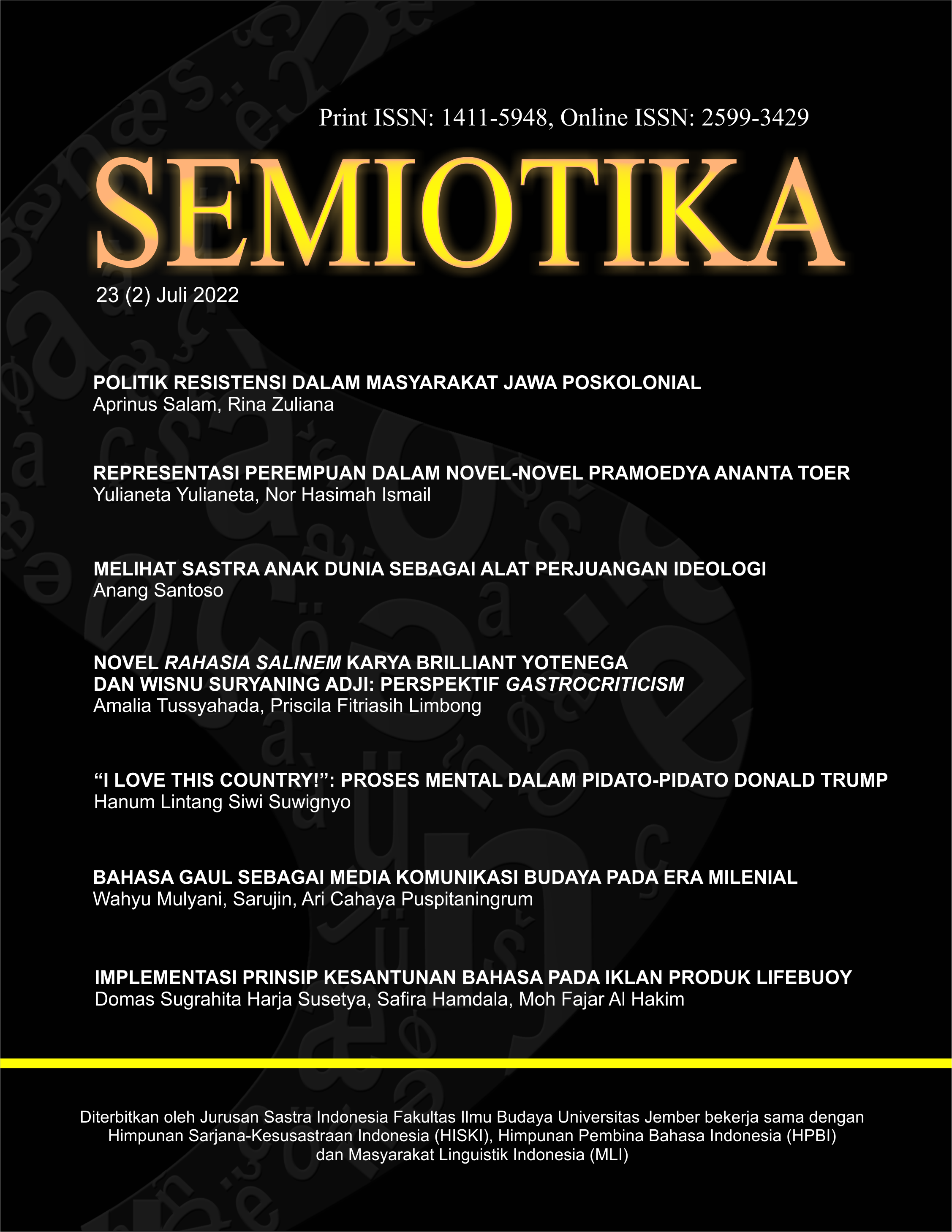 This work is licensed under a Creative Commons Attribution-ShareAlike 4.0 International License.
SEMIOTIKA has CC-BY-SA or an equivalent license as the optimal license for the publication, distribution, use, and reuse of scholarly work. Authors who publish with this journal retain copyright and grant the journal right of first publication with the work simultaneously licensed under a Creative Commons Attribution-ShareAlike 4.0 International License that allows others to share the work with an acknowledgment of the work's authorship and initial publication in this journal.

Attribution-ShareAlike
CC BY-SA