Peer Review Process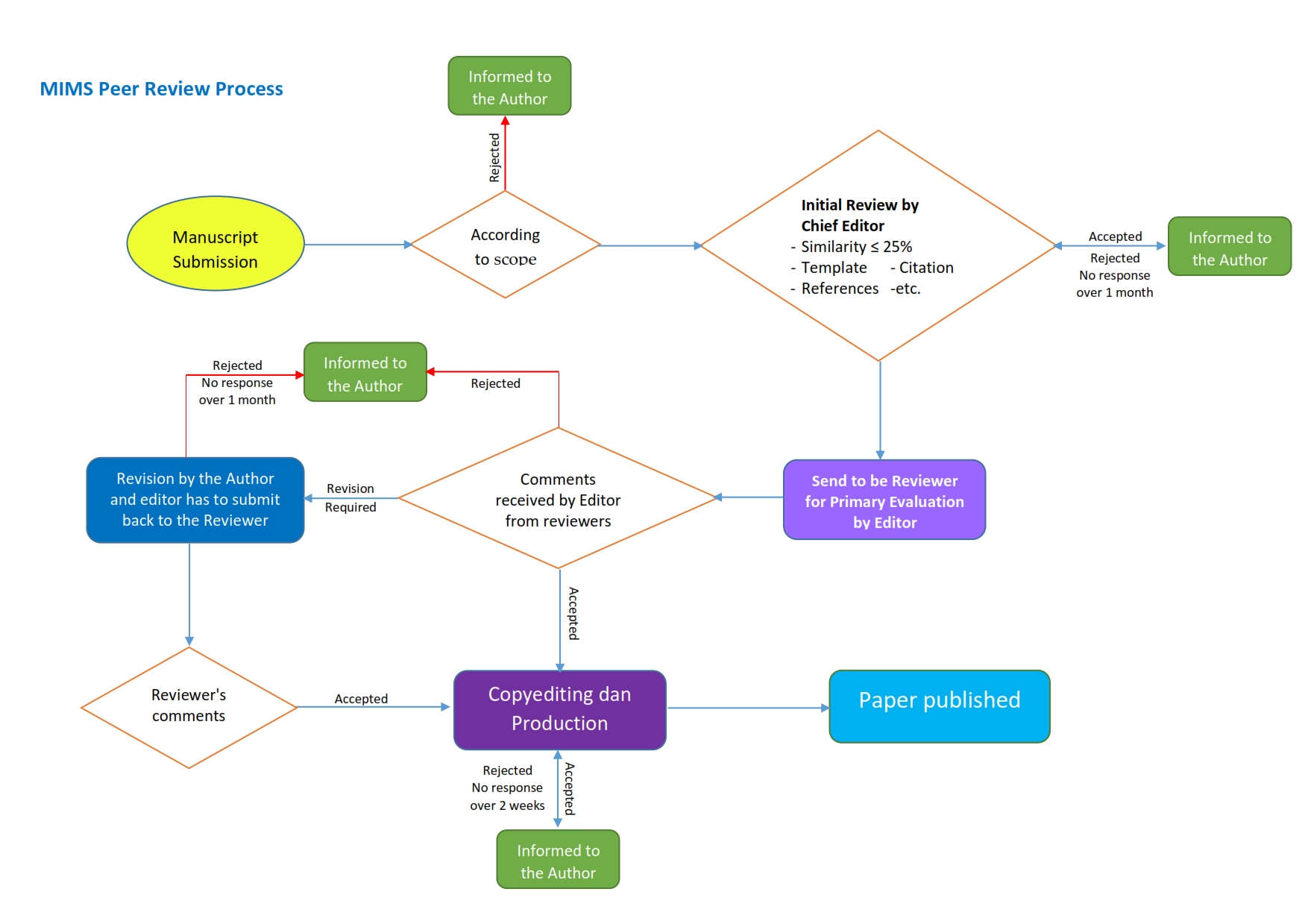 The submitted manuscript is first reviewed by the Editor in Chief. The Editor in Chief will immediately reject the manuscript that does not meet the journal's scope. The manuscript suitable to the journal's scope will be evaluated through Initial Review processes by Editorial Team before being sent to the reviewers. The initial review includes templates (such as the abstract, references, etc.) and plagiarism checks. The references must be written using Mendeley as a Tool Reference Manager. If the references are written manually, we will send them back to the author to be revised. If a manuscript has over 30% plagiarism based on the check result, we will send back the manuscript to the author to edit/paraphrase the plagiarised contents. The editorial team would reject the manuscript if the author(s) did not cooperate reasonably during the initial review process, such as not doing the review on time.
After that, at least two peer reviewers will independently review every submitted manuscript. The review process applies the (Single) Blind method, where the identity of reviewers is concealed. Authors are asked to propose a list of 2-5 names of prospective reviewers. The editorial team may choose to invite them or not. Authors can also suggest that someone does not review. After being reviewed, there will be four kinds of editor decisions based on the reviewer's recommendation:
1. Accept Submission: The submission will be accepted without revisions.
2. Revisions Required: The submission will be accepted after minor changes have been made.
3. Resubmit for Review: The submission needs to be re-worked, but it may be accepted with significant changes. It will require a second round of review.
4. Decline Submission: The submission will not be published in the journal.
The final decision of articles acceptance will be made by Editors according to Reviewers' comments. The authors must upload the revised manuscript without delay (in two weeks). The revised manuscript returned later than 21 days without communication with the editor will be rejected.