FAKTOR-FAKTOR YANG MEMPENGARUHI PERMINTAAN DAN PERILAKU KONSUMEN RUMAH TANGGA TERHADAP DAGING SAPI DI KABUPATEN JEMBER
Septian Maulana Purnama

Universitas Jember

Rudi Wibowo

Universitas Jember

Ati Kusmiati

Universitas Jember
Abstract
Beef is one of the food requirements strategically in Indonesia. Consumption of beef each year has increased, while the price of beef also increased, it is contrary to the demand theory. The purpose of this research to know (1) what factors that influence the beef demand in Jember Regency; (2) what factors that influence the behavor of household consumer to consume in Jember Regency (3) preference of household consumer behavior for beef in Jember Regency The research method uses descriptive method and analytic method. The Data analysis use Multiple Linear Regression Analysis, Factor Analysis and Fishbein Multiatribut Analysis. Results from this study indicate (1) the factors affecting demand, namely, income level, chicken meat prices, and population (2) factors that influence the behavior of household consumers to consume in Jember: cultural factor, external character factors of consumers, social factors, the perception factor, privacy factor and motivation factors (3) Household consumer preferences for beef of three variables alternately; piece of meat, meat color and fat content.
References
Aziz, Muhammad Abdul. 2009. Analisis Faktor - Faktor yang Mempengaruhi Konsumsi Masyarakat di Provinsi Jawa Tengah Tahun 2003 – 2007. Skripsi Fakultas Ekonomi Jurusan Ekonomi Pembangunan Universitas Sebelas Maret.

Dirjen Peternakan. 2009. Konsumsi Daging Di Indonesia. Jakarta : Direktorat Jenderal Peteranakan Departemen Pertanian.
Engel, J.L, Roger D. Blackwell and Paul W. Minlard. 1994. Perilaku Konsumen. Alih Bahasa F.X. Budianto. Jakarta: Binarupa Aksara.

Hair, J.F., et al. 1992. Multivariate Data Analysis. 3rd edition. Prentice. New Jersey: Hall International, Inc.

Hasan, I. M. 2005. Pokok-pokok Materi Statistik 2. Jakarta: Bumi Aksara.

Sajogyo, T. 1997. Garis Kemiskinan dan Kebutuhan Minimum Pangan. Bogor: LPSB-IPB.

Santoso, dan Fandy. 2004. Riset Pemasaran : Konsep dan Aplikasi dengan SPSS. Jakarta: PT. Elex Media Komputindo.

Schiffman, Leon dan Leslie Lazar Kanuk. 2008. Consumer Behavior 7th Edition (Perilaku Konsumen). Jakarta: PT. Indeks.

Sugiyono. 2011. Metodologi Penelitian Kuntitatif Kualitatif dan R&D. Bandung: Alfabeta.

Sukirno, Sadono. 2002. Ekonomi Mikro. Jakarta: Rajawali Press.

Sunarto. 2006. Perilaku Konsumen. Yogyakarta: Penerbit Amus.

Umiyasih. 2004. Usaha Sapi Potong di Indonesia. Yogyakarta: Liberty.

Wibisono, D. 2003. Riset Bisnis Panduan bagi Praktisi dan Akademis. Jakarta: Gramedia Pustaka Utama.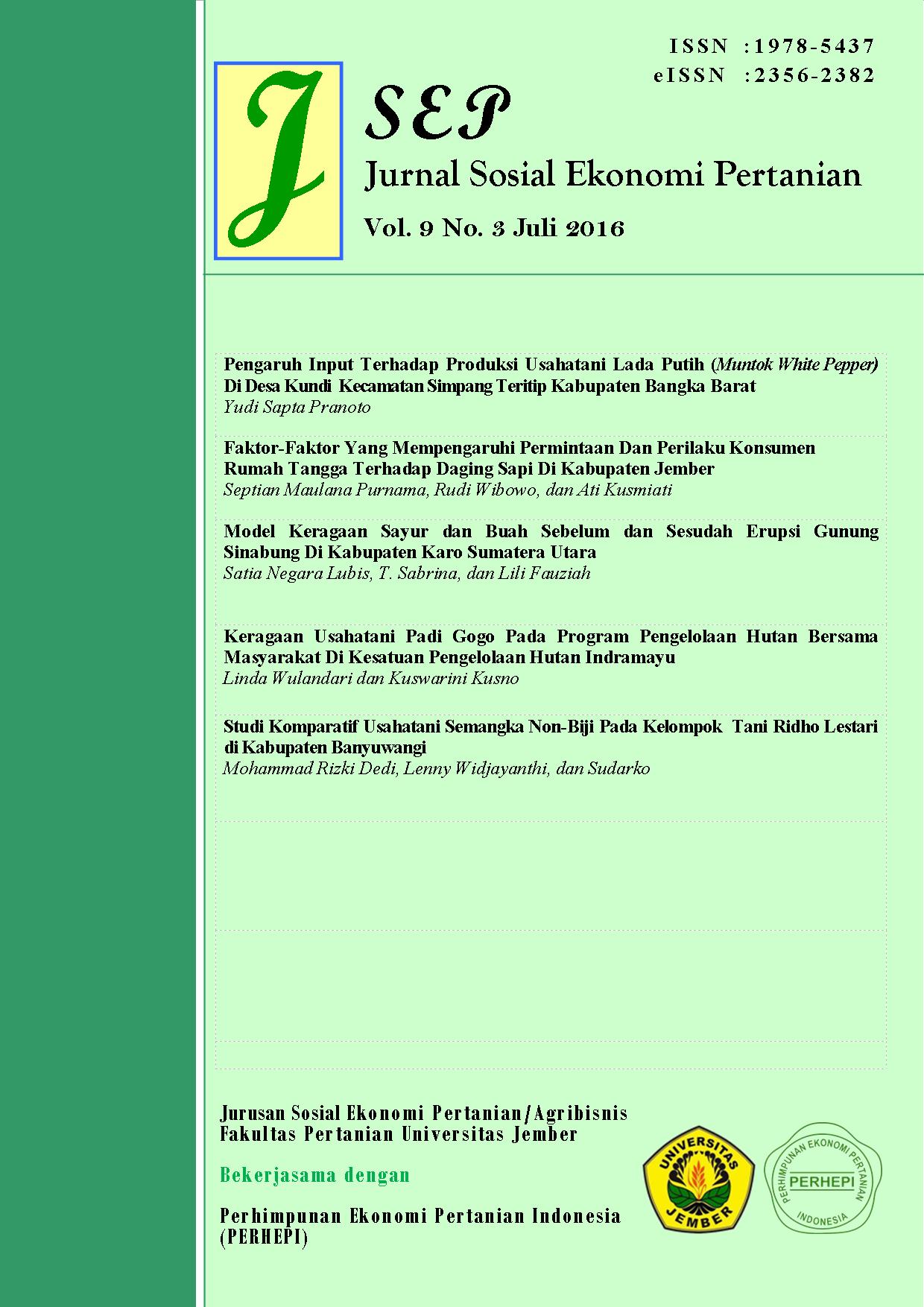 Authors who publish with this journal agree to the following terms:
Authors retain copyright and grant the journal right of first publication with the work simultaneously licensed under a Creative Commons Attribution License that allows others to share the work with an acknowledgement of the work's authorship and initial publication in this journal.
Authors are able to enter into separate, additional contractual arrangements for the non-exclusive distribution of the journal's published version of the work (e.g., post it to an institutional repository or publish it in a book), with an acknowledgement of its initial publication in this journal.
Authors are permitted and encouraged to post their work online (e.g., in institutional repositories or on their website) prior to and during the submission process, as it can lead to productive exchanges, as well as earlier and greater citation of published work (See The Effect of Open Access).