PERAN BABINSA DAN MAHASISWA TERHADAP PERUBAHAN PERILAKU PETANI DALAM PROGRAM UPAYA KHUSUS PADI JAGUNG DAN KEDELAI DI KECAMATAN PARON KABUPATEN NGAWI
Bekti Nur Utami

Sekolah Tinggi Penyuluhan Pertanian Malang

Deha Purwoko

Badan Ketahanan Pangan dan Pelaksana Penyuluhan Kabupaten Ngawi
Abstract
The purpose of this research is determine : (1) Babinsa role, (2) college student role and (3) Changes of farmers behavior in the Program Efforts Special Rice Corn and Soybean. The data collection is done by observation, interviews, focus group discussions, documentation. Sample of 60 people with simple random sampling. The results showed: (1) Babinsa role : (A) Mobilizing and motivating farmers; (B) Implement support in certain circumstances; (C) Implement supervision of administrative filing and distribution of aid to beneficiaries; and (D) Conducting oversight of the activities of identification, data collection and reporting of technical implementation of the activities.; (2) Student college role: (A) Escort and assistance for the implementation of the GP-PTT, POL, RJIT, PAT and demfarm, (B) Introduction of technology, (C) Develop a model empowerment of farmers, (D) Develop networks and businesses partnerships, and (E) Identify data collection and reporting of the activities. Extension to solve the problems encountered in the field, resulting in changes in the farmer behavior include aspects: (a) knowledge, (b) attitudes, and (c) skills. Babinsa and college student role is very favorable to the smooth UPSUS Pajale Program and directly advantage farmers.
References
Anonim. 2006. Undang-undang Sistem Penyuluhan Pertanian Perikanan Perkebunan dan Kehutanan. Kementrian Pertanian. Jakarta.

_____. 2012. Undang-undang Nomor 18 Tahun 2012 tentang Pangan. Kementrian Pertanian Jakarta. Jakarta.

_____. 2015. Peraturan Menteri Pertanian Republik Indonesia No.14/Permentan/OT.140/3/2015 Tentang Pedoman Pengawalan dan Pendampingan Terpadu Penyuluh, Mahasiswa Dan Bintara Pembina Desa Dalam Rangka Upaya Khusus Peningkatan Produksi Padi, Jagng dan Kedelai. Kementerian Pertanian. Jakarta.

Yohanes, Sakai. 2015. Peranan Bintara Pembina Desa (Babinsa) Dalam Menjaga Keamanan dan Ketertiban Masyarakat (Studi Kasus Di Desa Setulang dan Desa Gong Solok Kecamatan Malinau Selatan Hilir kabpaten Malinau). eJournal Pemerintahan Integratif, 2015, 3 (2): 307-322.

Witjaksono, Roso. 2015. Peranan Penyuluh Pertanian dalam Adopsi Teknologi Budidaya Bawang Merah di Lahan Pasir Pantai. Prosiding Seminar Nasional Hasil Penelitian Sosial Ekonomi Pertanian UGM, 2016: 175-179

Purwoko, Deha. 2015. Laporan Program Peningkatan Swasembada Pangan Produksi Padi, Jagung dan Kedelai di Desa Dawu Kecamatan Paron. Sekolah Tinggi Penyuluhan Pertanian Malang. Malang

Hadi, Sutrisno. 2015. Statistik. Pustaka Belajar Yogyakarta. Yogyakarta

Riyanto, Y. 1996. Metode Penelitian Pendidikan, Suatu Tinjauan

Gunawan, Imam dan Palupi, Anggraini Retno. 2008. Taksonomi Bloom-Revisi Ranah Kogntif : Kerangka Landasan Untuk Pembelajaran, Pengajaran, dan Penilaian. (https://akhmadsudrajat.files.wordpress.com/2008/01/revisi-taksonomi-bloom.pdf.) diakses tanggal 30 Januari 2016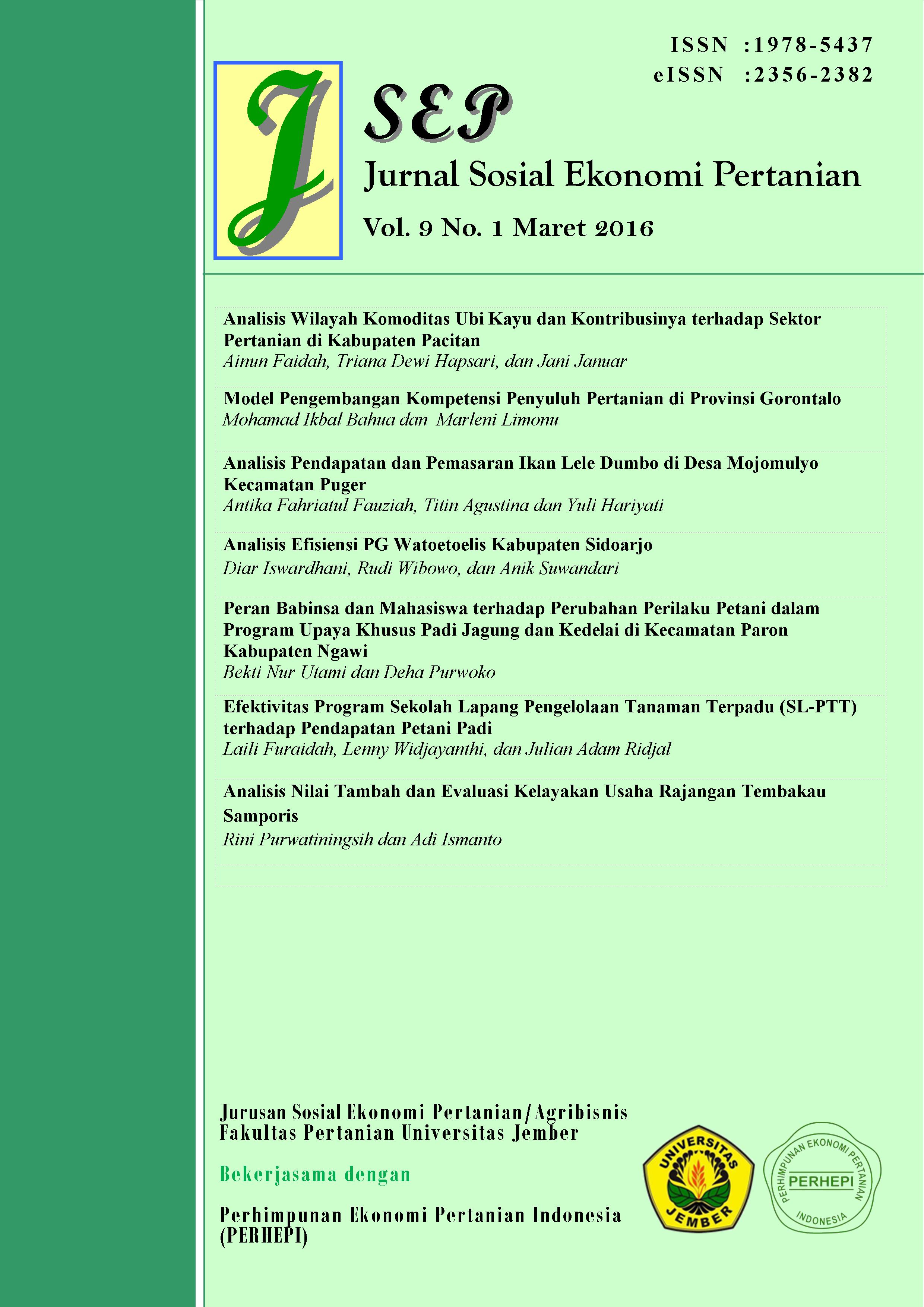 How to Cite
UTAMI, Bekti Nur; PURWOKO, Deha. PERAN BABINSA DAN MAHASISWA TERHADAP PERUBAHAN PERILAKU PETANI DALAM PROGRAM UPAYA KHUSUS PADI JAGUNG DAN KEDELAI DI KECAMATAN PARON KABUPATEN NGAWI.
JSEP (Journal of Social and Agricultural Economics)
, [S.l.], v. 9, n. 1, p. 41-52, nov. 2017. ISSN 2356-2382. Available at: <
https://jurnal.unej.ac.id/index.php/JSEP/article/view/5765
>. Date accessed: 03 aug. 2021.
Authors who publish with this journal agree to the following terms:
Authors retain copyright and grant the journal right of first publication with the work simultaneously licensed under a Creative Commons Attribution License that allows others to share the work with an acknowledgement of the work's authorship and initial publication in this journal.
Authors are able to enter into separate, additional contractual arrangements for the non-exclusive distribution of the journal's published version of the work (e.g., post it to an institutional repository or publish it in a book), with an acknowledgement of its initial publication in this journal.
Authors are permitted and encouraged to post their work online (e.g., in institutional repositories or on their website) prior to and during the submission process, as it can lead to productive exchanges, as well as earlier and greater citation of published work (See The Effect of Open Access).