EVALUASI PELAKSANAAN PENGEMBANGAN USAHA AGRIBISNIS DI PEDESAAN (PUAP) DI GAPOKTAN MEKAR MULYO, KELURAHAN GADANG, KOTA MALANG
EVALUATION ON THE IMPLEMENTATION OF AGRIBUSINESS DEVELOPMENT IN RURAL AREAS (PUAP) AT GAPOKTAN MEKARMULYO, GADANG, MALANG
Nur Ocvanny Amir

Universitas Muhammadiyah Malang

Rahmad Pulung Sudibyo
Abstract
PUAP (Rural Agribusiness Program) is one government business for disconnecting poverty chain in rural areas by providing capital business assistance. GAPOKTAN (farmer group association) Mekar Mulyo is one of the capital business assistance receiver, and they also act as a distributor of the capital to its members. Therefore, it needs to evaluate the implementation of PUAP in GAPOKTAN Mekar Mulyo, gadang, Malang. The analysis used in this research was descriptive qualitative referring on instrument of farmer group association capacity assessment in implementing PUAP. The instrument used consisted of data on indicator of input, process, output, outcome, and benefit. The results of this research could be concluded as follows: 1) The Implementation of PUAP program assistance distribution to farmers in GAPOKTAN Mekar Mulyo has been proceed as minister agriculture regulations, so the program reached its target, member of farmer group who worked on agriculture on farm and off farm, 2) In general, the evaluation on the implementation of PUAP program bone by farmers in GAPOKTAN Mekar Mulyo is right on target. There were problems happened outside of the program which did not influence PUAP program activities. It was decrease on the number of farmer caused age and rice field which was converted to non-agricultural land. Therefore, member of farmer group decreased drastically which caused PUAP funds could not gave significant development.
References
Anggriani, Triane Widya. 2012. Analisis Dampak Pelaksanaan Program Pengembangan Usaha Agribisnis Perdesaan (PUAP) Studi Kasus Gapoktan Rukun Tani, Desa Citapen, kecamatan Ciawi, Kabupaten Bogor. Fakultas Ekonomi Program Magister Perencanaan dan Kebijakan Publik. Jakarta.

Kementerian Pertanian. 2011. Pedoman Umum Program Pengembangan Usaha Agribisnis Perdesaan (PUAP). Jakarta.

Kementerian Pertanian. 2015. Pedoman Pengembangan Usaha Agribisnis Perdesaan Tahun Anggaran 2015. Jakarta.
Pasaribu dkk. 2011. Penentuan Desa Calon Lokasi PUAP 2011 dan Evaluasi Pengembangan Usaha Agribisnis Perdesaan. Pusat Sosial Ekonomi dan Kebijakan Pertanian. Badan Penelitian dan Pengembangan Pertanian. Kementerian Pertanian.

Sudiono, Anas. 2001. Pengantar Evaluasi Pendidikan. PT. Grafindo Persada. Jakarta.

Suryahadi, Asep. 2007. Kumpulan Bahan Latihan Pemantauan Evaluasi Program-Program Penanggulangan Kemiskinan. Modul 4 : Persyaratan dan Unsur-unsur Evaluasi yang Baik. Bappenas. Jakarta. www.ditpk.bappenas.go.id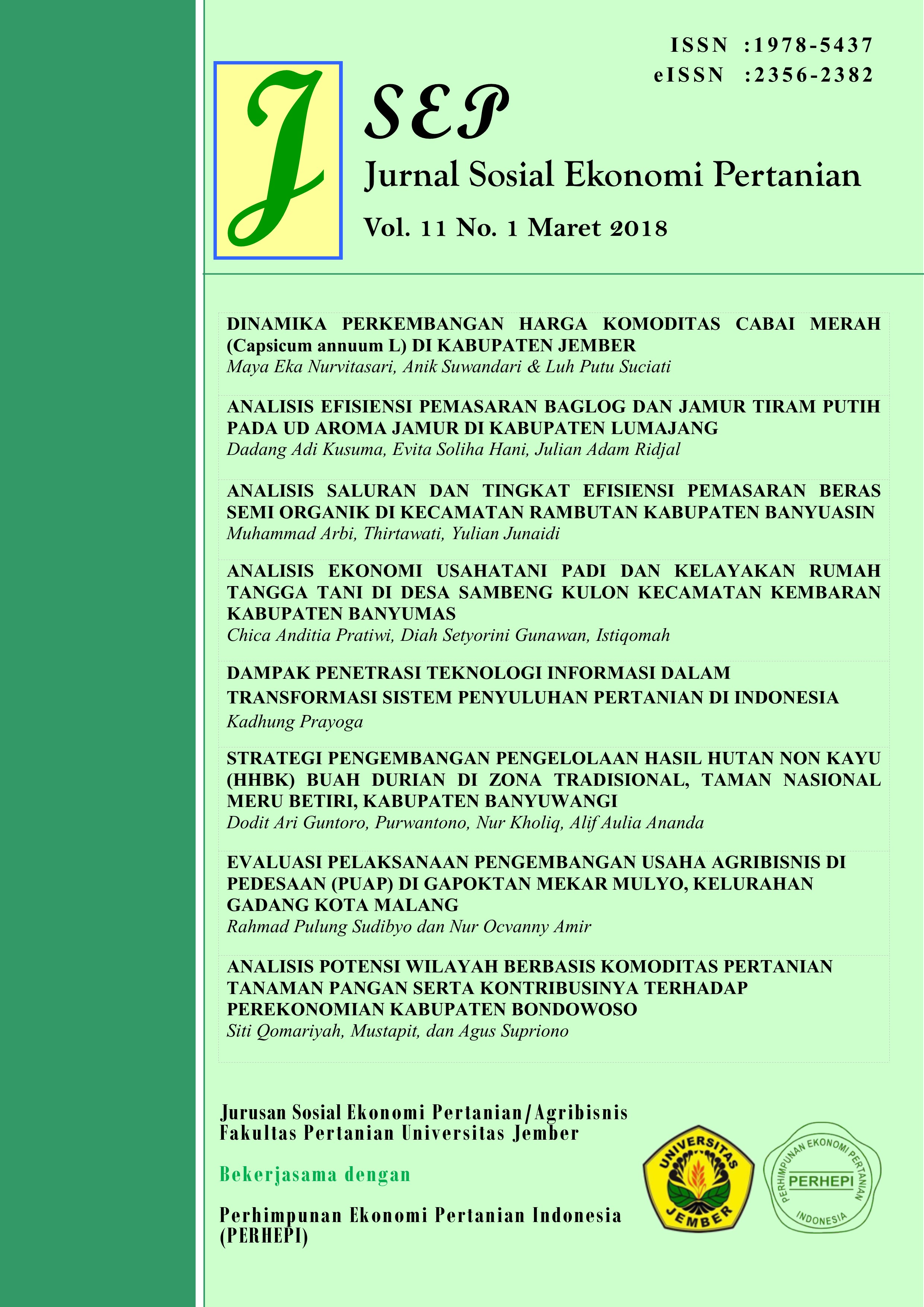 Jurnal Sosial Ekonomi Pertanian (J-SEP) has CC-BY-SA or an equivalent license as the optimal license for the publication, distribution, use, and reuse of scholarly work.
The work is simultaneously licensed under a Creative Commons Attribution-ShareAlike 4.0 International License, which permits others to share the work with an acknowledgement of the authorship and the work's initial publication in this journal. Authors who publish with this journal retain their copyright and grant the journal the right of first publication.