Protection of the Rights of the Victims of Human Trafficking: Has Malaysia done Enough?
Renuka Jeyabalan

Faculty of Law, National University of Malaysia

Rohaida Nordin

Faculty of Law, National University of Malaysia
Abstract
Human trafficking is a grave threat to human rights. Statistic shows that yearly almost thousands of men, women and children grieve in the hand of traffickers as human trafficking victim, in their own countries or abroad. Thus, there is a need for Malaysia to take the necessary step to combat human trafficking and at the same time to provide effective protection for victims of trafficking as enacted under the Malaysian Anti-Trafficking in Persons and Anti-Smuggling of Migrants Act 2007 (ATIPSOM 2007). The first part of this research examines the international law standards on human rights protection of the victim of human trafficking while the second part analyses any legal and policy measures adopted within the Malaysian context. In this analysis, attention will be made on numerous protection mechanisms such as provision for a shelter, or a place of refuge, appointment of Protection Officers, medical treatment, right to work and safe repatriation. This research further examines and assesses the adequacy and effectiveness of the current measures and laws especially in terms of their enforcement by the relevant enforcement bodies. Analysis on the existing legal framework within other ASEAN States, including Indonesia, is also done so as to provide relevant best practices for consideration and adoption by the Malaysian government. In conclusion, this research provides a number of solutions to address the problems and challenges within the existing legal framework in Malaysia with the ultimate aim at providing better protection for the victims of human trafficking.
References
A. Ibrahim Almutaqqi. "ASEAN Briefs, Fighting For Freedom: Combatting Human Trafficking in ASEAN", (April 2017).

Lainey Weiss. "Trafficking in Malaysia: A Focus on Women and Children", (2017), online: http://www.wao.org.my/2017+WAO+Report+-+Human+ Trafficking +in+Malaysia_152_6_1.htm.

M. Kumar. "Airline Cabin Crew Train to Spot Human Trafficking Victims",(26 November 2017), https://www.thestar.com.my/news/nation/2017 /11/26/airline-cabin-crew-trained-to-spot-human-trafficking-victims/.

Protocol to Prevent, Supress and Punish Trafficking in Persons, Especially Women and Children, supplementing The United Nations Convention Against Transnational Organized Crime (2000).

Ruth Rosenberg. "Trafficking Women and Children in Indonesia", (US Agency for International Development).

Suhana Saad. Ali Salman. "Government Policy and the Challenge of Eradicating Human Trafficking in Malaysia", (2014).

Supt.P.R Gunarajan A/L Ramayal. "Organised Crime: Governments Initiatives, Laws and Investigation of Human Trafficking In Person and Smuggling of Migrants in Malaysia", (9 July 2013).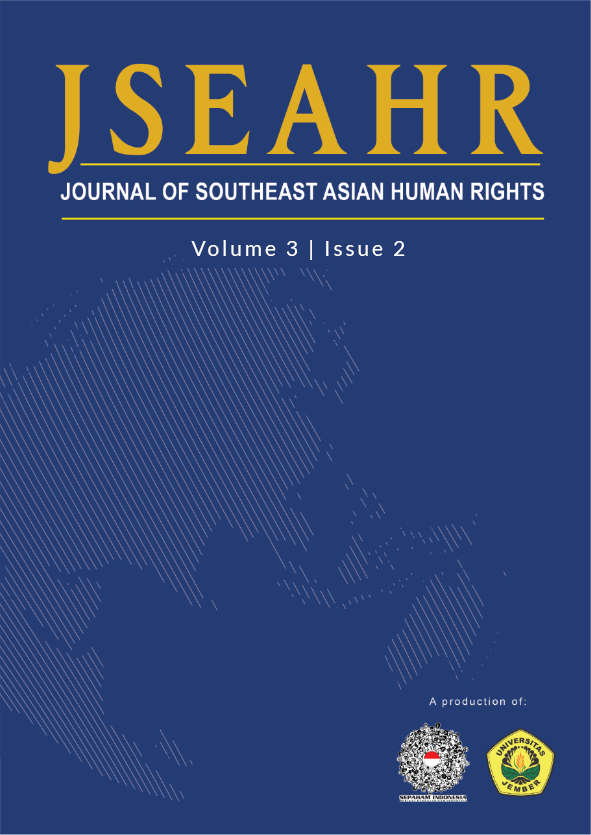 This work is licensed under a Creative Commons Attribution-NonCommercial 4.0 International License.