vitas antibakteri Pleurotus ostreatus varietas Grey Oyster pada Staphylococcus aureus dan Pseudomonas aeruginosa (Antibacterial activity of Pleurotus ostreatus varieties Grey Oyster on Staphylococcus aureus and Pseudomonas aeruginosa)
Evi Hanizar

Pendidikan Biologi, FPMIPA IKIP PGRI Jember

Dwi Nur Rikhma Sari

Pendidikan Biologi, FPMIPA IKIP PGRI Jember
Abstract
Oyster mushroom Pleurotus ostreatus varieties Gray oyster is often consumed by the community because it tastes delicious and contains nutrients for health but utilization for medical treatment has not been studied. The aim of this research was to analyze antimicrobial potential compounds in P. ostreatus and to investigate the inhibitory effect on the growth of Staphyllococcus aureus and Pseudomonas aeruginosa. This research was experimental type with treatment variation 0.1; 0.25; 0.5; 1; 1.5 and 2% of P. ostreatus extract, with 5 replicates. Antimicrobial potential compounds was analyzed by qualitative phytochemical test while antibacterial activity evaluated by calculating the inhibition zone diameter presented as the bright zone formed in the surroundings paper discs on bacterial cultures using solid medium. Phytochemical analysis obtained positive results for flavonoid, tannin and terpenoid compounds. The effect of mushroom extract on the bacterial growth inhibition were analyzed by One Way Anova test. The result showed that the inhibitory growth diameter for both bacteria was not significantly different. It meant that the difference in concentration variations of P. ostreatus extracts of 0.25 and 0.50 did not cause different inhibitory effects on S. aureus and P aeruginosa bacteria and 0.1% concentration was capable of causing inhibitory effect.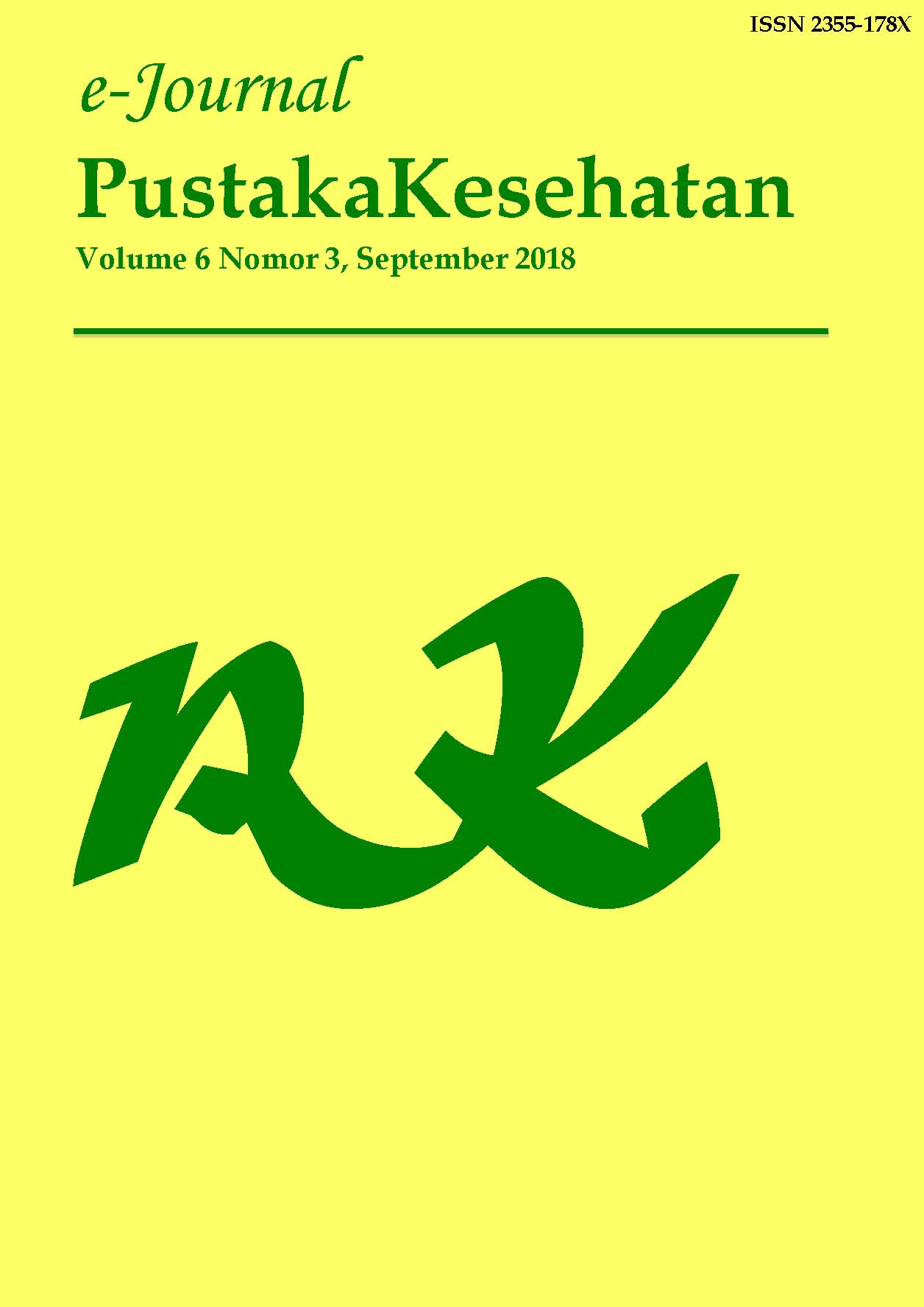 How to Cite
HANIZAR, Evi; SARI, Dwi Nur Rikhma. vitas antibakteri Pleurotus ostreatus varietas Grey Oyster pada Staphylococcus aureus dan Pseudomonas aeruginosa (Antibacterial activity of Pleurotus ostreatus varieties Grey Oyster on Staphylococcus aureus and Pseudomonas aeruginosa).
Pustaka Kesehatan
, [S.l.], v. 6, n. 3, p. 387-392, sep. 2018. ISSN 2355-178X. Available at: <
https://jurnal.unej.ac.id/index.php/JPK/article/view/9776
>. Date accessed: 20 oct. 2020.
Penulis yang mengusulkan naskahnya untuk dapat diproses penerbitannya pada Pustaka Kesehatan dianggap telah menyetujui beberapa hal sebagai berikut:
1. Penulis tidak dapat menarik naskah yang telah usulkan untuk diproses hingga mendapat jawaban dari Ketua Dewan Penyunting atas status naskah artikel ilmiahnya (diterima atau ditolak untuk diterbitkan).
2. Penerbit tidak bertanggung jawab terhadap kasus plagiasi atas artikel yang terbit pada Berkala Ilmiah Pertanian.
3. Penerbit tidak bertanggung jawab atas data dan isi dari artikel yang diterbitkan pada Pustaka Kesehatan, dan sepenuhnya merupakan tanggung jawab penulis.