Pengaruh Komposisi Hidroksi Propil Metil Selulosa K-15 dan Etil Selulosa N-22 terhadap Prosentase Kelembapan Air dan Pelepasan Meloksikam dari Sediaan Plester (The Influence of Hidroxy Propyl Methyl Cellulose K-15 and Ethyl Cellulose N-22 Ratio on Procent
Monica Iwud Rully Pramesthie

Fakultas Farmasi, Universitas Jember Jln. Kalimantan 37, Jember 68121

Lidya Ameliana

Fakultas Farmasi, Universitas Jember Jln. Kalimantan 37, Jember 68121

Budipratiwi Wisudyaningsih

Fakultas Farmasi, Universitas Jember Jln. Kalimantan 37, Jember 68121
Abstract
The present research has been undertaken with the aim to develop a transdermal patch of meloxicam with ratio of hydroxy propyl methyl cellulose (HPMC) K-15 and ethylcellulose (EC)N-22 as a matrix were 1:9 (Formula 1), 2:8 (Formula 2), 3:7 (Formula 3).The physicochemical parameters like organoleptic and % moisture content were evaluated. Released test using dissolution apparatus were carried out in 500 mL of phosphate buffer saline pH 7.4 ± 0.05 at temperature 37 ± 0.5°C with speed of swirl 50 rpm. Results were analyzed by statistic programmed of SPSS using one way analysis of variance with degree of believed 95% (α = 0,05).The results of evaluation of patch dosage, transdermal patches were found yellow, odorless and dry. Result of moisture content F(1) 1.168 ± 0.009 %; F(2) 1.841 ± 0.019 % and F(3) 2.584 ± 0.025 %. Result of in vitro drug release F(1) 364.865 ± 0.701 µg/cm2.menit1/2; F(2) 397.212 ± 0.441 µg/cm2.menit1/2 and F(3) 439.277 ± 0.559 µg/cm2.menit1/2. It can be concluded that the combination ofHPMC K-15 and EC N-22 at ratio 7:3 was the best choice for manufacturing transdermal patch based on physicochemical and the release profile.
Keywords: transdermal patch, meloxicam, hydroxypropylmethyl celulosa, ethylcellulosa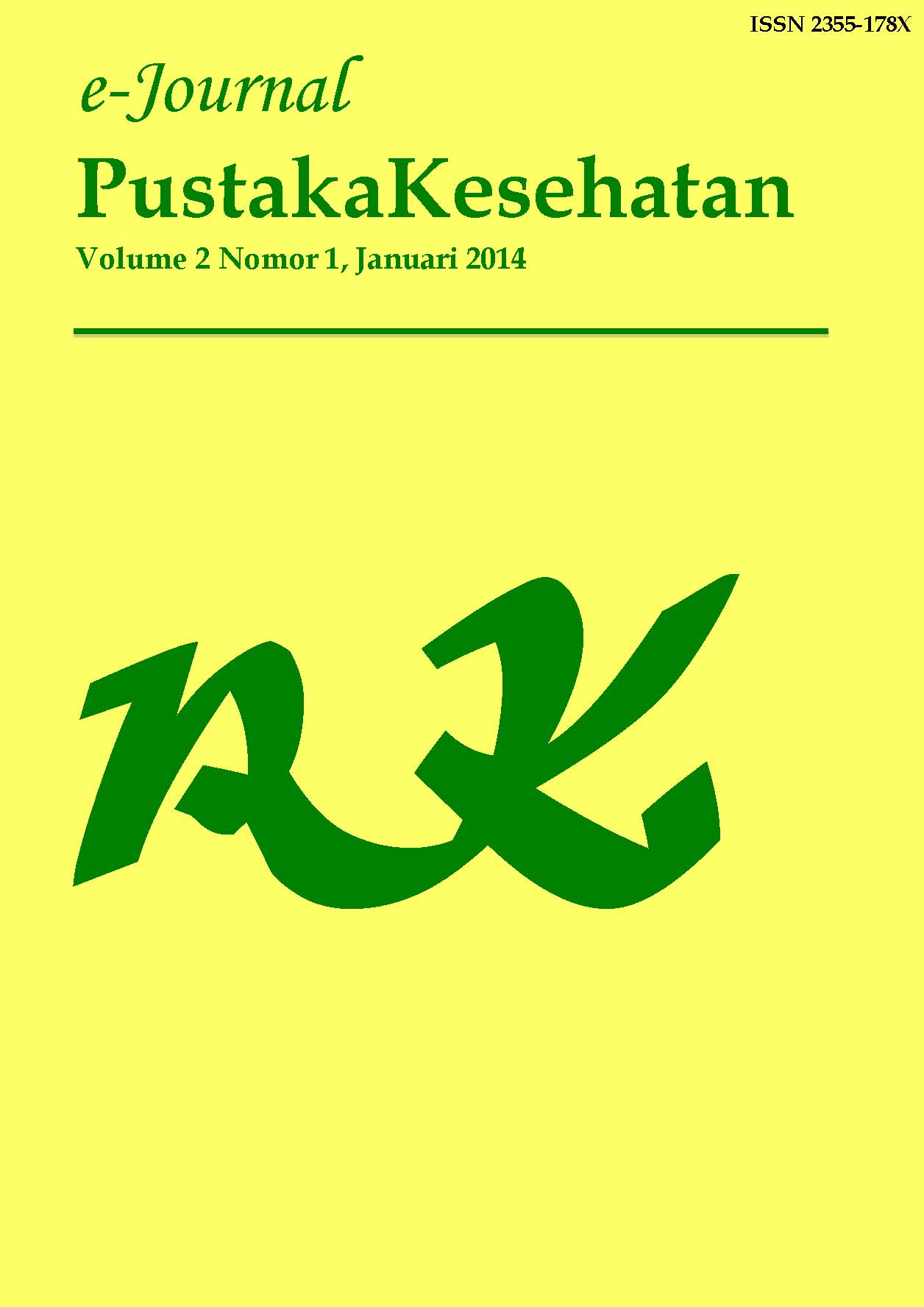 How to Cite
PRAMESTHIE, Monica Iwud Rully; AMELIANA, Lidya; WISUDYANINGSIH, Budipratiwi. Pengaruh Komposisi Hidroksi Propil Metil Selulosa K-15 dan Etil Selulosa N-22 terhadap Prosentase Kelembapan Air dan Pelepasan Meloksikam dari Sediaan Plester (The Influence of Hidroxy Propyl Methyl Cellulose K-15 and Ethyl Cellulose N-22 Ratio on Procent.
Pustaka Kesehatan
, [S.l.], v. 2, n. 1, p. 175-178, jan. 2014. ISSN 2721-3218. Available at: <
https://jurnal.unej.ac.id/index.php/JPK/article/view/817
>. Date accessed: 21 jan. 2022.
Penulis yang mengusulkan naskahnya untuk dapat diproses penerbitannya pada Pustaka Kesehatan dianggap telah menyetujui beberapa hal sebagai berikut:
1. Penulis tidak dapat menarik naskah yang telah usulkan untuk diproses hingga mendapat jawaban dari Ketua Dewan Penyunting atas status naskah artikel ilmiahnya (diterima atau ditolak untuk diterbitkan).
2. Penerbit tidak bertanggung jawab terhadap kasus plagiasi atas artikel yang terbit pada Berkala Ilmiah Pertanian.
3. Penerbit tidak bertanggung jawab atas data dan isi dari artikel yang diterbitkan pada Pustaka Kesehatan, dan sepenuhnya merupakan tanggung jawab penulis.