Hubungan antara Tingkat Pengetahuan Pasien dan Pengawas Menelan Obat (PMO) dengan Kepatuhan Pasien Tuberkulosis di Puskesmas Kabupaten Jember (Correlation Between Knowledge And Patient Adherence Among Tuberculosis Patients And Their Treatment Observers In
Antonius Nugraha Widhi Pratama

Fakultas Farmasi Universitas Jember

Amelya Prastica Rahayu Aliong

Fakultas Farmasi Universitas Jember

Nili Sufianti

Fakultas Farmasi Universitas Jember

Ema Rachmawati

Fakultas Farmasi Universitas Jember
Abstract
Tuberculosis (TB) is an infectious disease that mostly affects developing countries. In Indonesia, TB incidence increases every year due to patient inadherence to the standard DOTS therapy. The TB patients inadherence can be associated with poor knowledge among patients and treatment observers. This cross-sectional research aimed to explore the correlation between knowledge level of TB patients and their treatment observers and patient adherence. Purposive sampling technique was used to collect data from 65 respondents from their primary health centers in Jember Regency, East Java. Knowledge of the respondents was evaluated using a 16 items questionnaire and patient adherence was assesed using the translated version of morisky medication adherence scale-8 (MMAS-8) questionnaire. The Spearman Rho correlation test resulted in p value of 0,043 between patients knowledge and patients adherence. Statistically significant correlation was also found between the knowledge of treatment observers and TB patients adherence (p= 0,015). These results suggested the needs to improve knowledge about TB not only for TB patients, but also their treatment observers.
Keywords: TB patient, treatment observer, knowledge, compliance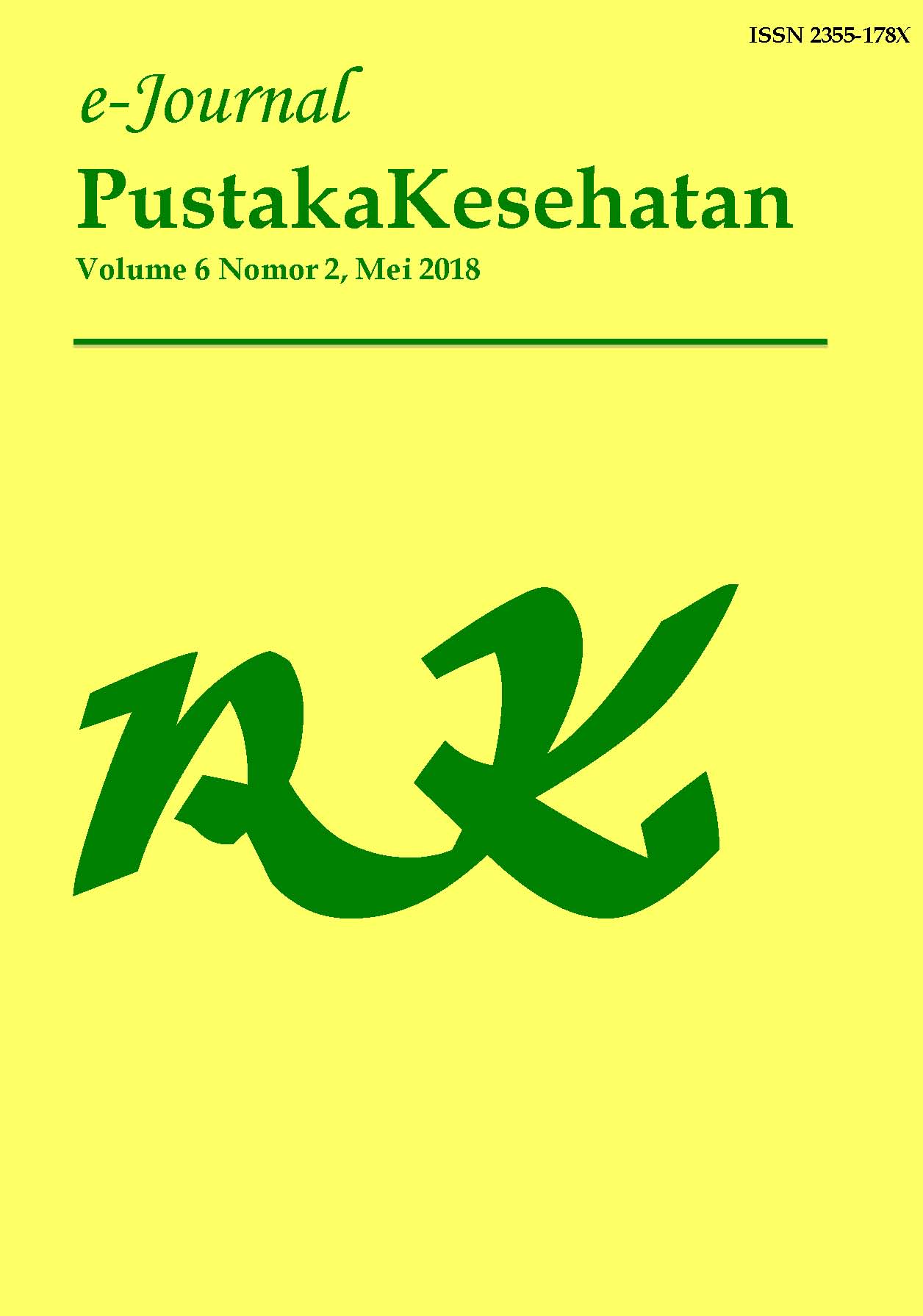 How to Cite
PRATAMA, Antonius Nugraha Widhi et al. Hubungan antara Tingkat Pengetahuan Pasien dan Pengawas Menelan Obat (PMO) dengan Kepatuhan Pasien Tuberkulosis di Puskesmas Kabupaten Jember (Correlation Between Knowledge And Patient Adherence Among Tuberculosis Patients And Their Treatment Observers In.
Pustaka Kesehatan
, [S.l.], v. 6, n. 2, p. 218-224, may 2018. ISSN 2355-178X. Available at: <
https://jurnal.unej.ac.id/index.php/JPK/article/view/7570
>. Date accessed: 05 june 2020. doi:
https://doi.org/10.19184/pk.v6i2.7570
.
Penulis yang mengusulkan naskahnya untuk dapat diproses penerbitannya pada Pustaka Kesehatan dianggap telah menyetujui beberapa hal sebagai berikut:
1. Penulis tidak dapat menarik naskah yang telah usulkan untuk diproses hingga mendapat jawaban dari Ketua Dewan Penyunting atas status naskah artikel ilmiahnya (diterima atau ditolak untuk diterbitkan).
2. Penerbit tidak bertanggung jawab terhadap kasus plagiasi atas artikel yang terbit pada Berkala Ilmiah Pertanian.
3. Penerbit tidak bertanggung jawab atas data dan isi dari artikel yang diterbitkan pada Pustaka Kesehatan, dan sepenuhnya merupakan tanggung jawab penulis.