Resiko Ulkus Kaki Diabetes pada Petani di Wilayah Kerja Puskesmas Palengaan Kabupaten Pamekasan Madura
Muhammad Rofiqi

Fakultas Keperawatan Universitas Jember

Jon Hafan Sutawardana

Fakultas Keperawatan Universitas Jember

Kushariadi Kushariadi

Fakultas Keperawatan Universitas Jember
Abstract
A diabetic foot ulcer is one of the complications of diabetes mellitus. The farmer is a job that is at risk of developing diabetic ulcers, especially farmers with diabetes. Farmers pay less attention to protecting their feet, so they risk foot trauma. This study aimed to describe the risk of diabetic foot ulcers in farmers. In this descriptive observational study in the working area of Community Health Center of Palengaan Pamekasan Madura, 76 farmers were selected by purposive sampling. All of the respondents were examined within low's 60-second diabetic foot instrument. The data were analyzed with univariate analysis. This study found that 72.4% of farmers had a moderate risk of developing diabetic ulcers and 11,8% of patients were at risk for severe foot ulcers. Most farmers are at high risk of developing diabetic foot ulcers. Therefore, farmers with diabetes need special attention from nurses in providing education on the importance of foot protection when working
References
[1] Kusnadi G, Murbawani EA, Fitranti DY. Faktor risiko diabetes melitus tipe 2 pada petani dan buruh. J Nutr Coll. 2017;6(2):138.
[2] Vowden K. Diabetic foot complications. J Wound Care. 2018;6(1):4–8.
[3] Kaya Z, Karaca A. Evaluation of Nurses' Knowledge Levels of Diabetic Foot Care Management. Nurs Res Pract. 2018;2018:1–12.
[4] Neil JA. Lower extremity injuries sustained while farming. J Agromedicine. 2014;8(2):45–55.
[5] Wang A, Lv G, Cheng X, Ma X, Wang W, Gui J, et al. Guidelines on multidisciplinary approaches for the prevention and management of diabetic foot disease (2020 edition). Burn Trauma. 2020;8.
[6] Decroli E. Diabetes Melitus tipe 2 1st ed. Kam A, Efendi YP, Rahmadi A, editors. Padang; 2019. 52 p.
[7] Rina, Setyawan H, Nugroho H, Hadisaputro S, Pemayun TGD. Faktor-Faktor Risiko Kejadian Kaki Diabetik pada Penderita Diabetes Melitus Tipe 2 (Studi Kasus Kontrol di RSUP dr. M. Djamil Padang). J Epidemiol Kesehat Komunitas. 2016;1(2):48–60.
[8] Husen SH, Basri A. Faktor-Faktor yang Mempengaruhi terjadi Ulkus Diabetik pada Penderita Diabetes Melitus di Diabetes Center Kota Ternate Factors that Influence Ulcus Diabetes in People with Diabetes Mellitus Diabetes Center Ternate City. 2021;11(Dm):74–85.
[9] Annisa BS, Puspitasari CE, Aini SR. Profil penggunaan obat antidiabetes pada pasien diabetes mellitus tipe 2 di instalasi rawat jalan RSUD Provinsi NTB tahun 2018. Sasambo J Pharm. 2021;2(1):37–41.
[10] Risman, Supardi E, Jamaluddin M. Hubungan Penggunaan Alas Kaki Dengan Luka Kaki Diabetik Di Klinik Perawatan Luka Kota Makassar. J Ilm Kesehat Diagnosis. 2020;15(2):112–6.
[11] Pratama DA, Sukarni, Nurfianti A. Analisis Faktor-Faktor Terjadinya Luka Kaki Berulang Pada Pasien Diabetes Melitus Di Klinik Kitamura Dan RSUD Dr. Soedarso Pontianak. J Proners. 2019;4(1):1–12.
[12] Mahfudzoh BS, Yunus M, Ratih SP. Hubungan Antara Faktor Risiko Diabetes Melitus yang Dapat Diubah Dengan Kejadian DM Tipe 2 di Puskesmas Janti Kota Malang. Sport Sci Heal. 2019;1(1):59–71.
[13] Fajriati AM. Hubungan antara perilaku merokok dengan kejadian diabetes melitus tipe 2 di kota Surakarta. 2021;1–16.
[14] Turns M. Prevention and management of diabetic foot ulcers. Br J Community Nurs. 2015;20:S30–7.
[15] Suprihatin W, Purwanti OS. Gambaran Risiko Ulkus Kaki Pada Penderita Diabetes Mellitus Di Wilayah Solo Raya. 2021;111–20.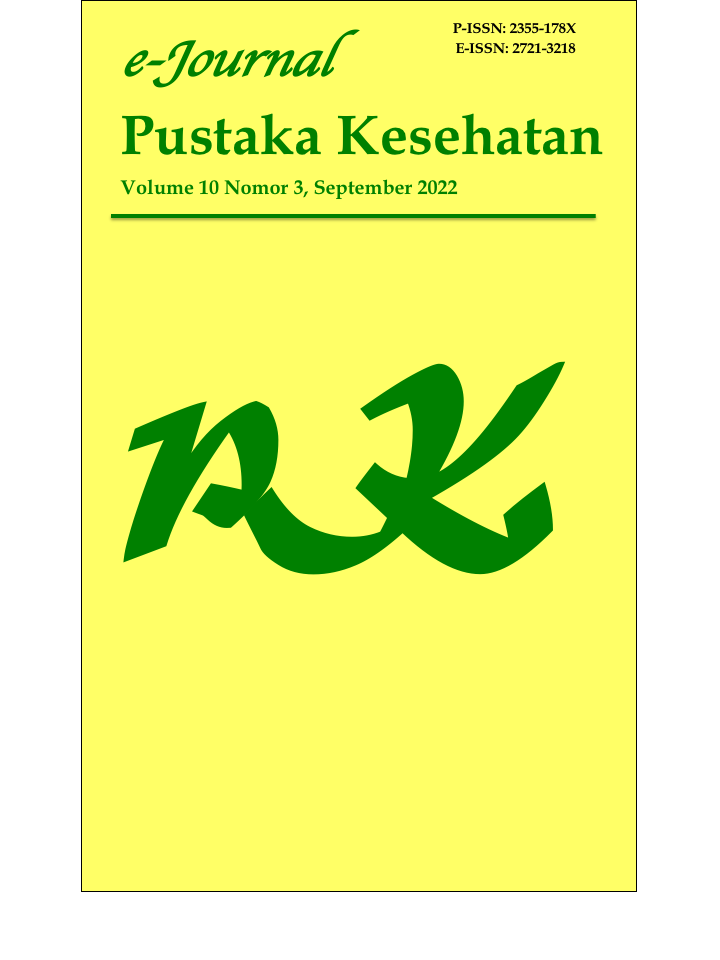 This work is licensed under a Creative Commons Attribution-ShareAlike 4.0 International License.
e-Journal Pustaka Kesehatan has CC-BY-SA or an equivalent license as the optimal license for the publication, distribution, use, and reuse of scholarly work. Authors who publish with this journal retain copyright and grant the journal right of first publication with the work simultaneously licensed under a Creative Commons Attribution-ShareAlike 4.0 International License that allows others to share the work with an acknowledgment of the work's authorship and initial publication in this journal.