Faktor-faktor yang Berhubungan dengan Higienitas Pasien Skabies di Puskesmas Panti Tahun 2014 (Factors Related to Hygiene of Scabies Patients in Panti Primary Health Care 2014)
Ika Sriwinarti

Fakultas Kedokteran Universitas Jember

Wiwien Sugih Utami

Fakultas Kedokteran Universitas Jember

Ida Srisurani Wiji Astuti

Fakultas Kedokteran Universitas Jember
Abstract
Scabies is one of the health problems in developing countries and developed countries. Scabies is easier to invest in people who have poor personal hygiene. Risk factors that may affect the hygiene of scabies consist of internal and eksternal factors. The purpose of this study was to analyze the factors which affect the hygiene of scabies patients. This study was a quantitative research with cross sectional approach. Sample was obtained by quota sampling from patients who visited Panti primary health care in 2014. The factors studied were age, gender, education, occupation, marital status and residence. Data analysis was performed by chi square test and logistic regression. Chi square test found significant factors related to the hygiene were age (p=0,002), education (p=0.015), occupation (p=0,029), marital status (p=0,029) and residence (p=0.015) while other factors did not significant. Results of logistic regression test for age p=0.019 OR=0.000, education p=0.045 OR=4.327, occupation p=1,000 OR=0,000, marital status p=0,999 OR=0,000 and residence p=1,000 OR=2,989. Based on this study, it can be concluded that education was the most affecting factor correlated to hygiene of scabies patients.
Keywords: hygiene, scabies, Panti primary health care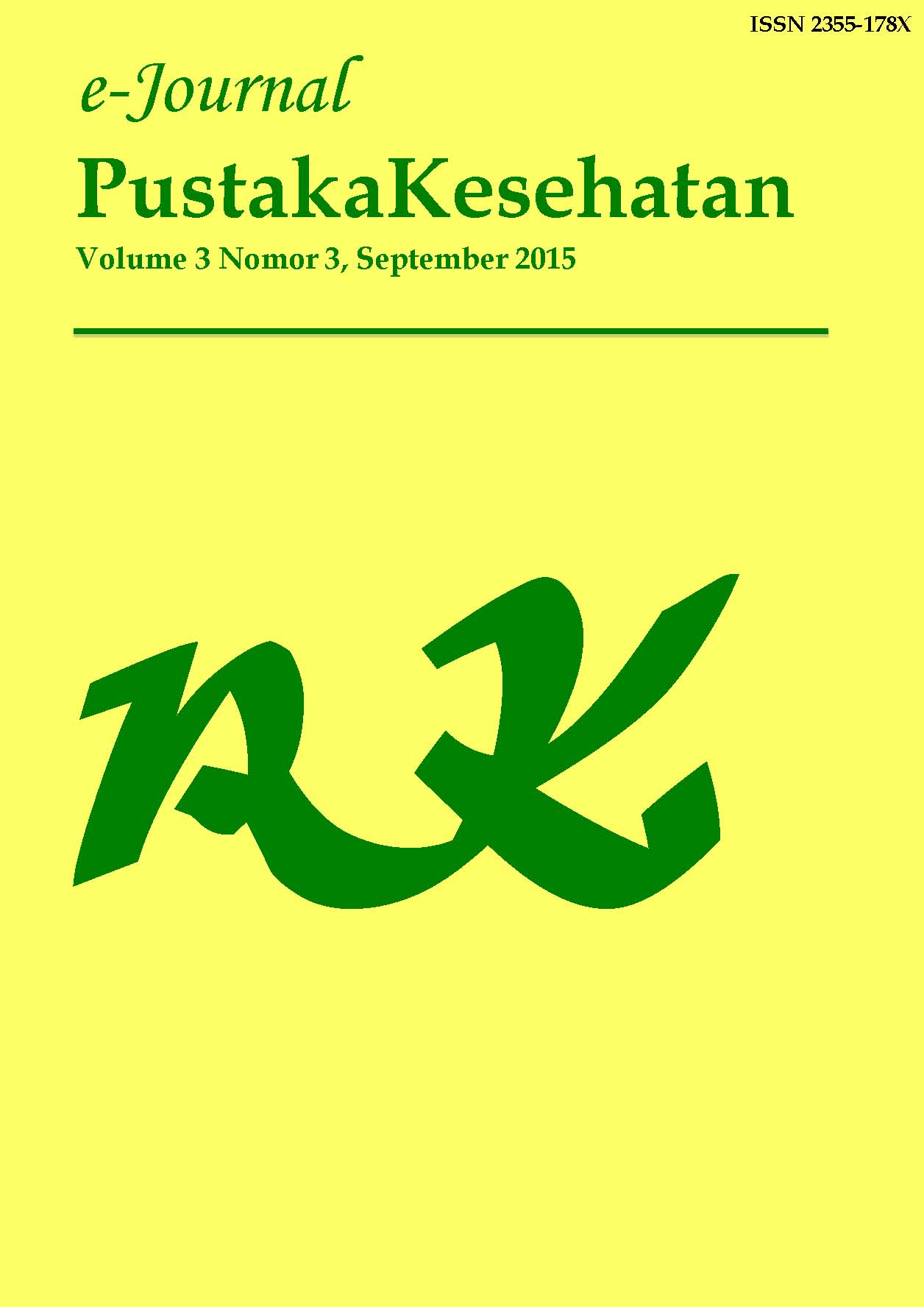 How to Cite
SRIWINARTI, Ika; UTAMI, Wiwien Sugih; ASTUTI, Ida Srisurani Wiji. Faktor-faktor yang Berhubungan dengan Higienitas Pasien Skabies di Puskesmas Panti Tahun 2014 (Factors Related to Hygiene of Scabies Patients in Panti Primary Health Care 2014).
Pustaka Kesehatan
, [S.l.], v. 3, n. 3, p. 395-399, sep. 2015. ISSN 2355-178X. Available at: <
https://jurnal.unej.ac.id/index.php/JPK/article/view/2997
>. Date accessed: 24 aug. 2019.
Penulis yang mengusulkan naskahnya untuk dapat diproses penerbitannya pada Pustaka Kesehatan dianggap telah menyetujui beberapa hal sebagai berikut:
1. Penulis tidak dapat menarik naskah yang telah usulkan untuk diproses hingga mendapat jawaban dari Ketua Dewan Penyunting atas status naskah artikel ilmiahnya (diterima atau ditolak untuk diterbitkan).
2. Penerbit tidak bertanggung jawab terhadap kasus plagiasi atas artikel yang terbit pada Berkala Ilmiah Pertanian.
3. Penerbit tidak bertanggung jawab atas data dan isi dari artikel yang diterbitkan pada Pustaka Kesehatan, dan sepenuhnya merupakan tanggung jawab penulis.