Pemanfaatan Eceng Gondok Terhadap Penurunan Kadar Merkuri (Hg) Limbah Cair Pada Pertambangan Emas Tanpa Izin (PETI) The Use of Eichornia Crassipes to Reduce Mercury (Hg) Levels on Liquid Waste in Illegal Gold Mines
Shelga Sapta Lahenda

Ellyke Ellyke

Khoiron Khoiron
Abstract
Nowadays emerge event about global worried will have negative effect from highereconomic development to our environment that causes to develop of industry, one ofthem is Illegal Gold Mines industry. This industry very close with environment problembecause it outcomes is waste that consists of high metal, one of them contains mercury(Hg). The preliminary study was done in village sumberagung, pesanggaran,banyuwangi by first Hg value is 0,038 mg/L over environment quality reciprocal. Thealternative of waste processing was by using Eichornia crassipes. The purpose of thisresearch to know the differences of liquid waste Hg value before and after usingEichornia crassipes. This reserach experimental with True Eksperimental Design. Thisresearch have control group with treatment as reserach independent variable. Controlgroup is a group without using Eichornia crassipes, first group (X1) is a group that usingEichornia crassipes with weight 300 gr/L, second group (X2) is a group that usingEichornia crassipes with weight 400 gr/L, third group (X3) is a group that using Eichorniacrassipes with weight 500 gr/L. Analysis of the data using one way anova test. Thisresearch result with signifikasi 0,05, there is significant differences between that fourthexperiment group. The most effective to reduce Hg value is the third group treatment(X3) by using hyacinth with weight 500 gr/L.Keywords : Illegal Gold Mines, Eichornia crassipes, Mercury (Hg)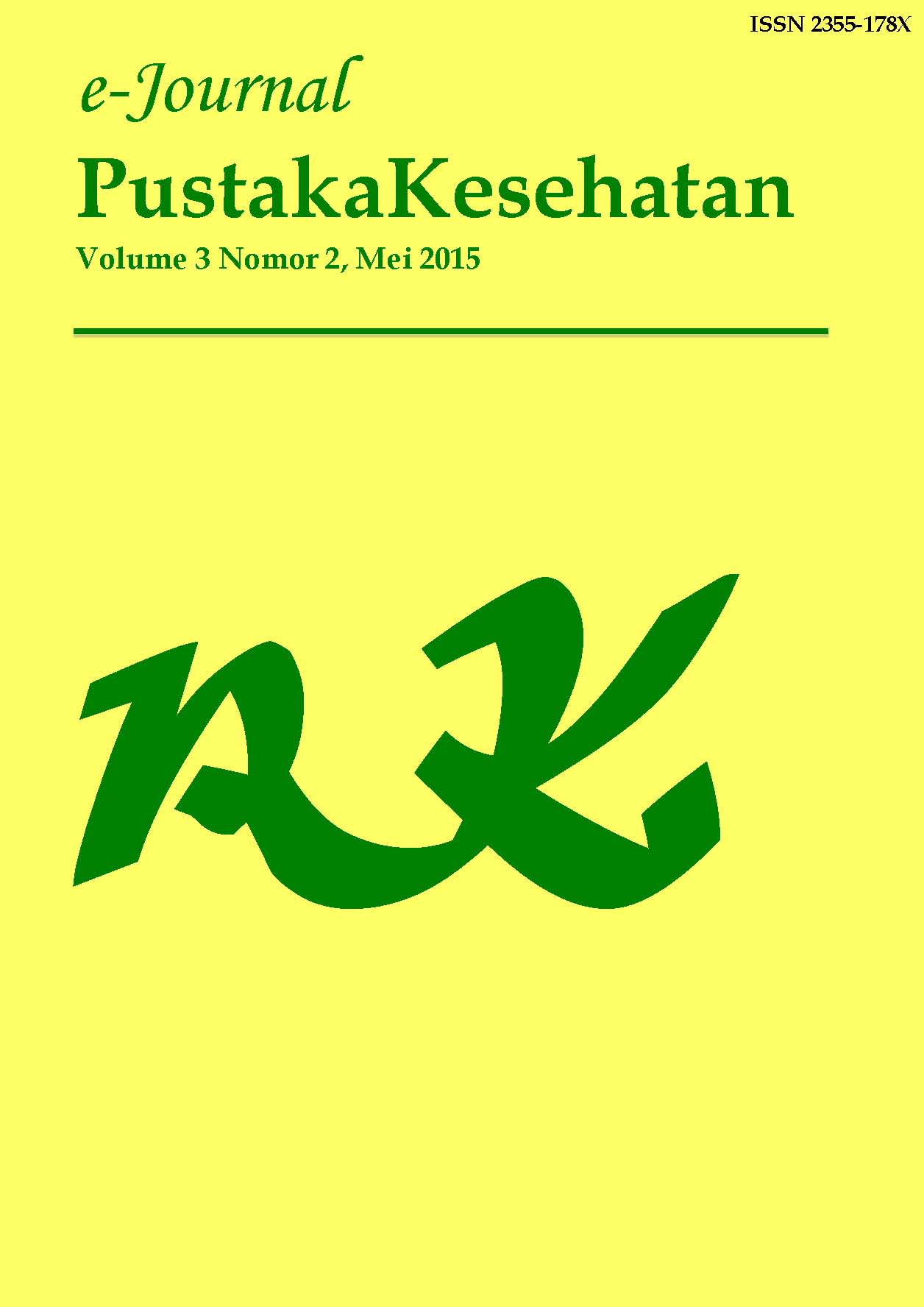 How to Cite
LAHENDA, Shelga Sapta; ELLYKE, Ellyke; KHOIRON, Khoiron. Pemanfaatan Eceng Gondok Terhadap Penurunan Kadar Merkuri (Hg) Limbah Cair Pada Pertambangan Emas Tanpa Izin (PETI) The Use of Eichornia Crassipes to Reduce Mercury (Hg) Levels on Liquid Waste in Illegal Gold Mines.
Pustaka Kesehatan
, [S.l.], v. 3, n. 2, p. 356-361, may 2015. ISSN 2355-178X. Available at: <
https://jurnal.unej.ac.id/index.php/JPK/article/view/2678
>. Date accessed: 10 july 2020.
Penulis yang mengusulkan naskahnya untuk dapat diproses penerbitannya pada Pustaka Kesehatan dianggap telah menyetujui beberapa hal sebagai berikut:
1. Penulis tidak dapat menarik naskah yang telah usulkan untuk diproses hingga mendapat jawaban dari Ketua Dewan Penyunting atas status naskah artikel ilmiahnya (diterima atau ditolak untuk diterbitkan).
2. Penerbit tidak bertanggung jawab terhadap kasus plagiasi atas artikel yang terbit pada Berkala Ilmiah Pertanian.
3. Penerbit tidak bertanggung jawab atas data dan isi dari artikel yang diterbitkan pada Pustaka Kesehatan, dan sepenuhnya merupakan tanggung jawab penulis.