Pengaruh Progressive Muscle Relaxation terhadap Aliran Puncak Ekspirasi Klien dengan Asma Bronkial di Poli Spesialis Paru B Rumah Sakit Paru Kabupaten Jember (The Effect of Progressive Muscle Relaxation on Peak Expiratory Flow of Clients with Bronchial As
Christina Novarin

Murtaqib Murtaqib

Nur Widayati
Abstract
Airway obstruction is an important physiological disease in asthma clients that will inhibits the flow of air during inspiration and expiration, so that lung ventilation is not optimal. This situation makes clients lose base ability to reach normal airflow during breathing, especially when expiratory, which leads to reduction in peak expiratory flow. Non-pharmacological therapies can be used as a supplementary or complementary pharmacological therapy, one of which is progressive muscle relaxation. The objective of this research was to analyze the effect of progressive muscle relaxation on peak expiratory flow of clients with bronchial asthma. Respondents in this research were 11 people. Data analysis used dependent t-test with CI 95% (α=0,05). The results of data analysis showed the results of p value = 0,000 (p<0,05). The conclusion of this research is that there is a significant effect of progressive muscle relaxation on peak expiratory flow of clients with bronchial asthma. This research is expected to be applied and administered in health care, especially in the rehabilitation of clients with asthma to improve respiratory function optimally.
Keywords: progressive muscle relaxation, asthma, peak expiratory flow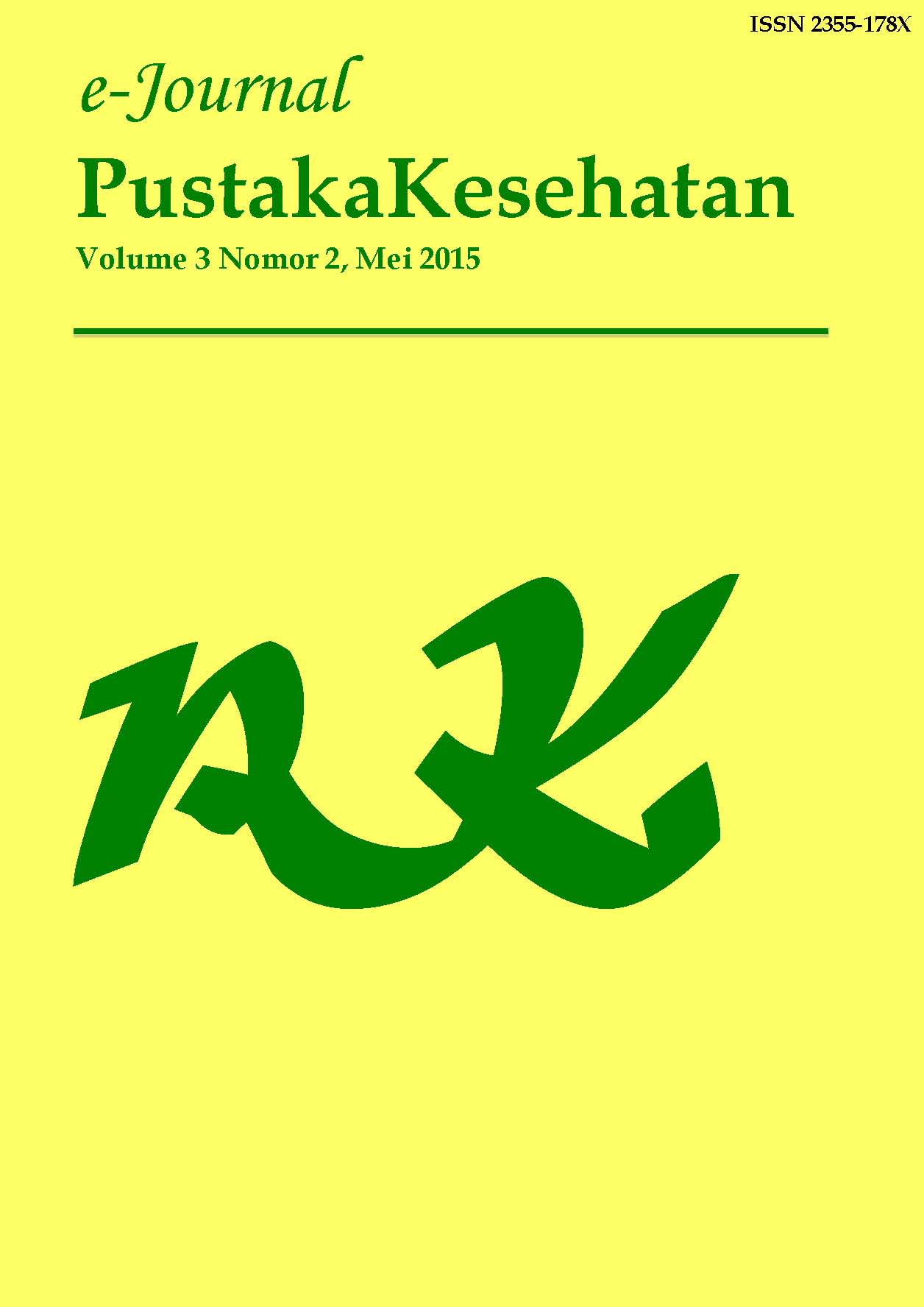 How to Cite
NOVARIN, Christina; MURTAQIB, Murtaqib; WIDAYATI, Nur. Pengaruh Progressive Muscle Relaxation terhadap Aliran Puncak Ekspirasi Klien dengan Asma Bronkial di Poli Spesialis Paru B Rumah Sakit Paru Kabupaten Jember (The Effect of Progressive Muscle Relaxation on Peak Expiratory Flow of Clients with Bronchial As.
Pustaka Kesehatan
, [S.l.], v. 3, n. 2, p. 311 - 318, may 2015. ISSN 2355-178X. Available at: <
https://jurnal.unej.ac.id/index.php/JPK/article/view/2615
>. Date accessed: 09 apr. 2020.
Penulis yang mengusulkan naskahnya untuk dapat diproses penerbitannya pada Pustaka Kesehatan dianggap telah menyetujui beberapa hal sebagai berikut:
1. Penulis tidak dapat menarik naskah yang telah usulkan untuk diproses hingga mendapat jawaban dari Ketua Dewan Penyunting atas status naskah artikel ilmiahnya (diterima atau ditolak untuk diterbitkan).
2. Penerbit tidak bertanggung jawab terhadap kasus plagiasi atas artikel yang terbit pada Berkala Ilmiah Pertanian.
3. Penerbit tidak bertanggung jawab atas data dan isi dari artikel yang diterbitkan pada Pustaka Kesehatan, dan sepenuhnya merupakan tanggung jawab penulis.