Efek Ekstrak Air Kulit Buah Delima (Punica granatum L) terhadap Salmonella typhimurium secara In Vivo (The Effect of Pomegranate (Punica granatum L) Peel Aqueous Extract on Salmonella typhimurium In Vivo)
Anastasia Citra Purwani

Fakultas Kedokteran Universitas Jember

Dini Agustina

Fakultas Kedokteran Universitas Jember

Yuli Hermansyah

Fakultas Kedokteran Universitas Jember
Abstract
Salmonella typhi infection is commonly treated by an antimicrobial agent such as levofloxacin. At the moment, herbal usage has risen as an alternative therapy. Pomegranate (Punica granatum L) is a commonly used herb which contains flavonoid as its major active compound. Aqueous extract of pomegranate peel had been known for its antimicrobial effect to S. typhi on in vitro study. The aim of this research was to investigate the activity of aqueous extract of pomegranate peel to S. typhimurium in vivo and find the antimicrobial effect of different concentrations. The study was conducted by using typhoid fever model in mice infected by S. typhimurium. Each mice was treated with aqueous pomegranate peel extract in three consentrations: 0,65 mg/ml, 1,3 mg/ml and 2,6 mg/ml for treatment groups and levofloxacin 1,3 mg/ml for positive control group. Ileum of each mice was isolated and cultured. The result of post hoc LSD test showed that negative control group significantly different with treatment group and the result of Pearson test showed p=0,000 and r = -0,865. In conclusion, aqueous extract of pomegranate peel had an antimicrobial activity on S. typhimurium in vivo where the higher extract concentration the lesser number of S. typhimurium colony.
Keywords: Antimicrobial, Pomegranate, Salmonella typhimurium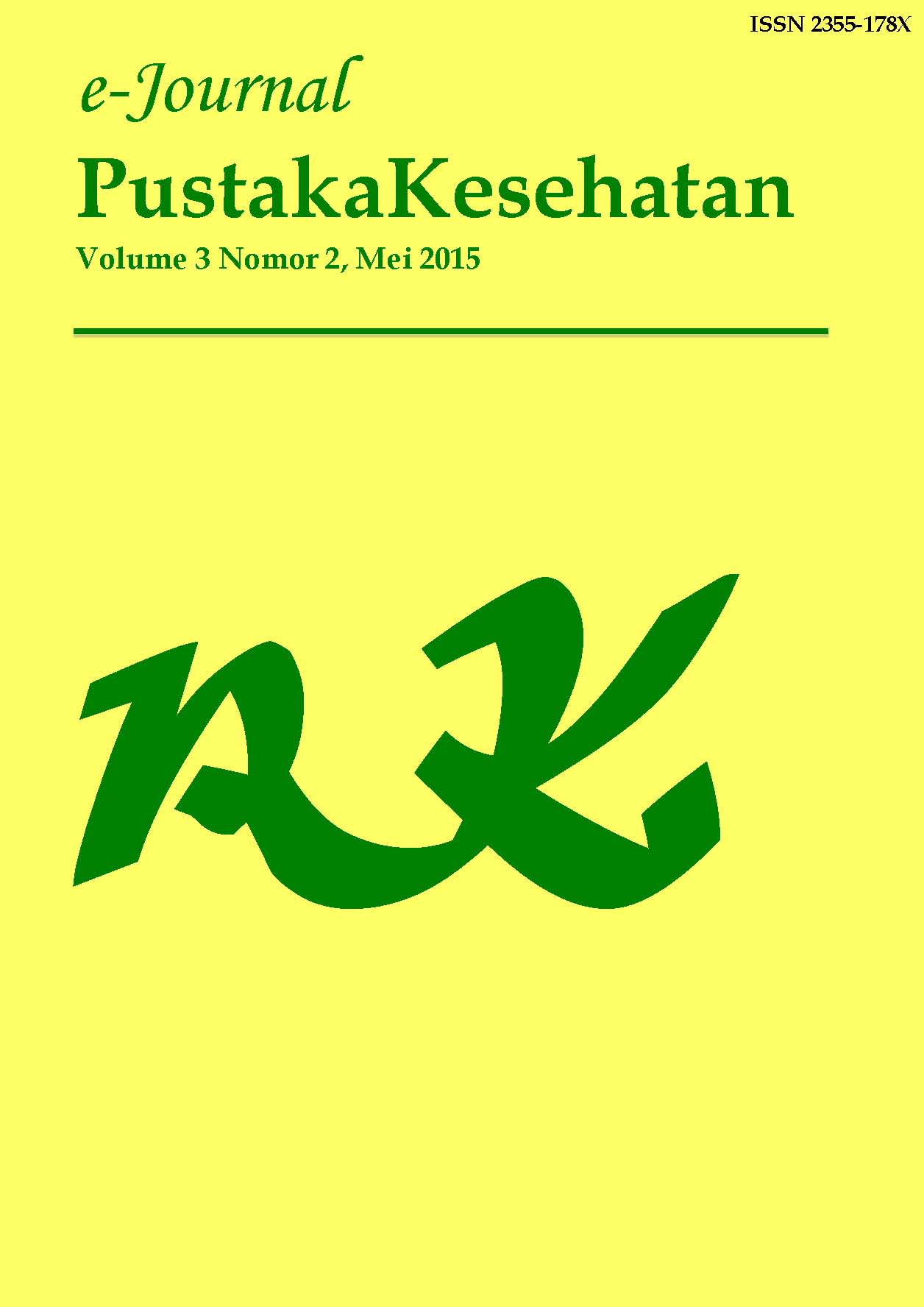 How to Cite
PURWANI, Anastasia Citra; AGUSTINA, Dini; HERMANSYAH, Yuli. Efek Ekstrak Air Kulit Buah Delima (Punica granatum L) terhadap Salmonella typhimurium secara In Vivo (The Effect of Pomegranate (Punica granatum L) Peel Aqueous Extract on Salmonella typhimurium In Vivo).
Pustaka Kesehatan
, [S.l.], v. 3, n. 2, p. 239-243, may 2015. ISSN 2355-178X. Available at: <
https://jurnal.unej.ac.id/index.php/JPK/article/view/2566
>. Date accessed: 10 july 2020.
Penulis yang mengusulkan naskahnya untuk dapat diproses penerbitannya pada Pustaka Kesehatan dianggap telah menyetujui beberapa hal sebagai berikut:
1. Penulis tidak dapat menarik naskah yang telah usulkan untuk diproses hingga mendapat jawaban dari Ketua Dewan Penyunting atas status naskah artikel ilmiahnya (diterima atau ditolak untuk diterbitkan).
2. Penerbit tidak bertanggung jawab terhadap kasus plagiasi atas artikel yang terbit pada Berkala Ilmiah Pertanian.
3. Penerbit tidak bertanggung jawab atas data dan isi dari artikel yang diterbitkan pada Pustaka Kesehatan, dan sepenuhnya merupakan tanggung jawab penulis.