Aktivitas Antibakteri Kombinasi Vitamin C dan Amoksisilin sebagai Bahan Alternatif Intrakanal Medikamen terhadap Enterococcus faecalis secara In Vitro
Julia Eka Putri Ayuningtyas

Fakultas Kedokteran Gigi Universitas Jember

Pudji Astuti

Fakultas Kedokteran Gigi Universitas Jember

Dwi Warna Aju Fatmawati

Fakultas Kedokteran Gigi Universitas Jember
Abstract
Bacteria that are often found in cases of pulp necrosis and root canal treatment are Enterococcus faecalis. Elimination of microorganisms in the root canal can use intracanal medicament. The intracanal medicament can be used from antibiotics such as amoxicillin. The antibacterial power of amoxicillin can be increased by combination with vitamin C to prevent resistance. This research aimed to determine the zone of inhibition of vitamin C and amoxicillin against Enterococcus faecalis. The method used in this study is well diffusion method. Inhibition is shown through the clear zone around the wellbore at 24 hours, 48 ​​hours, 72 hours after incubation. The number of research samples is 16 consisted of 4 groups consisting of amoxicillin, vitamin C, a combination of vitamin C and amoxicillin, and 3 MIX MP. The data were tested by non-parametric statistical analysis Kruskal Wallis and Mann Whitney. The result showed that vitamin C and amoxicillin's antibacterial activity as alternative material intracanal medicament is equivalent to antibacterial 3 MIX MP.
References
[1] Yu CY, Paul A. 2016. Responses of The Pulp, Periradicular and Soft Tissues Following Trauma to The Permanent Teeth. Australian Dent J. 61(1):39-58
[2] Gajan EB, Mohammad A, Rahib A, Amin SM, Zohreh M. 2009. Microbial Flora of Root Canals of Pulpally-infected Teeth: Enterococcus faecalis a Prevalent Species. J Dent Res Dent Clin Dent Prospects. 3(1): 24–27
[3] Nishio AW, Melling G, Cuveillier C. 2018. Enterococcus faecalis Demonstrats Pathogenecity through Increased Attachment in an Ex Vivo Polymicrobial Pulpal Infection. Infect Immun. 86(5):e00871-17
[4] Felippini ALC. 2019. Introductory Chapter: Some Important Aspects of Root Canal Treatment, IntechOpen. IntechOpen. (Diakses pada 17 April 2019) https://www.intechopen.com/online-first/introductory-chapter-some-important-aspects-of-root-canal-treatment
[5] Parhizkar A, Nojehdehian H, Asgary S. 2018. Triple Aantibiotic Paste: Momentous Roles And Applications In Endodontics A Review. Restor Dent Endod. 43 (3): p1-p16
[6] Dalia K, Bodil L, Margareta H. 2016. Antibiotics in Implant Dentistry, Dental Implantology and Biomaterial. Mazen Ahmad Jawad Amin Almasri, IntechOpen. (Diakses pada 17 April 2019) https://www.intechopen.com/books/dental-implantology-andbiomaterial/antibiotics-in-implant-dentistry
[7] Isela SNR, Nakagoshi CS, Martínez SJJ, Hernandez DR, Cabral RC. 2013. Ascorbic Acid On Oral Microbial Growth and Biofilim Formation. The Pharma Innovation – Journal. 2(4): 103-109.
[8] Aburawi SM, Elahmer NM, Eltaif NF. 2013. Effect of Vitamin C on Penicillin G Efficiacy to Inhibit Bacterial Populations. Tripolitana Med J. 2 (2): pp 44-49
[9] Liu J, Shuyu X, Guyue C. 2017. Antimicrobial Activity and Resistence : Influencing Factors. Front Pharmacol. 8:364
[10] Rao R, Simar PK, Sanju N. 2011. Amoxicillin: A Broad Spectrum Antibiotic. Int J Pharm Pharm Sci. 3 (Issue 3): 30-37
[11] Connor BW, Jacqueline KL. 2019. Metronidazole. StartPearls (diakses pada 10 maret 2020).
[12] https://www.ncbi.nlm.nih.gov/books/NBK539728/
[13] Sharma PC, Ankit J, Sandeep J, Rakesh P, and Mohammad SY. Ciprofloxacin: review on developments in synthetic, analytical, and medicinal aspects. 2010. J of Enzyme Inhibition and Med Chem. p1-p12
[14] Garrido-Mesa N, Zarzuelo A, Gálvez J. 2013. Minocycline: far beyond an antibiotic. Br J Pharmacol. 169(2): 337–352.
[15] Patidar RK, Gupta MK, Singh V. 2013. Phenotypic detection of virulence traits and antibiotic susceptibility of endodontic Enterococcus faecalis isolates. American Journal of Microbiological Research. 1(1):4-9
[16] Rams TE, Feik D, Mortensen JE, Degener JE, van Winkelhoff AJ. 2013. Antibiotic Susceptibility of Periodontal Enterococcus faecalis. J Periodontol. 84(7):1026-33
[17] Vilcheze C, Travis H, Brian W, William RJ. 2013. Mycobacterium Tuberculosis is Extraordinarily Sensitive to Killing by a Vitamin C-Induced Fenton Reaction. Nat Commun; 4: 1881
[18] Pandit S, Ravikumar V, Abdel-Haleem AM, Derouiche A., Mokkapati V.R.S.S. 2017. Low Concentrations of Vitamin C Reduce the Synthesis of Extracellular Polymers and Destabilize Bacterial Biofilms. Front. Microbiol. 8: p1-p11.
[19] Biswas S, Thomas N, Mandal A, Mullick A, Chandra D. 2013. In vitro Analysis of Antibacterial Activity of Vitamin c Alone and in Combination with Antibiotics on Gram Positive Rod Isolated from Soil of a Dumping Site of Kolkata. Int J Pharm Bio Sci. 33(3):101-110
[20] Bollenbach T. 2015. Antimicrobial interactions: mechanisms and implications for drug discovery and resistance evolution. Current Opinion in Microbiolog. 27:1–9
[21] Addotey JNA, Awudzi LY, Adosraku RK. 2014. Stability Studies on Reconstituted Amoxicillin-Clavulanic Acid Oral Powder by HPLC Method Development and Quantification. International Journal of Pharmaceutical Science and Practice. 3 (1):pp1-12.
[22] Pringginies D, Ridlo A, Sembiring N. 2017. Antibacterial Activity For Multi Drug Resistance (MDR) Bacteriae Bysea Cucumber Stichopus vastus Extract From Karimun Island- Indonesia. Jurnal Ilmu dan Teknologi Kelautan Tropis. 9(2):695-707.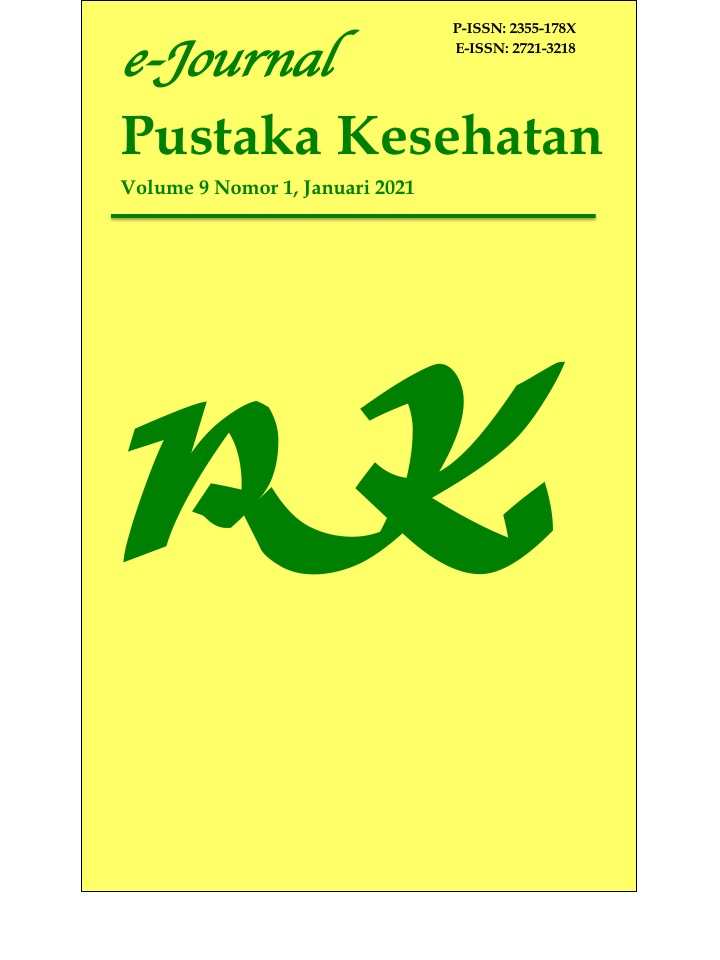 Penulis yang mengusulkan naskahnya untuk dapat diproses penerbitannya pada Pustaka Kesehatan dianggap telah menyetujui beberapa hal sebagai berikut:
1. Penulis tidak dapat menarik naskah yang telah usulkan untuk diproses hingga mendapat jawaban dari Ketua Dewan Penyunting atas status naskah artikel ilmiahnya (diterima atau ditolak untuk diterbitkan).
2. Penerbit tidak bertanggung jawab terhadap kasus plagiasi atas artikel yang terbit pada Berkala Ilmiah Pertanian.
3. Penerbit tidak bertanggung jawab atas data dan isi dari artikel yang diterbitkan pada Pustaka Kesehatan, dan sepenuhnya merupakan tanggung jawab penulis.