Hubungan Stres Kerja dengan Kelelahan Kerja Petani Karet di PTPN XII Kebun Renteng, Ajung-Jember
Sari Mulia Ningrum

Fakultas Keperawatan Universitas Jember

Erti Ikhtiarini Dewi

Fakultas Keperawatan, Universitas Jember

Enggal Hadi Kurniyawan

Fakultas Keperawatan, Universitas Jember
Abstract
Rubber farmers often face heavy workload problems, cold weather, and unsafe environmental conditions that cause job stress and work fatigue. The purpose of the study was to analyze the relationship between job stress and work fatigue of rubber farmers. The study design used observational analytic research with cross-sectional approach and a simple random sampling technique. There were 78 respondents. Data were collected using the job stress questionnaire and the Fatigue Severity Scale (FSS). Data analysis was performed by Spearman-rank Correlation test with a significance level of 0.05. The results showed that from 78 people there were 73 people (92.6%) experienced severe stress. And as many as 78 respondents (100%) experienced high work fatigue. There was a significant relationship between job stress and work fatigue of rubber farmers in PTPN XII Renteng Gardens, Ajung-Jember (p-value 0,000; r = 0.538). A positive relationship meaning the higher of job stress the higher of work fatigue. Farmers were recommended to do relaxation therapy to prevent work fatigue due to work stress.
References
[1] Rodjak, Abdul. 2006. Manajemen Usaha Tani. Jilid II. Bandung: Pustaka Gratuna
[2] Perry, A, G., & Potter, P.A. 2005. Buku ajar fundamental keperawatan: Konsep, proses dan praktik. (Ed 4). (Y. Asih, Terj.). Jakarta: EGC.
[3] Maghfiroh, Intan, dkk. 2017. Hubungan Stres Dan Motivasi Kerja Dengan Hasil Kerja Operator Jahit PO. Seventeen Glory Salatiga. Jurnal Kesehatan Masyarakat (e-Journal), 5(3): 278-285. [serial online] https://ejournal3.undip.ac.id/index.php/jkm/arti cle/viewFile/17237/16494 diakses pada 20 Februari 2019
[4] Lisdiana. 2014. Regulasi Kortisol Pada Kondisi Stres Dan Addiction. Biosaintifika 4 (1):18-26.
[5] Fadhillah, Luthfi M. 2010. Analisis Pengaruh Stres Kerja Terhadap Kepuasan Kerja Dengan Dukungan Sosial Sebagai Variabel Moderating (Studi Pada PT. Coca Cola Amatil Indonesia, Central Java). Semarang : Badan Penerbit Universitas Diponegoro.
[6] Setyawati, K. 2010. Selintas Tentang Kelelahan Kerja. Yogyakarta: Amara Books.
[7] Kallioniemi, M., Simola, A., Kaseva, J., Kymalainen, H. 2016. Stress And Burnout Among Finnish Dairy Farmers. [serial online] http://backup.scihub.tw/6198/7900cc8190b08a ec12a0a35f113d137a/kallioniemi2016.pdf diakses tanggal 12 Juli 2019
[8] Mulyaningsih, Asih., Hubeis, Aida V.S., Sadono, Dwi., Susanto, Djoko. 2018. Partisipasi Petani pada Usahatani Padi, Jagung, dan Kedelai Perspektif Gender [serial online] http://jesl.journal.ipb.ac.id/index.php/jupe/articl e/viewFile/18546/14488 diakses tanggal 12 Juli 2019
[9] Mantra, Bagoes Ida.2004.Demografi Umum.Yogyakarta.Pustaka Pelajar
[10] Saputri, Widyanfri W. P. 2017. Gambaran Kejadian Burnout Berdasarkan Faktor Determinannya Pada Pekerja Gudang Dan Lapangan PT. Multi Terminal Indonesia. [serial online] http://repository.uinjkt.ac.id/dspace/bitstream/1 23456789/35890/1/Widyanfri%20Wira%20Prat ama%20Saputri-FKIK.pdf diakses tanggal 12 Juli 2019
[11] Kismono, Gugup. 2013. Manajemen Bisnis. Yogyakarta: BPFE
[12] Arisandra, Martha L. 2016. Pengaruh Tingkat Pendidikan, Keterampilan Kerja Dan Sikap Kerja Karyawan Terhadap Prestasi Kerja Karyawan Pt. Bpr Nusamba Brondong Lamongan. Jurnal Ekonomi Universitas Kadiri, Vol. 1, No. 2: 103-116 [serial online] https://www.researchgate.net/publication/3269 15357_Pengaruh_Tingkat_Pendidikan_Ketera mpilan_Kerja_Dan_Sikap_Kerja_Karyawan_T erhadap_Prestasi_Kerja_Karyawan_Pt_Bpr_N usamba_Brondong_Lamongan diakses pada 25 Juli 2019
[13] Mangkunegara, Prabu. 2000. Manajemen Sumber Daya Manusia Perusahaan, Cetakan ke 2 PT. Remaja Rosda Karya, Bandung
[14] Paulina dan Salbiah. 2016. Faktor yang Berhubungan Dengan Kelelahan Pada Pekerja Di PT Kalimantan Steel. Jurnal Vokasi Kesehatan, (online), Vol. 2, No. 2, 377-384. [serial online]
ejournal.poltekkespontianak.ac.id/index.php/J VK/article/download/50/57 diakses tanggal 14 Juli 2019
[15] Atiqoh, Januar., Wahyuni, Ida., Lestantyo, Daru. 2014. Faktor-Faktor yang Berhubungan dengan Kelelahan Kerja pada Pekerja Konveksi Bagian Penjahitan di CV. Aneka Garment Gunungpati Semarang
[16] Kambodji, Joyce., 2002. Pengaruh Intensitas Nyeri Terhadap Keterbatasan Fungsional Aktivitas Sehari-hari Penderita Nyeri Punggung Bawah Kronis. Universitas Gadjah Mada. Pendidikan Dokter Spesialis Saraf.
[17] Widyastuti , A.D. 2017. Hubungan Stres Kerja Dengan Kelelahan Kerja Pada Pekerja Area Workshop Konstruksi Box Truck. The Indonesian Journal Of Occupational Safety And Health, Vol. 6, No. 2: 216–224. [serial online] https://e-journal.unair.ac.id/IJOSH/article/view/4512 diakses pada 10 Februari 2019
[18] Munandar, Ashar. S (2008). Psikologi Industri dan Organisasi. Penerbit Universitas Indonesia (UI-Press)
[19] Verawati, Lince. 2016. Hubungan Tingkat Kelelahan Subjektif Dengan Produktivitas Pada Tenaga Kerja Bagian Pengemasan Di CV Sumber Barokah. The Indonesian Journal of Occupational Safety and Health, Vol. 5, No. 1 Jan-Jun 2016: 51–60 [serial online] https://e- journal.unair.ac.id/IJOSH/article/view/3799/25 71 diakses pada tanggal 14 Juli 2019
[20] Huat Bin (Andy), A. 2010. Occupational Stres Among the New Zealand Farmers- A Review. New Zealand: Auckland University of Technology.
[21] Tarwaka. 2015. Ergonomi Industri – Dasar- dasar Pengetahuan Ergonomi dan Aplikasi di Tempat Kerja. Surakarta: Harapan Press Solo.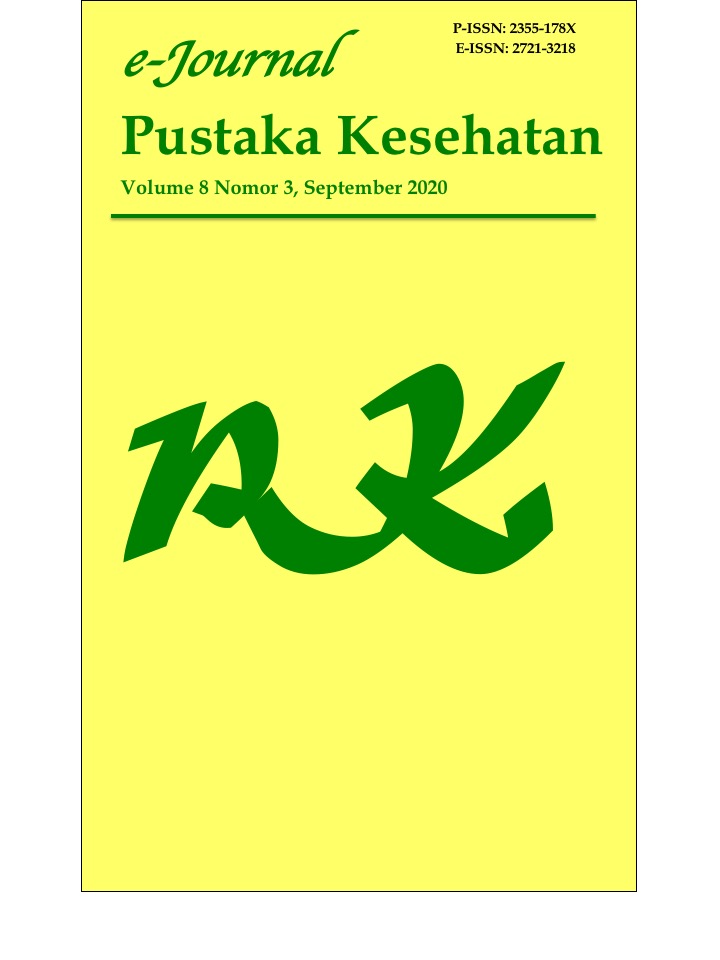 e-Journal Pustaka Kesehatan has CC-BY-SA or an equivalent license as the optimal license for the publication, distribution, use, and reuse of scholarly work. Authors who publish with this journal retain copyright and grant the journal right of first publication with the work simultaneously licensed under a Creative Commons Attribution-ShareAlike 4.0 International License that allows others to share the work with an acknowledgment of the work's authorship and initial publication in this journal.