Pengaruh Relaksasi Otot Progresif terhadap Kelelahan dan Kualitas Tidur pada Petani Penyadap Karet di PTPN XII Kebun Kalisanen Jember
Wahyu Adinda Yuli Pratiwi

Fakultas Keperawatan Universitas Jember

Emi Wuri Wuryaningsih

Fakultas Keperawatan Universitas Jember

Enggal Hadi Kurniyawan

Fakultas Keperawatan Universitas Jember
Abstract
Farmers often experience fatigue due to excessive workload and working hours. People with excessive fatigue will have sleep difficulty. The purpose of this study was to analyze the effect of progressive muscle relaxation on fatigue and sleep quality on rubber tapping farmers at PTPN XII Kalisanen Garden, Jember Regency. The design used is Quasy Experimental with a pretest and posttest design with control group design. The sampling technique was simple random sampling involving 40 farmers (20 respondents in the intervention group and 20 respondents in the control group). Data collection for fatigue using the Fatigue Severity Scale questionnaire and sleep quality using the Pittsburg Sleep Quality Index questionnaire. The results of the effect of PMR on fatigue in the intervention and control groups using the independent t-test obtained results with of p-value 0,000 <0,05, which means that there was an effect of PMR on fatigue in the intervention and control groups. The results of the influence of PMR on sleep quality in the intervention and control groups using the Mann- Whitney test obtained results with of p-value 0,000 <0.05 which means that there was an effect of PMR on sleep quality in the intervention and control groups. PMR activates the sympathetic and parasympathetic nervous system that works mutually so that it can reduce muscle tension and make it easy to sleep. in conclusion, PMR can be used to reduce fatigue and can improve sleep quality.
References
[1] Setiwan DH. Petunjuk lengkap budi daya Karet. Jakarta: AgroMedia; 2008.
[2] Selviyati V, Camilia A, & Sunarsih E. Analisis determinan kejadian carpal tunnel syndrome (CTS) pada petani penyadap dan pohon karet di desa karang manik kecamatan belitang II kabupaten okutimur. Jurnal Ilmu Kesehatan Masyarakat. 2016; Vol.7
[3] Setyowati DL, Shaluhiyah Z, & Widjasena B. Penyebab kelelahan kerja pada pekerja mebel. Jurnal Kesehatan Masyarakat Nasional. 2014; Vol. 8(8): 2460-0601.
[4] Prakoso DI, Setyaningsih Y, & Kurniawan B. Hubungan karakteristik individu, beban kerja, dan kualitas tidur dengan kelelahan kerja pada tenaga kependidikan di institusi kependidikan X. Jurnal Kesehatan Masyarakat. 2018; Vol. 7(2): 2356-3346.
[5] Safitrie A, & Ardani MH. Studi komparatif kualitas tidur perawat shift dan non shift di unit rawat inap dan unit rawat jalan. Prosding Konferensi Nasional PPNI Jawa Tengah. 2013
[6] Potter PA, & Perry AG. Fundamental keperawatan: konsep, proses, dan praktik Volume 3 Edisi 7. Jakarta: Salemba Medika; 2010
[7] Anindita B. Pengaruh teknik relaksasi progresif terhadap tingkat kecemasan pada klien skizofrenia paranoid di RSJD surakarta. Skripsi. Surakarta: Fakultas Ilmu Kesehatan Universitas Muhammadiyah; 2012. [cited 17 Februari 2019]
[8] Rahayu R. Gambaran kelelahan kerja pada petani rumput laut di kecamatan pa'jukukang kabupaten bantaeng. Skripsi. Makassar: Fakultas Kedokteran dan Ilmu Kesehatan UIN Alauddin; 2017. [cited 1 Februari 2019]
[9] Tawarka, Bakri SHA, & Sudiajeng L. Ergonomi untuk kesehatan dan keselamatan kerja dan produktivitas [internet]. Surakarta: UNIBA Press. 2004 . [cited 8 Februai 2019]. Availabel from https://archive.org/details/ErgonomiUntukK eselamatanKesehatanKerjaDanProduktivita s/page/n1

[10] Manyamsari I, & Mujiburrahmad M. Karakteristik petani dan hubungannya dengan kompetensi petani lahan sempit (kasus: di desa sinar sari kecamatan dramaga kab. bogor jawa barat). Jurnal Agrisep. 2014; 15(2): 58-74.
[11] Miswar. Analisis Faktor-Faktor Yang Mempengaruhi Tingkat Upah Pekerja Di Aceh. Jurnal Ekonomi Dan Kebijakan Publik Indonesia. 2018
[12] Nugroho A, Yuantari C, & Hartini E. Hubungan antara beban kerja dengan tingkat kelelahan pada petani di desa Curut kecamatan penawangan kabupaten grobogan Tahun 2013. 2013.
[13] Inderani I, Tarigan L, Saalmah U. Hubungan kelelahan kerja dengan produktivitas kerja pada pemetik the di PT perkebunan nusantara IV butong kabupaten simalungun Tahun 2014. 2014.
[14] Smeltzer SC & Bare BG. Buku ajar keperawatan medikal bedah. Jakarta: EGC; 2002.
[15] Manurung R. Pengaruh terapi relaksasi otot progresif terhadap kualitas tidur pada Lansia di panti jompo yayasan guna budi bakti medan Tahun 2017. Jurnal Ilmiah Keperawatan Imelda. 2018; Vol.3(2).
[16] Stuart GW. Prinsip dan praktik keperawatan kesehatan jiwa stuart. Buku 2. Singapore: Elsevier; 2016.
[17] Prasetya Z. Pengaruh terapi relaksasi otot progresif terhadap perubahan tingkat insomnia pada lansia. Skripsi. Fakultas Kedokteran dan Ilmu Kesehatan Universitas Islam Negeri Alauddin. 2016.
[18] Richmond RL. 2007. A guide to pschology and its practice [internet]. [cited 15 Maret 2019]. Available from http://www.guidetopsychology.com/pmr.htm
[19] Turmudzi AMP. Pengaruh relaksasi otot progresif terhadap tingkat insomnia pada pasien rawat jalan dengan gagal ginjal kronik (GGK) yang menjalani hemodialisa RSUD dr. abdoer rahman situbondo. Skripsi. Jember: Program Studi Ilmu Keperawatan Universitas Jember; 2014. [cited 29 Maret 2019]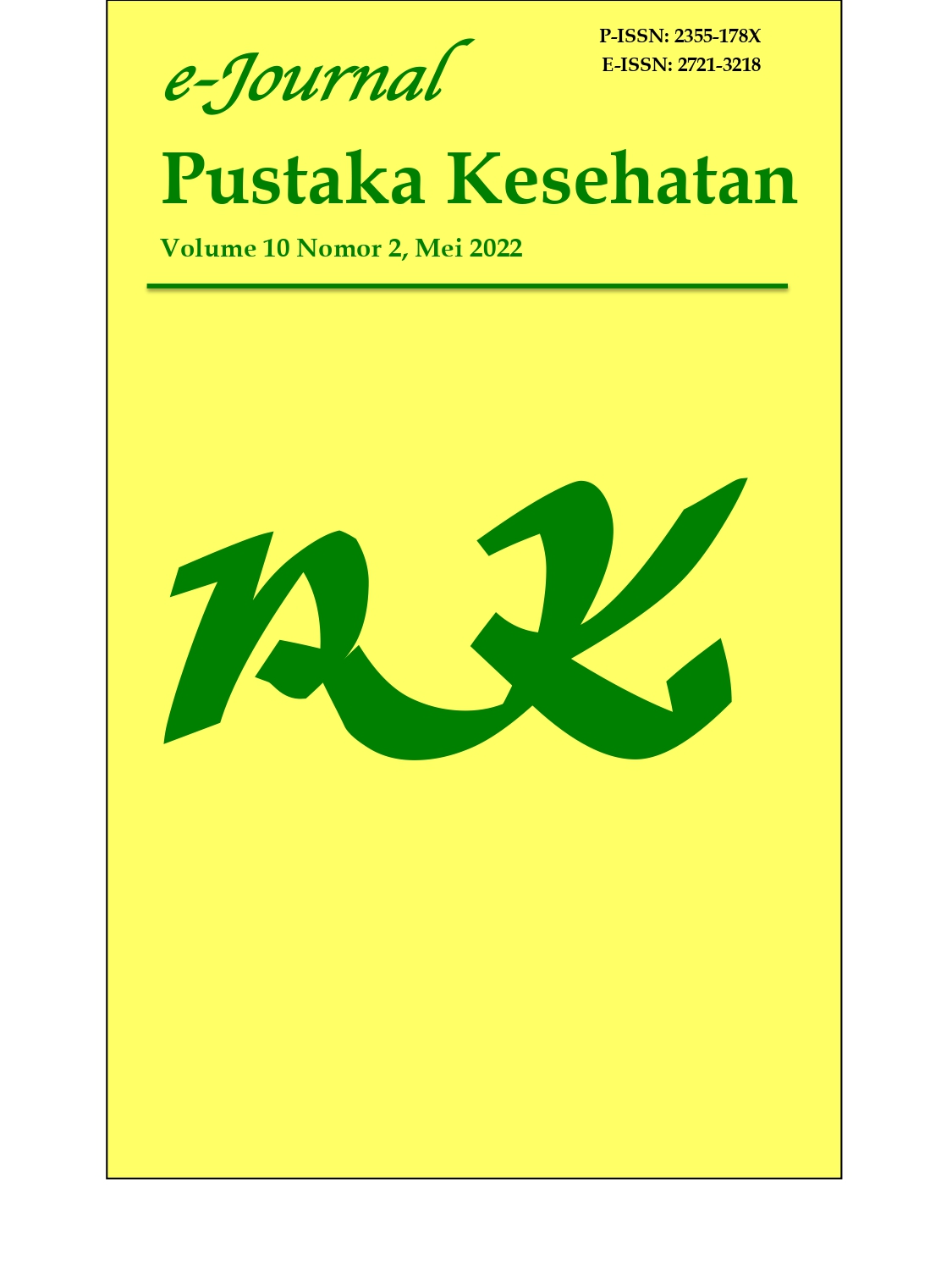 e-Journal Pustaka Kesehatan has CC-BY-SA or an equivalent license as the optimal license for the publication, distribution, use, and reuse of scholarly work. Authors who publish with this journal retain copyright and grant the journal right of first publication with the work simultaneously licensed under a Creative Commons Attribution-ShareAlike 4.0 International License that allows others to share the work with an acknowledgment of the work's authorship and initial publication in this journal.