PANDEMI COVID-19: LEBIH BAIK MENAMBAH UTANG ATAU EKUITAS?
Bayu Aprillianto

Universitas Jember

Oktaviani Ari Wardhaningrum

Universitas Jember
Abstract
ABSTRACT
Covid-19 Pandemic has caused massive changes. Lockdown policy set by the government to suppress the rate of transmission of the virus has had huge impact on the economy. Many companies must suffer losses, even have to declare bankruptcy. Operational activities had been limited that caused the company no longer being able to rely on internal funding to finance its business. The company is faced with a choice of external funding decisions, that is increasing debt (on liability side) or issue shares (on the equity side). This study aims to examine the effect of capital structure during the pandemic on financial performance. This research conducted on 121 companies from consumer non-cyclicals, transportation & logistic, and banking sector listed on Indonesia Stock Exchange. The results show that during the pandemic companies tend to prefer to increase debt than equity. Further testing shows that the companies with dominant debt capital structure have positive effect on financial performance. Meanwhile, the companies with a dominant equity capital structure have no significant effect.
Keywords: debt, equity, financial performance, pandemic

ABSTRAK
Pandemi Covid-19 menyebabkan perubahan yang sangat masif. Kebijakan lockdown yang dilakukan oleh pemerintah untuk menekan laju penularan virus memberikan dampak yang sangat besar bagi perekonomian. Banyak perusahaan yang harus mengalami kerugian, bahkan harus mengumumkan kebangkrutan. Kegiatan operasional perusahaan yang terbatas mengakibatkan perusahaan tidak lagi dapat mengandalkan pendanaan internal untuk membiayai usahanya. Perusahaan dihadapkan pilihan keputusan pendanaan eksternal, yaitu menambah utang (di sisi liabilitas) atau menerbitkan saham (di sisi ekuitas). Penelitian ini bertujuan untuk menguji pengaruh struktur modal di masa pandemi terhadap kinerja keuangan. Pengujian dilakukan ke 121 perusahaan dari perusahaan sektor barang konsumen non-primer, transport dan logistik, dan perbankan yang terdaftar di Bursa Efek Indonesia. Hasil penelitian menunjukkan bahwa di masa pandemi, perusahaan cenderung lebih memilih menambah utang dibandingkan ekuitas. Pengujian lebih lanjut menunjukkan bahwa sampel perusahaan dengan struktur modal dominan utang menunjukkan hasil berpengaruh positif pada kinerja keuangan. Sedangkan pada sampel perusahaan dengan struktur modal dominan ekuitas menunjukkan hasil tidak signifikan.
Kata kunci: ekuitas, kinerja keuangan, pandemi, utang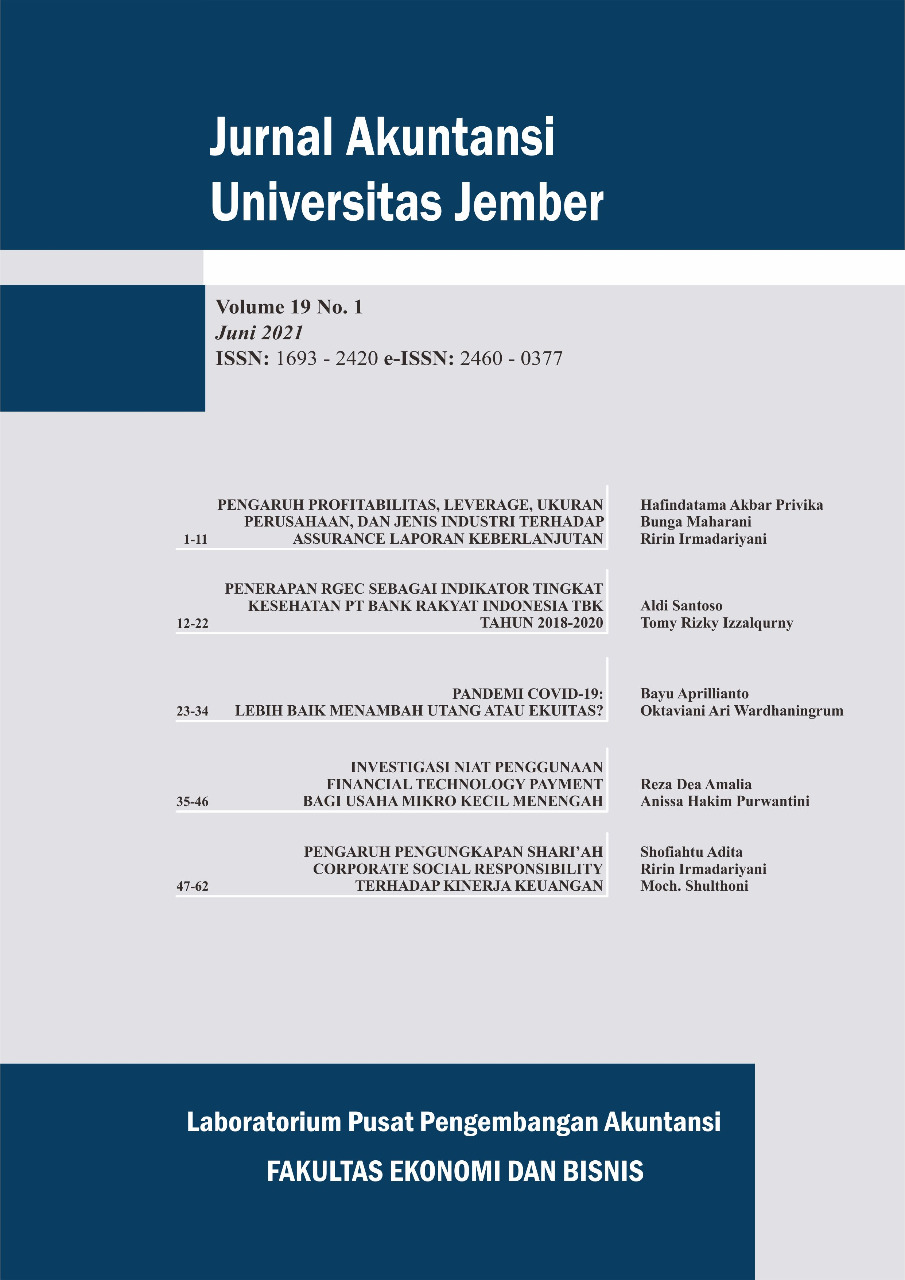 This work is licensed under a Creative Commons Attribution-ShareAlike 4.0 International License.