BEBAN PENCEMARAN KALI JOMPO DI KECAMATAN PATRANG-KALIWATES KABUPATEN JEMBER
Siti Nur Aziza

urusan Teknik Pertanian, Fakultas Teknologi Pertanian, Universitas Jember

Sri Wahyuningsih

Jurusan Teknik Pertanian, Fakultas Teknologi Pertanian, Universitas Jember

Elida Novita

Jurusan Teknik Pertanian,Fakultas Teknologi Pertanian, Universitas Jember
Abstract
Jompo River is one of many tributaries in Jember District has become one of the water source for inhabitant around use for their daily needs. People activities can make water quality in Jompo River has been polluted gradually. The measurement need to knows water quality and polution load which enter in to Jompo River.  Location of research was start form Patrang to Kaliwates District with six node and  distantance 625 m. each node. This research was conducted in March-July 2017. Based on data analysis, average value of water quality ​​ were TSS was 67 mg / l, TDS was 104.78 mg / l, pH was 6.73, DO was 8.34 mg / l, and BOD was 1.20 mg / l. Based on Government Regulation No. 82 of 2001, the Jompo river water quality was included in class II criteria. The highest pollution load was at the 6th node of 394.39 kg/day. Jompo River has an average reaeration rate of 0.65 mg / l.day and deoxygenation rate of 0.284 mg / l.day. The river was ability to accomodate of pollution load because the rate of reaeration rate was higher than the value of deoxygenation rate.
Keywords: Jompo River, pollution load, water quality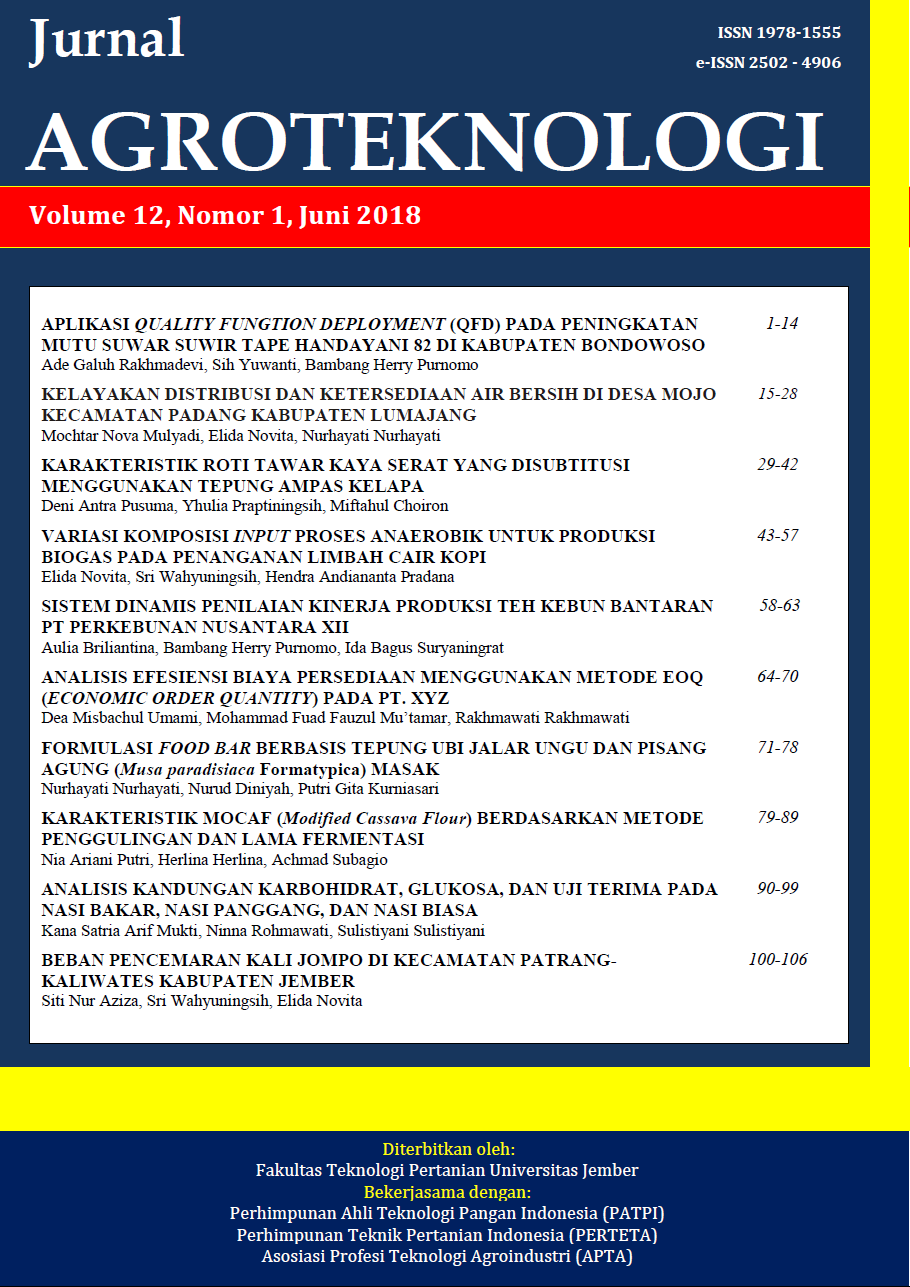 This work is licensed under a Creative Commons Attribution-ShareAlike 4.0 International License.

Under Liscense of Creative Commons Attribution - ShareAlike 2.0 Generic (CC BY-SA 2.0)