BIOPRESERVATIF ALAMI DALAM PEMBUATAN EDIBLE FILM KARAGENAN Eucheuma cottonii DENGAN POLIETILEN GLIKOL SEBAGAI PLASTICIZER
Clementia Caroline

Jurusan Teknologi Pangan - Fakultas Teknologi Pertanian, Universitas Katolik Soegijapranata

Alberta Rika Pratiwi

Jurusan Teknologi Pangan - Fakultas Teknologi Pertanian, Universitas Katolik Soegijapranata
Abstract
Flavored edible film can be made from carrageenan with addition of spices such as sugar, salt, garlic, pepper, and nutmeg. Flavored edible film is an instant spice product innovation to reduce plastic packaging waste. This study aims to determine the effect of adding spices to flavor, solubility, shelf life, antibacterial activity, and fungus growth on edible film. Sensory analysis was to determine the most preferred formulation. Solubility analysis used solution at 75°C and 100°C with oil and without oil. Shelf life analysis used the Accelerared Shelf-Life Testing method at 25°C, 35°C, and 40°C at 75% RH. Antibacterial activity used paper disc diffusion method with Bacillus cereus and Salmonella. Analysis of fungus growth was done with incubation for 24 hours. Flavored edible film consisting of 4 grams of sugar, 4 grams of salt, 1 grams of garlic, 0.2 grams of pepper and 0.2 grams of nutmeg has the highest score of taste and aroma attribute score of 2.20 ± 0.45. Flavored edible film had a significant difference solubility in oil treatment and no significant difference in temperature treatment. Flavored edible film had a shelf life 17 days. Flavored edible film could not inhibit bacterial activity. There was no fungal growth on flavored edible film.
Keywords: flavored edile film, carrageenan, sensory, solubility, shelf life, antimicrobial activity, fungus growth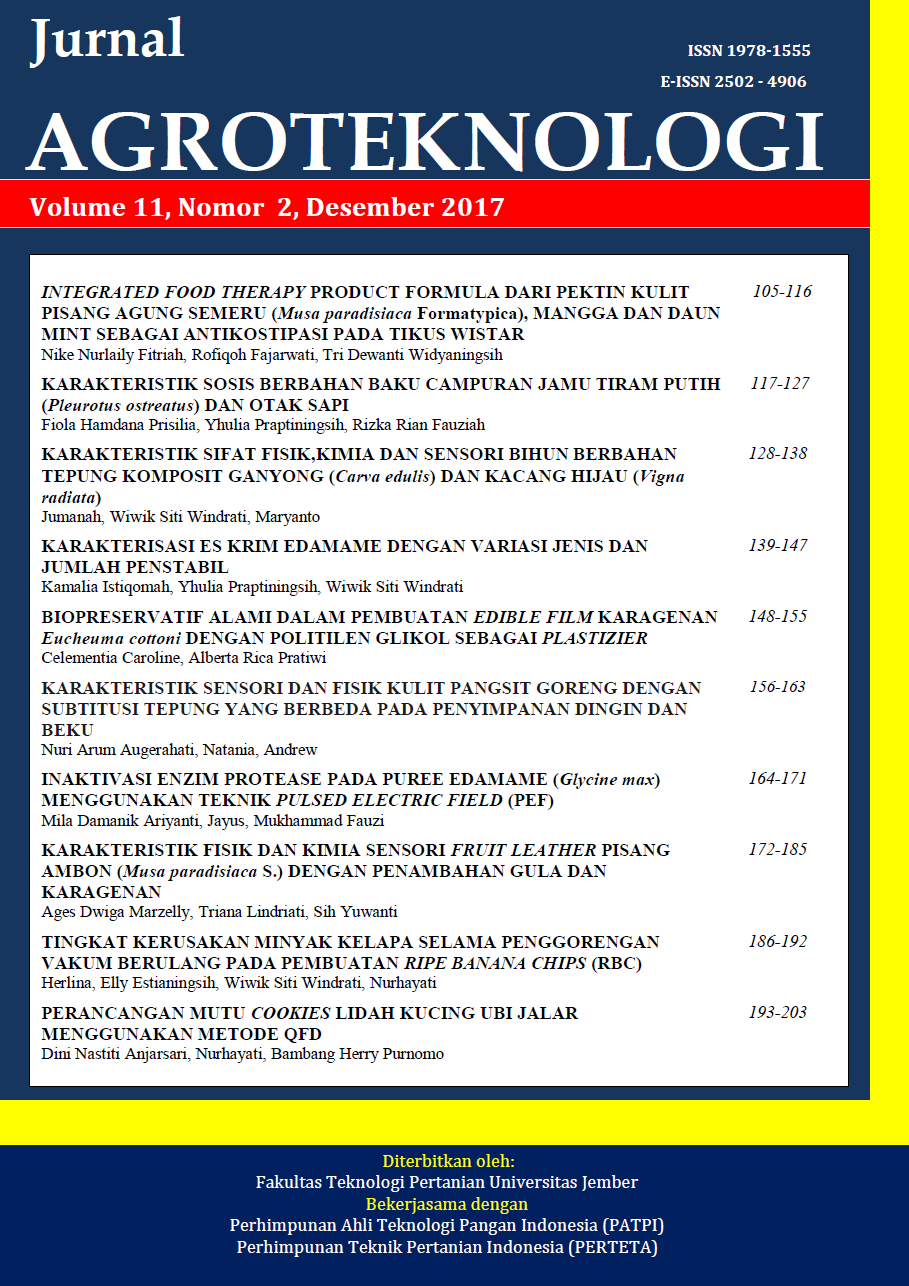 This work is licensed under a Creative Commons Attribution-ShareAlike 4.0 International License.

Under Liscense of Creative Commons Attribution - ShareAlike 2.0 Generic (CC BY-SA 2.0)