KARAKTERISTIK FISIK, NILAI GIZI, DAN MUTU SENSORI SOSIS LELE DUMBO (Clarias gariepinus) DENGAN VARIASI JENIS DAN KONSENTRASI BAHAN PENGISI
Dyah Riska Anggraini

Teknologi Hasil Pertanian, Fakultas Teknologi Pertanian Universitas Jember

Tejasari Tejasari

Teknologi Hasil Pertanian, Fakultas Teknologi Pertanian Universitas Jember

Yhulia Praptiningsih S.

Teknologi Hasil Pertanian, Fakultas Teknologi Pertanian Universitas Jember
Abstract
Catfish can be processed into food products with high economical value such as a sausage. On the process of making a sausage needs a filler. The amount of the filler needed depends on the basic material and filler used. MOCAF and maizena are potential as the filler because it can hold the water content which is very important to the characteristics of a good and favorable sausage. The objective of this research is to know the exact type and concentration of filler on the process of making a good characteristics dumbo catfish sausage. This research used a complete randomized block design through 2 x 3 factorial pattern. The first factor is the type of filler (5%, 7,5%, and 10% based the % weight of the grinded fish meat), while the second factor is the concentration of the filler content added (% of the weight of the minced fish meat) covering 3 level of treatments as follows: 5% (B1), 7.5% (B2), 10% (B3).The data is analyzed by ANOVA and if there is a differences, it is continued by DMRT 5% test. The sensory data was processed using chi square test. Best treatment is decided by effectivity test. The best sausage treatment is proximate tested. The result shows that A1B1 (MOCAF 5%) is the best treatment. The sausage demonstrated lightness value of 71,41; texture value 174,87 g/5mm; cooking loss 0,0416%; the sliced visible is compact; water content 64,76%; protein content 17,96% ; fat content 4,88%; ash content 1,25%; carbohydrate content 10,10%; sensory of preference color 64%; taste 76%; texture 64%; aroma 40% and overall 68%.
Keywords: catfish sausage, filler, sausage quality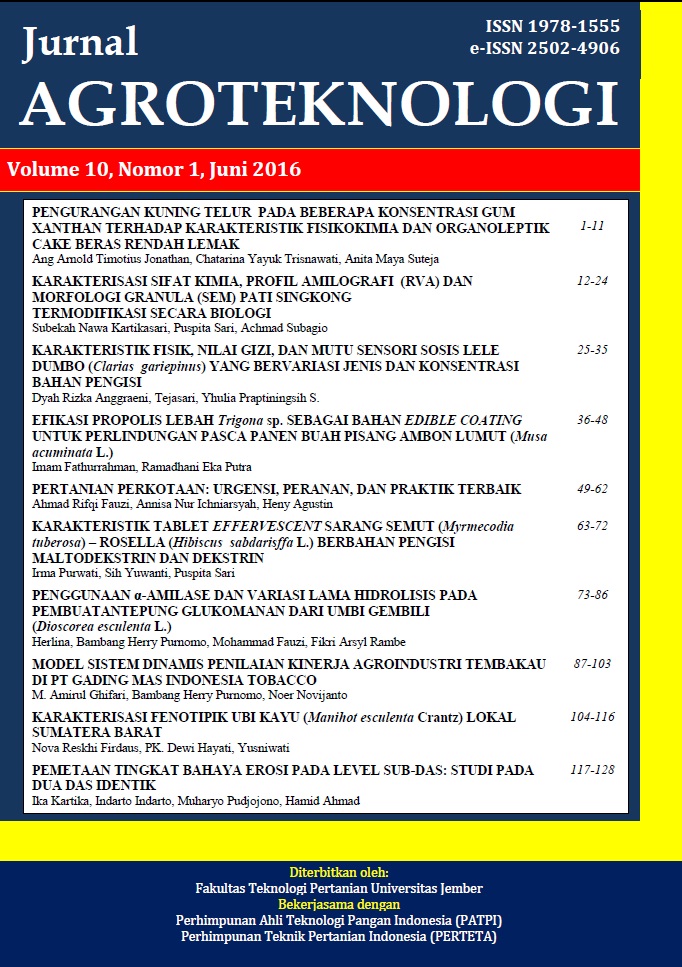 How to Cite
ANGGRAINI, Dyah Riska; TEJASARI, Tejasari; PRAPTININGSIH S., Yhulia. KARAKTERISTIK FISIK, NILAI GIZI, DAN MUTU SENSORI SOSIS LELE DUMBO (Clarias gariepinus) DENGAN VARIASI JENIS DAN KONSENTRASI BAHAN PENGISI.
JURNAL AGROTEKNOLOGI
, [S.l.], v. 10, n. 01, p. 25-35, june 2016. ISSN 2502-4906. Available at: <
https://jurnal.unej.ac.id/index.php/JAGT/article/view/4473
>. Date accessed: 02 apr. 2020.

Under Liscense of Creative Commons Attribution - ShareAlike 2.0 Generic (CC BY-SA 2.0)