PEMETAAN TINGKAT BAHAYA EROSI PADA LEVEL SUB-DAS: STUDI PADA DUA DAS IDENTIK
Ika Kartika

Dept. of Agricultural Engineering, FTP, Universitas Jember

Indarto Indarto

Dept. of Agricultural Engineering, FTP, Universitas Jember

Muharyo Pudjojono

Dept. of Agricultural Engineering, FTP, Universitas Jember

Hamid Ahmad

Dept. of Agricultural Engineering, FTP, Universitas Jember
Abstract
This research deals with the prediction of erosion level by means of USLE and GIS software. USLE was used to calculate the erosion level at the watershed level, then the result was classified and mapped on the top of ArcGIS. Two similar sub-watersheds (Kloposawit and Rawatamtu) in the
eastern part of East Java were used for this study. Input data consist of: (1) ASTER GDEM2 (resolution pixel ± 30m), (2) soil map layer, (3) land uses map, (4) rainfall data, and (5) ground control points. Research procedures include (1) data inventory, (2) analysis using excel and ArcGIS,
(3) calculation of erosion level, (4) field survey using GPS, and (5) interpretation. The research result shows that about 56,4 km2 (7,8%) area of Kloposawit sub-watersheds is classified as high and very high erosion level rate. This area cover 8 districts at Bondowoso Regency. Furthermore, at Rawatamtu sub-watershed, high and very high erosion level cover 7 districts in Jember Regency.
Keywords: erosion rate, USLE, erosion map, watershed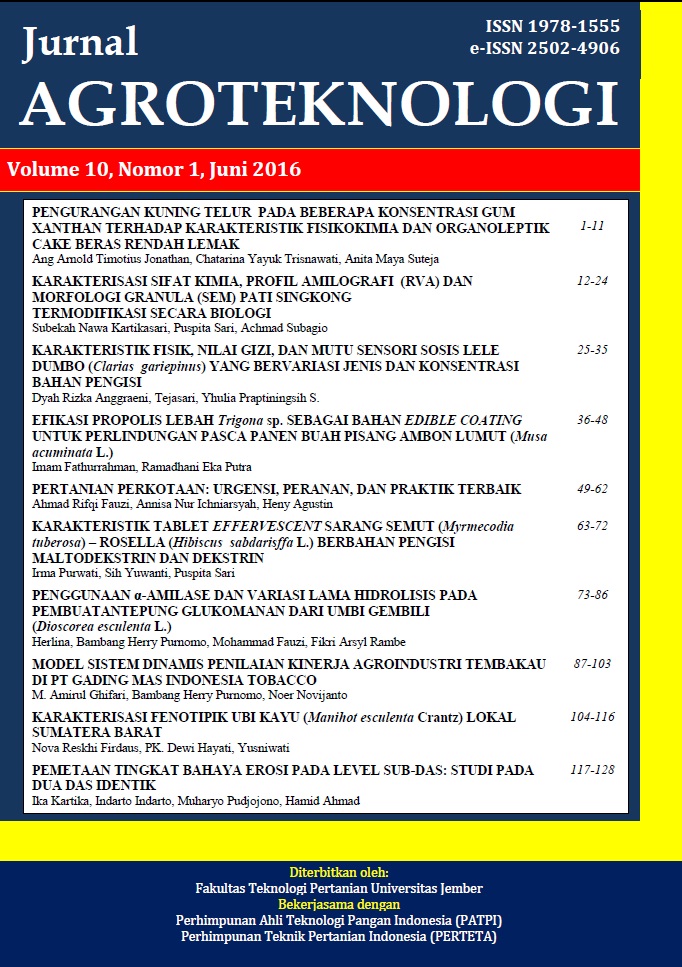 Under Liscense of Creative Commons Attribution - ShareAlike 2.0 Generic (CC BY-SA 2.0)