PENGGUNAAN α-AMILASE DAN VARIASI LAMA HIDROLISIS PADA PEMBUATANTEPUNG GLUKOMANAN DARI UMBI GEMBILI (Dioscorea esculenta L.)
Herlina Herlina

Jurusan Teknologi Hasil Pertanian, Fakultas Teknologi Pertanian Universitas Jember

Bambang Herry Purnomo

Jurusan Teknologi Hasil Pertanian, Fakultas Teknologi Pertanian Universitas Jember

Mukhammad Fauzi

Jurusan Teknologi Hasil Pertanian, Fakultas Teknologi Pertanian Universitas Jember

Fikri Arsyl Rambe

Jurusan Teknologi Hasil Pertanian, Fakultas Teknologi Pertanian Universitas Jember
Abstract
This study aimed to determine the effect of α-amylase concentration and hydrolysis time to yield, physical, functional, and chemical characteristics of glucomannan flour from Gembili tuber flour.The study was consist of two phases, the making of gembili tuber flour and glucomannan flourproduction using enzymatic method with a concentration of α-amylase (0,4 U/g; 0.8 U/g; 1.2 U/g) and hydrolysis time (1 hour, 2 hours, and 3 hours). The experiment used a randomized block design arranged with two factors and three repetitions. The results showed that interaction between enzyme concentration and hydrolysis time has significant effect on yield with values range from 1.74% to 2.12%, brightness (lightness) range from 56.19 to 60.28, WHC range from 771.47 to 1621.07% , whereas non-significant effect on the OHC range from 733.20 to 788.20%, the water content range from 9.57 to 12.78%, ash content range from 3.05 to 3.23%, protein content range from 8.26 to 8.57%, glucomannan levels range from 52.06 to 56.17%, and a viscosity range between 107.34 to 127.59 mp.
Keywords: gembili tuber, α-amilase, hydrolysis time, glucomannan flour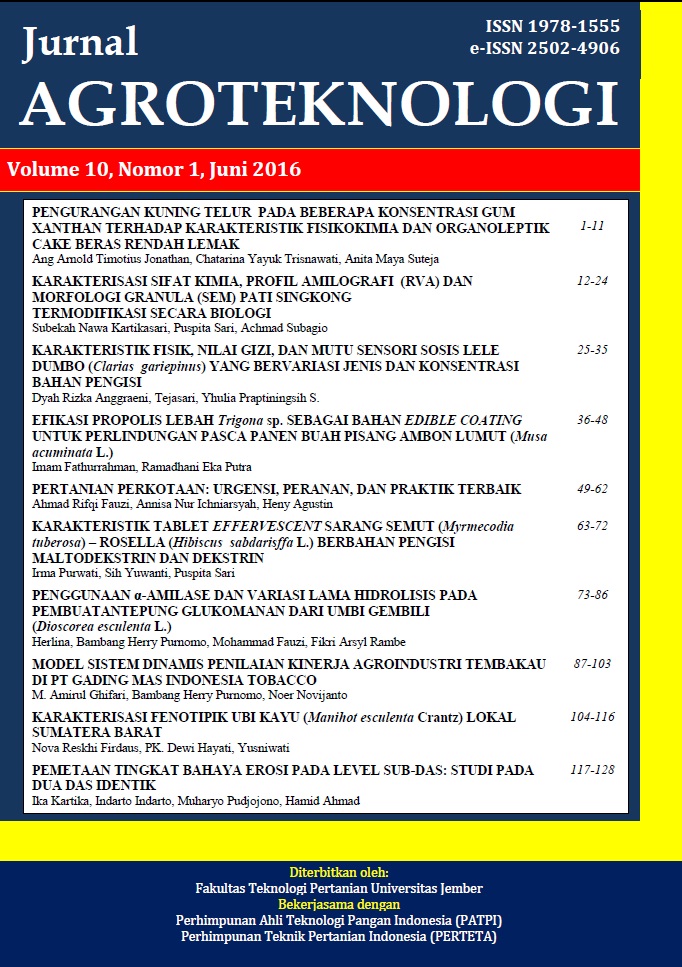 How to Cite
HERLINA, Herlina et al. PENGGUNAAN α-AMILASE DAN VARIASI LAMA HIDROLISIS PADA PEMBUATANTEPUNG GLUKOMANAN DARI UMBI GEMBILI (Dioscorea esculenta L.).
JURNAL AGROTEKNOLOGI
, [S.l.], v. 10, n. 01, p. 73-86, june 2016. ISSN 2502-4906. Available at: <
https://jurnal.unej.ac.id/index.php/JAGT/article/view/4293
>. Date accessed: 02 apr. 2020.

Under Liscense of Creative Commons Attribution - ShareAlike 2.0 Generic (CC BY-SA 2.0)