OPTIMASI PENGGUNAAN KOAGULAN ALAMI BIJI KELOR (Moringa oleifera) PADA PENGOLAHAN LIMBAH CAIR MOCAF
Elida Novita

Jurusan Teknik Pertanian - Fakultas Teknologi Pertanian, Universitas Jember

Indarto Indarto

Jurusan Teknik Pertanian - Fakultas Teknologi Pertanian, Universitas Jember

Tris Lailatul Hasanah

Jurusan Teknik Pertanian - Fakultas Teknologi Pertanian, Universitas Jember
Abstract
The use of moringa plant seeds as a natural coagulant has economic value and environmental friendly. They also can be used to purify water, so that the seeds were able to decrease the pollution concentration of mocaf wastewater. The aim of this research was to study the ability of moringa seeds, as a natural coagulant to overcome mocaf wastewater pollution. The method was used coagulation-flocculation with coagulant dosage range of 650 mg/l untill 1050 mg/l. The variables observed were turbidity, TSS, TDS and COD. The results showed that the optimum coagulant dose and the optimum pH is 850 mg/l and pH 8 with 59,79% decreased levels of turbidity, 75,46% TSS reduction rate and 32,55% COD reduction rate level. However the TDS values after treatment was greater than the TDS value before. It can be conclude that the use of Moringa seed powder was effective sufficiently as a coagulant for mocaf wastewater.

Keywords: kelor seeds, liquid waste mocaf, turbidity, TSS, TDS and COD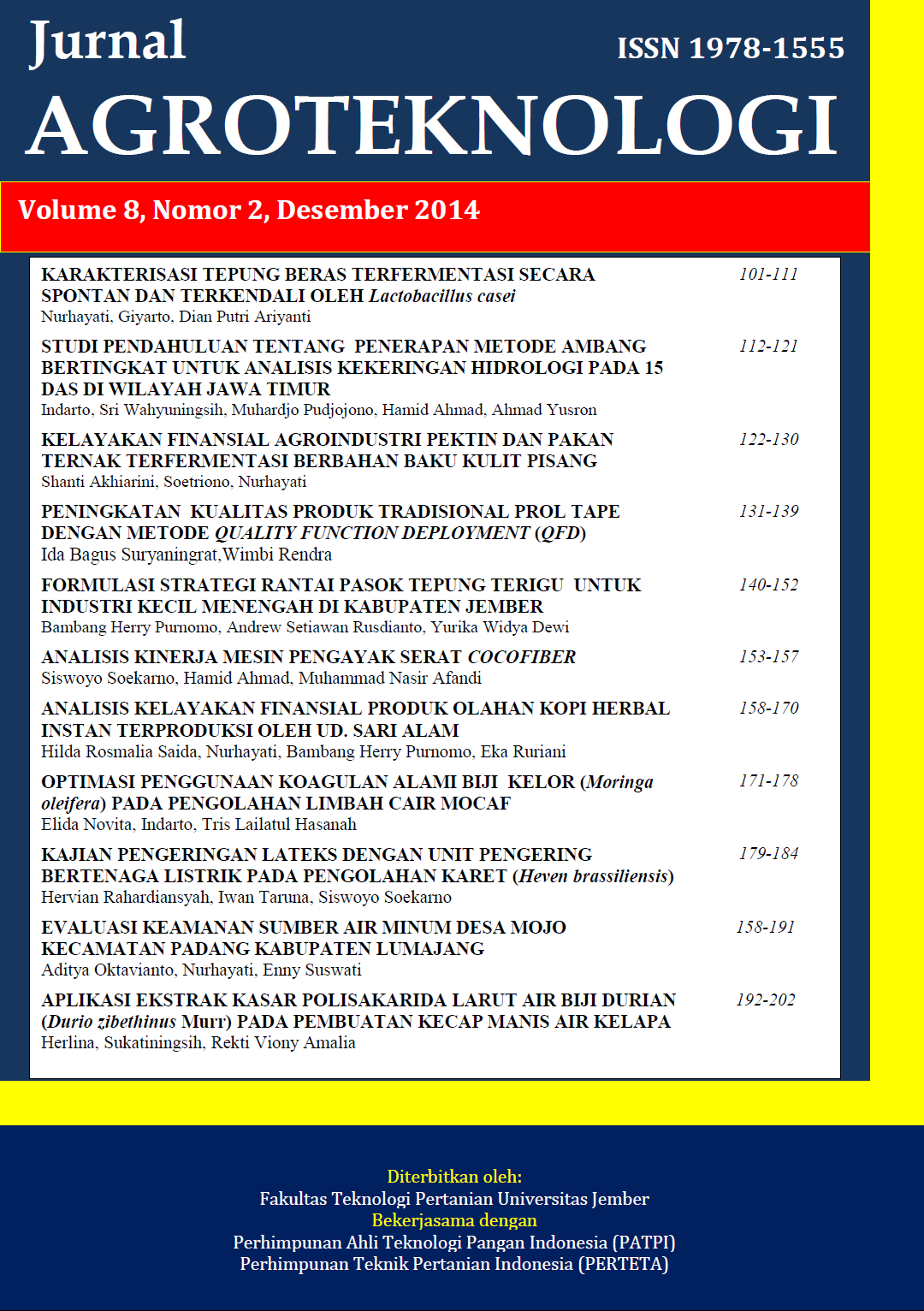 How to Cite
NOVITA, Elida; INDARTO, Indarto; HASANAH, Tris Lailatul. OPTIMASI PENGGUNAAN KOAGULAN ALAMI BIJI KELOR (Moringa oleifera) PADA PENGOLAHAN LIMBAH CAIR MOCAF.
JURNAL AGROTEKNOLOGI
, [S.l.], v. 8, n. 02, p. 171-178, dec. 2016. ISSN 2502-4906. Available at: <
https://jurnal.unej.ac.id/index.php/JAGT/article/view/3050
>. Date accessed: 23 sep. 2023.
Jurnal Agroteknologi has CC-BY-SA or an equivalent license as the optimal license for the publication, distribution, use, and reuse of scholarly work. Authors who publish with this journal retain copyright and grant the journal the right of first publication with the work simultaneously licensed under a Creative Commons Attribution-ShareAlike 4.0 International License that allows others to share the work with an acknowledgment of the work's authorship and initial publication in this journal.