KARAKTERISTIK FISIKOKIMIA TEPUNG CAMPOLAY (Pouteria campechiana) TERMODIFIKASI SECARA FISIK DAN BIOLOGI
Sri Rejeki Retna Pertiwi

Jurusan Teknologi Pangan dan Gizi, Fakultas Teknik dan Ilmu Pangan Halal, Universitas Djuanda Bogor

Noli Novidahlia

Jurusan Teknologi Pangan dan Gizi, Fakultas Teknik dan Ilmu Pangan Halal, Universitas Djuanda Bogor

Muhammad Mustofa

Jurusan Teknologi Pangan dan Gizi, Fakultas Teknik dan Ilmu Pangan Halal, Universitas Djuanda Bogor

Aminullah Aminullah

Jurusan Teknologi Pangan dan Gizi, Fakultas Teknik dan Ilmu Pangan Halal, Universitas Djuanda Bogor
Abstract
Flour modifications can be conducted to expand its utilization into processed products. This research aimed to study the effect of physical and biological modification on the physicochemical properties of canistel (Pouteria campechiana) flour. The research method included making canistel flour unmodified (native), physical modification using heat moisture treatment (HMT) method, and biological modification by fermentation. Physical properties analysis included color and morphology of starch granules, while chemical analysis included water content, total sugar content, starch content, amylose content, and amylopectin content. The data were analyzed statistically using One Way ANOVA and continued with the Duncan post hoc test. Statistical analysis showed that modification of canistel flour could decrease brightness and increase a value and decrease b value. Native, HMT-modified, and fermented-modified canistel flour had colors of incarnation, rose pink, and fresh plaster, respectively. In addition, the fermented modified canistel flour tends to have higher total sugar content, although the HMT modified flour tends to decrease compared to the native canistel flour. Modified canistel flour tends to have lower starch, amylose, and amylopectin content than native flour. Morphologically, modifications to canistel flour have no effect on flour morphology.
Keywords: fermentation, heat moisture treatment, modified flour, Pouteria campechiana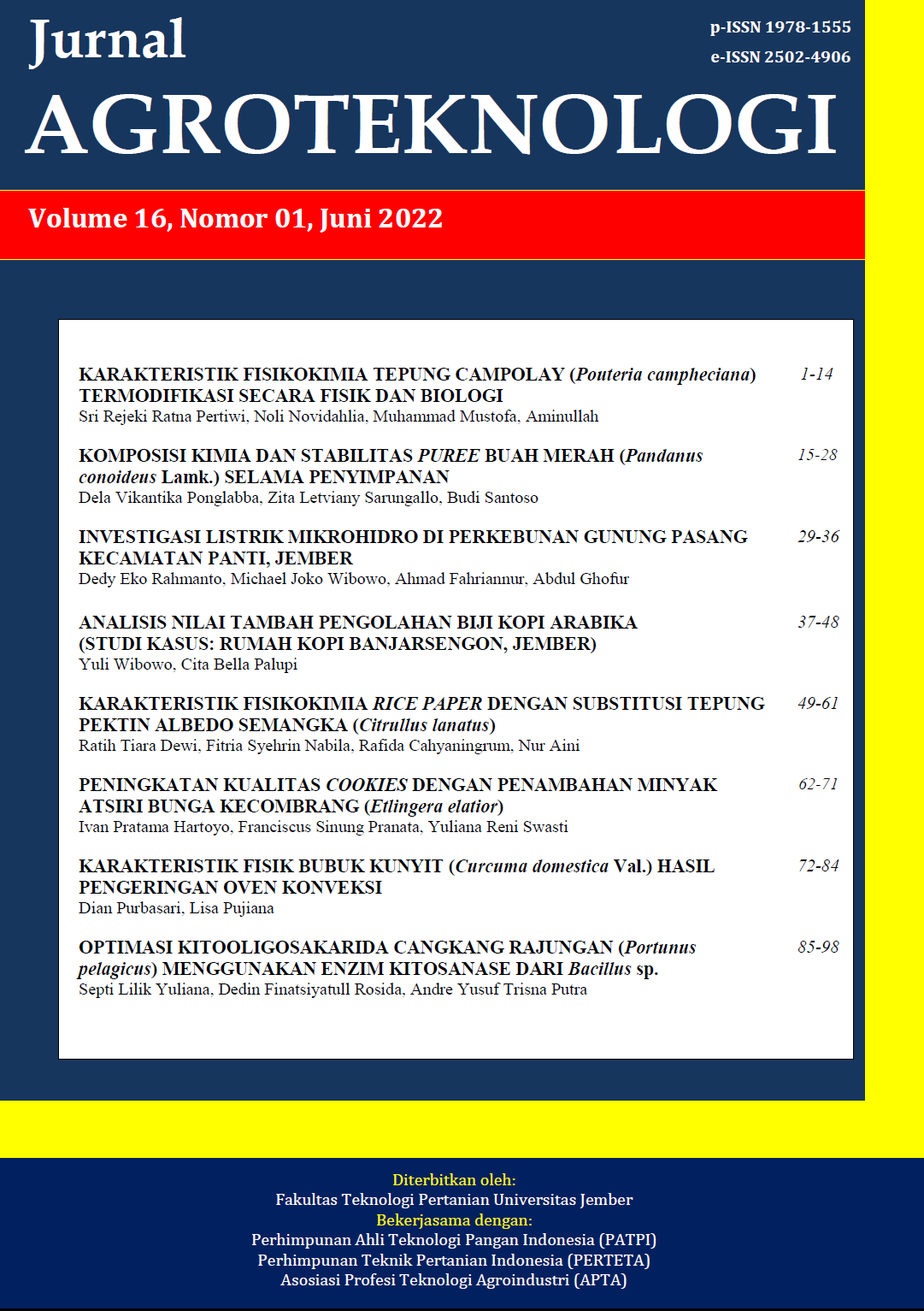 This work is licensed under a Creative Commons Attribution-ShareAlike 4.0 International License.

This work is licensed under a Creative Commons Attribution-ShareAlike 4.0 International License.
The Authors(s) retain copyrights of the Article published on Jurnal Agroteknologi. However, before publishing, it is required to obtain written confirmation from Author(s) in order to ensure the originality (Author Statement of Originality). The statement is to be signed by at least one of the authors who have obtained the assent of the co-author(s) where applicable.