EFEK ANTIDIARE MINUMAN FUNGSIONAL JELLY DRINK CINCAU HITAM (Mesona palutris BL)
Tri Dewanti Widyaningsih

Jurusan Teknologi Hasil Pertanian Fakultas Teknologi Hasil Pertanian Universitas Brawijaya

Rahma Maya Safitri

Jurusan Teknologi Hasil Pertanian Fakultas Teknologi Hasil Pertanian Universitas Brawijaya
Abstract
In tradition Indonesian make sure that the black cincau (Mesona palustris BL) is used for traditional medicine of diarrhea. Black cincau contain bioactive compounds and soluble fibers, used as antioxidants and antibacterial ingredients. Produced functional drinks of jelly drink was a development product from black cincau. The aims of the research were to produced functional beverage jelly drink from extract of black cincau and tested its as antidiarrheal in vivo to male mice. Treatment divided into 5 groups: group I (positive control), mice ware given distilled water diarrhea, group II (control drugs), diarrhea mice were given a dose of loperamide 0.182 mg/20 g weight of mice, group III, diarrhea mice were given cincau black jelly drink dose of 80 mg/20 g weight of mice, group IV, diarrhea mice were given cincau black jelly drink dose of 160 mg / 20 g weight of mice. The results showed that the best treatment was formula 2 and result of in vivo test showed that the group of mice with cincau black jelly drink dose of 80 mg/20 g weight of mice and 160 mg/20 g weight of mice had antidiarrhea effect. These effect included of mucus or watery stool consistency/longer soft on the occurrence of diarrhea, stool consistency normal influence on the timing of the normal feces and total span of diarrhea, no significantly different (p> 0.05) with the medicines control group loperamide.

Keywords: cincau black jelly drink extract (Mesona palustris BL), antidiarrheal, loperamide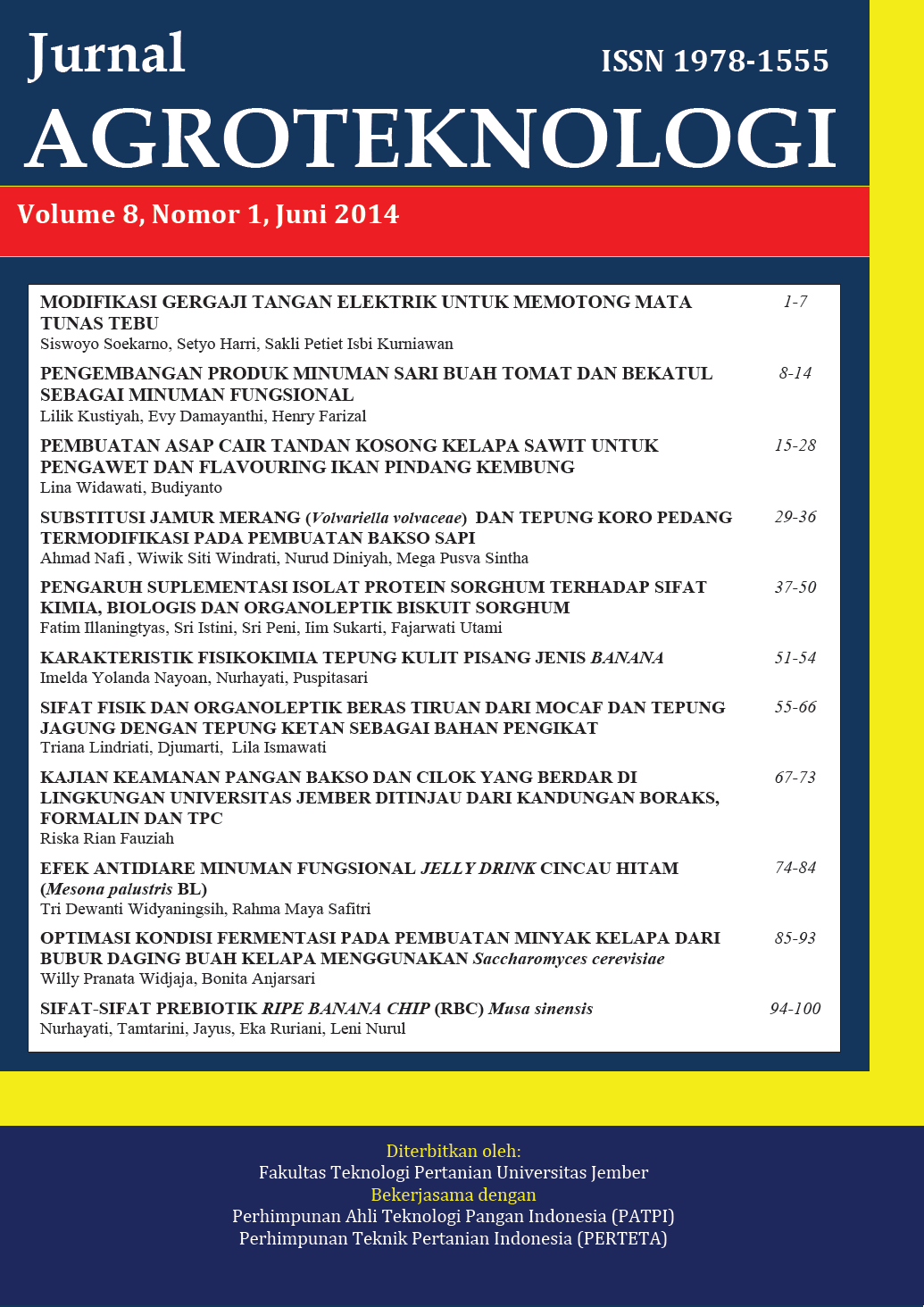 How to Cite
WIDYANINGSIH, Tri Dewanti; SAFITRI, Rahma Maya. EFEK ANTIDIARE MINUMAN FUNGSIONAL JELLY DRINK CINCAU HITAM (Mesona palutris BL).
JURNAL AGROTEKNOLOGI
, [S.l.], v. 8, n. 01, p. 74-84, june 2014. ISSN 2502-4906. Available at: <
https://jurnal.unej.ac.id/index.php/JAGT/article/view/2261
>. Date accessed: 05 dec. 2023.
Jurnal Agroteknologi has CC-BY-SA or an equivalent license as the optimal license for the publication, distribution, use, and reuse of scholarly work. Authors who publish with this journal retain copyright and grant the journal the right of first publication with the work simultaneously licensed under a Creative Commons Attribution-ShareAlike 4.0 International License that allows others to share the work with an acknowledgment of the work's authorship and initial publication in this journal.