Efek Ekstrak Kulit Mangga (Mangifera indica L.) Arumanis terhadap Lama Perdarahan Mencit Putih Jantan (The Effect of Arumanis Mango (Mangifera indica L.) Peel Extract on the Bleeding Time of White Male Mice)
Komang Dewi Fridayanti

Fakultas Kedokteran Universitas Jember

Cicih Komariah

Fakultas Kedokteran Universitas Jember

Jauhar Firdaus

Fakultas Kedokteran Universitas Jember
Abstract
The inhibition of cyclooxygenase 1 (COX-1) enzyme leads to the decrease of tromboxane A2 (TXA2) and decrease the activity of platelet aggregation that marked by the lengthening of bleeding time. This mechanism is important to prevent the occurence of patology that can lead to thrombosis. Flavonoid, polyphenol present in the mango peel, is known to have activity for blocking the COX-1 enzyme. The aim of this research was to know the effect of Arumanis mango peel extract for lengthening the bleeding time on white male mice. The research was true experimental. The sampel was treated for seven days and the bleeding time was measured on the seventh day. The result of analyses Kruskal Wallis shows that there are significant difference intern-treatment group with significance (p) 0.033. The Mann Whitney analyses test shows significant difference between treatment group 2 (P2), treatment group 4 (P4), treatment group 5 (P5) and negative control group (K-). So, it can be concluded that arumanis mango peel extract can lengthening the bleeding time of white male mice.The dosis of 16,8 mg.grBBof mango peel extract givesthe longest mean bleeding timeand it exceeds the mean of positive control group.
Keywords: bleeding time, mango, flavonoid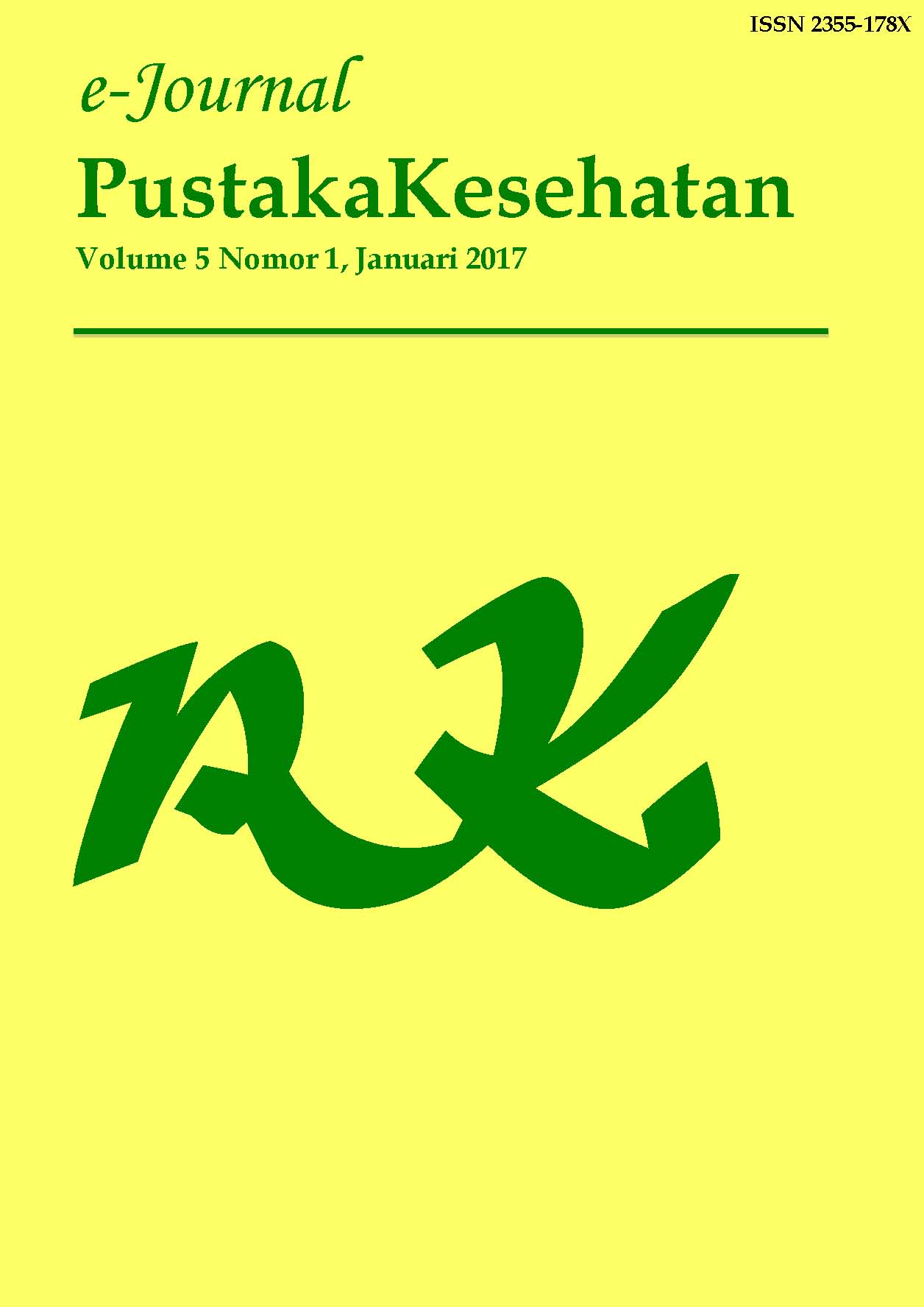 How to Cite
FRIDAYANTI, Komang Dewi; KOMARIAH, Cicih; FIRDAUS, Jauhar. Efek Ekstrak Kulit Mangga (Mangifera indica L.) Arumanis terhadap Lama Perdarahan Mencit Putih Jantan (The Effect of Arumanis Mango (Mangifera indica L.) Peel Extract on the Bleeding Time of White Male Mice).
Pustaka Kesehatan
, [S.l.], v. 5, n. 1, p. 20-24, feb. 2017. ISSN 2355-178X. Available at: <
https://jurnal.unej.ac.id/index.php/JPK/article/view/3865
>. Date accessed: 31 mar. 2020.
Penulis yang mengusulkan naskahnya untuk dapat diproses penerbitannya pada Pustaka Kesehatan dianggap telah menyetujui beberapa hal sebagai berikut:
1. Penulis tidak dapat menarik naskah yang telah usulkan untuk diproses hingga mendapat jawaban dari Ketua Dewan Penyunting atas status naskah artikel ilmiahnya (diterima atau ditolak untuk diterbitkan).
2. Penerbit tidak bertanggung jawab terhadap kasus plagiasi atas artikel yang terbit pada Berkala Ilmiah Pertanian.
3. Penerbit tidak bertanggung jawab atas data dan isi dari artikel yang diterbitkan pada Pustaka Kesehatan, dan sepenuhnya merupakan tanggung jawab penulis.