IMPLEMENTATION OF GOOD CORPORATE GOVERNANCE (GCG) PRINCIPLES IN THE IMPLEMENTATION OF THE PARTNERSHIP PROGRAM IN THE COMMUNITY DEVELOPMENT CENTER (CDC) UNIT OF PT TELKOM TBK IN PANGKALPINANG CITY
tiara ramadhani

bangka belitung university
Abstract
IMPLEMENTATION OF GOOD CORPORATE GOVERNANCE (GCG) PRINCIPLES IN THE IMPLEMENTATION OF THE PARTNERSHIP PROGRAM IN THE COMMUNITY DEVELOPMENT CENTER (CDC) UNIT OF PT TELKOM TBK IN PANGKALPINANG CITY
Tiara Ramadhani
Faculty of Social and Political Science
Bangka Belitung University
tiaramadhani30@yahoo.co.id
ABSTRACT
The implementation of the partnership program by State-Owned Enterprises (SOEs) aims to improve the social welfare of small and medium-sized businesses (MSMEs). Social welfare in question is a condition of fulfilling the social and economic life of small and medium-sized businesses in order to become resilient and independent and be able to function socially. However, before the program can meet the objectives of social welfare, it is necessary to consider whether in implementing the program, it has applied the principles of Good Corporate Governance (GCG). In short, this is what underlies the writing of this journal. This journal aims to describe "Application of the Principles of Good Corporate Governance (GCG) in the Implementation of the Partnership Program at the Community Development Center (CDC) Unit of PT Telkom Tbk in the City of Pangkalpinang" and try to provide recommendations on the results of research on these main objectives. This study uses primary and secondary data. Primary data was collected from interviews with PT Telkom Tbk, fostered partners of PT Telkom Tbk and surrounding communities. While secondary data was taken from literature studies, previous researches and internet sources. Determination of informants is done by using purposive sampling technique (the informants are chosen because they are considered to know the information they want to know). The data collected was analyzed descriptively and conclusions were drawn in the form of description.
The results showed that only 3 (transparency, responsibility, equality and fairness) of 5 GCG principles (transparency, accountability, responsibility, independence, and equality and fairness) are available to analyze the results of the study. In addition, the results of the study also showed that PT Telkom Tbk had implemented the principles of GCG to the maximum including the principles of transparency, responsibility, as well as equality and fairness. However, of the three principles there are still shortcomings in its application including the principles of transparency and responsibility.
Keywords :            GCG (Transparency, Accountability, Responsibility, Independence, Equality and Fairness), CSR (the Partnership).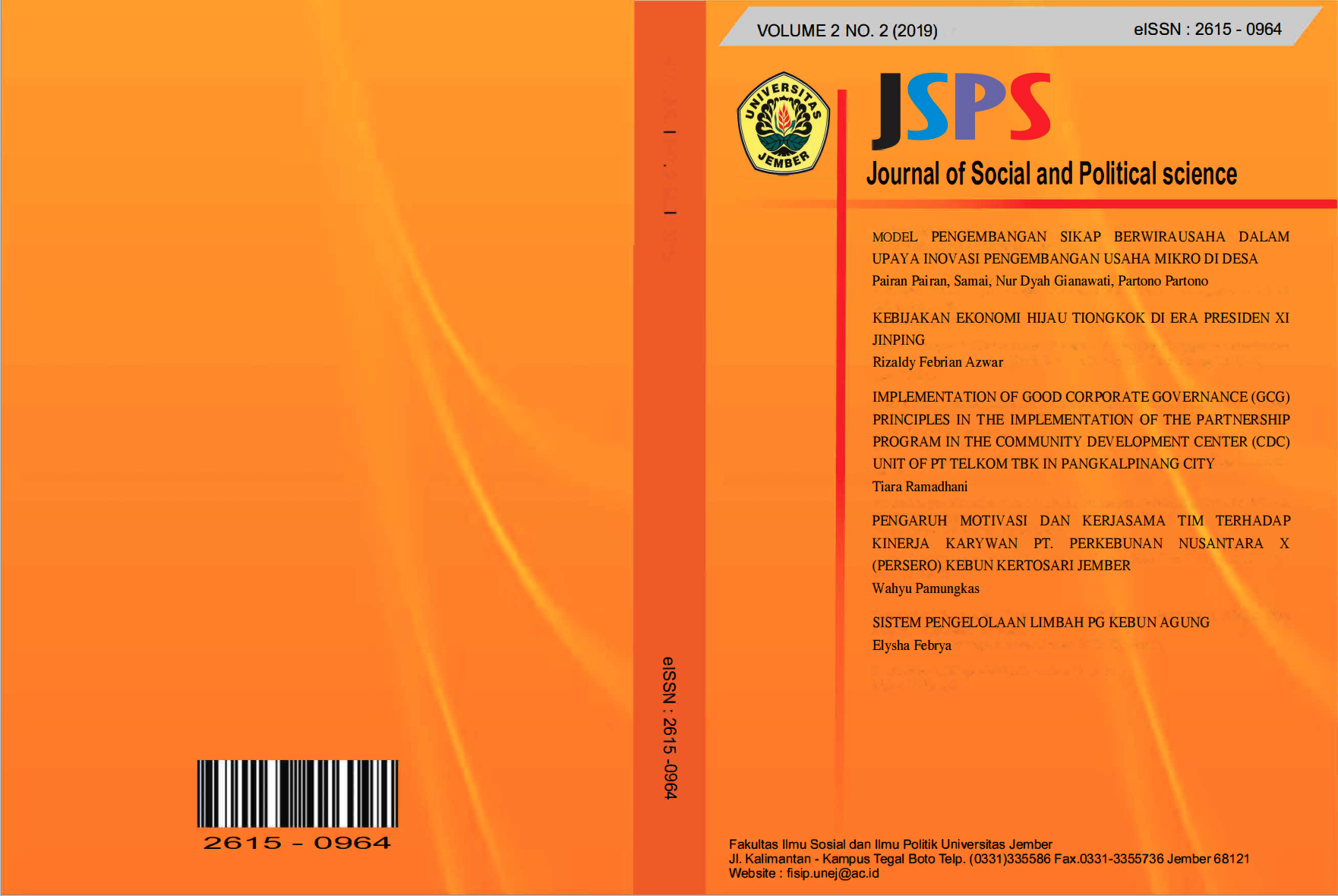 How to Cite
RAMADHANI, tiara. IMPLEMENTATION OF GOOD CORPORATE GOVERNANCE (GCG) PRINCIPLES IN THE IMPLEMENTATION OF THE PARTNERSHIP PROGRAM IN THE COMMUNITY DEVELOPMENT CENTER (CDC) UNIT OF PT TELKOM TBK IN PANGKALPINANG CITY.
Journal of Social and Political Science
, [S.l.], v. 2, n. 2, p. 16 - 25, mar. 2020. ISSN 2615-0964. Available at: <
https://jurnal.unej.ac.id/index.php/jsps/article/view/14329
>. Date accessed: 04 oct. 2023.