Can the Job Creation Law Solve the Lack of Public Participation in Indonesia's Spatial Planning?
I Gusti Ngurah Parikesit Widiatedja

Udayana University, Indonesia

http://orcid.org/0000-0002-6218-0006

Ni Gusti Ayu Dyah Satyawati

Udayana University, Indonesia

Mohammad Qadam Shah

Seattle Pacific University, USA
Abstract
It has been long recognized that public participation plays a vital role in dealing with spatial planning laws. However, mechanisms for the inclusion of public participation have been criticized worldwide for lacking the hallmarks of actual participation, as this trend has also occurred in Indonesia. This paper aimed to analyze the significance of public participation in Indonesia's spatial planning and whether the current Job Creation Law can solve the lack of public participation. There are no legal consequences or sanctions if the government fails to conduct public participation, while the Job Creation Law is regarded to encourage public participation by enabling the public to be actively involved in every stage of spatial planning. By employing normative research, this paper shows that the Job Creation Law reiterates the same flaws by neglecting the importance of legal consequences for not conducting public participation. The implementing regulation rests uncertainty that can reduce and discourage public participation. As the Job Creation Law was highly expected to cope with the issue, it cannot involve the public properly in spatial planning.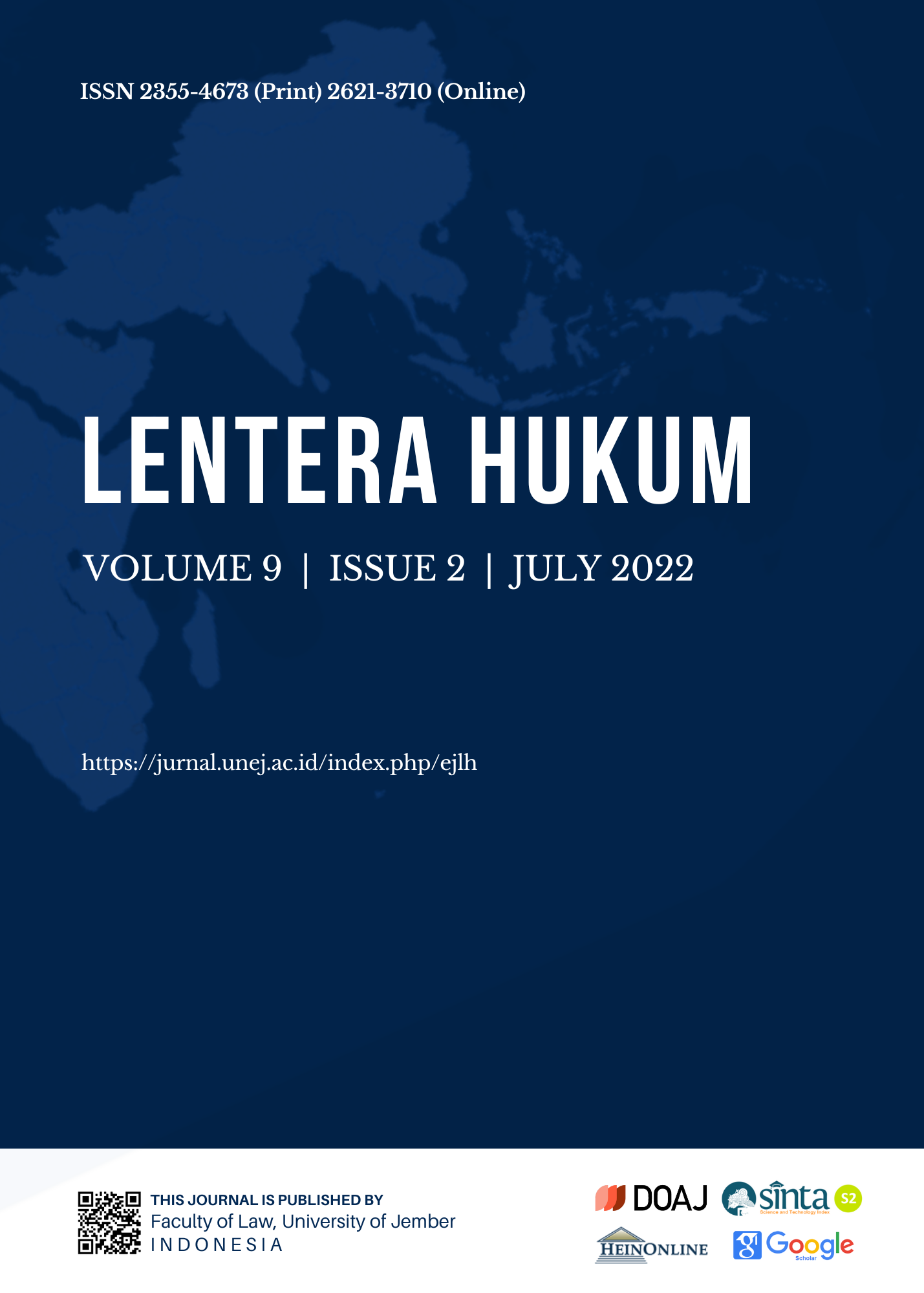 This work is licensed under a Creative Commons Attribution-ShareAlike 4.0 International License.
LENTERA HUKUM has CC-BY-SA or an equivalent license as the optimal license for the publication, distribution, use, and reuse of scholarly work. Authors who publish with this journal retain copyright and grant the journal right of first publication with the work simultaneously licensed under a Creative Commons Attribution-ShareAlike 4.0 International License that allows others to share the work with an acknowledgment of the work's authorship and initial publication in this journal.