Recognition of Forest Carbon Rights in Indonesia: A Constitutional Approach
Kenny Cetera

Pontianak Official Certifier of Title Deeds, Indonesia
Abstract
As a forest-rich nation, Indonesia has actively participated in carbon market governance like the REDD+ program. With the rapid expansion of REDD+ to address the effects of climate change, questions surrounding carbon rights have surfaced. This study aims to analyze the regulatory development of carbon rights in Indonesia and its impact on the community rights over forest resources by elaborating on the ideal carbon rights governance under a constitutional perspective. The study uses the normative method, which includes pertinent rules and supporting statements from climate change specialists. This study shows that carbon rights are defined broadly as the right to participate in forest carbon trading, although they require a government permit. There is no clear explanation of the relationship between land tenure and carbon ownership under the existing legislation, despite four permits to acquire carbon benefits: environmental service, social forestry, ecosystem restoration, and forest carbon administration permit. While the state can claim state control rights on certain commodities like carbon under Article 33 of the Indonesian Constitution, it also has to manage the distribution of carbon incentives based on the public interest. By facilitating the transfer of carbon rights under a carbon trading scheme while highlighting the government's role in sharing the benefits of carbon via a result-based payment scheme, Presidential Regulation 98/2021 contributes to more explicit control of carbon rights. All concerns related to carbon rights governance in Indonesia include complicated administrative and technical requirements for applying for a license, insecure land tenure due to overlapping claims, and unlawful encroachment in forest regions. Since land tenure issues remain unresolved, recognizing carbon rights as an alternative to recognizing marginal and community rights to forest resources could be viable.
KEYWORDS: Environmental Regulation, Forest Carbon Rights, REDD+.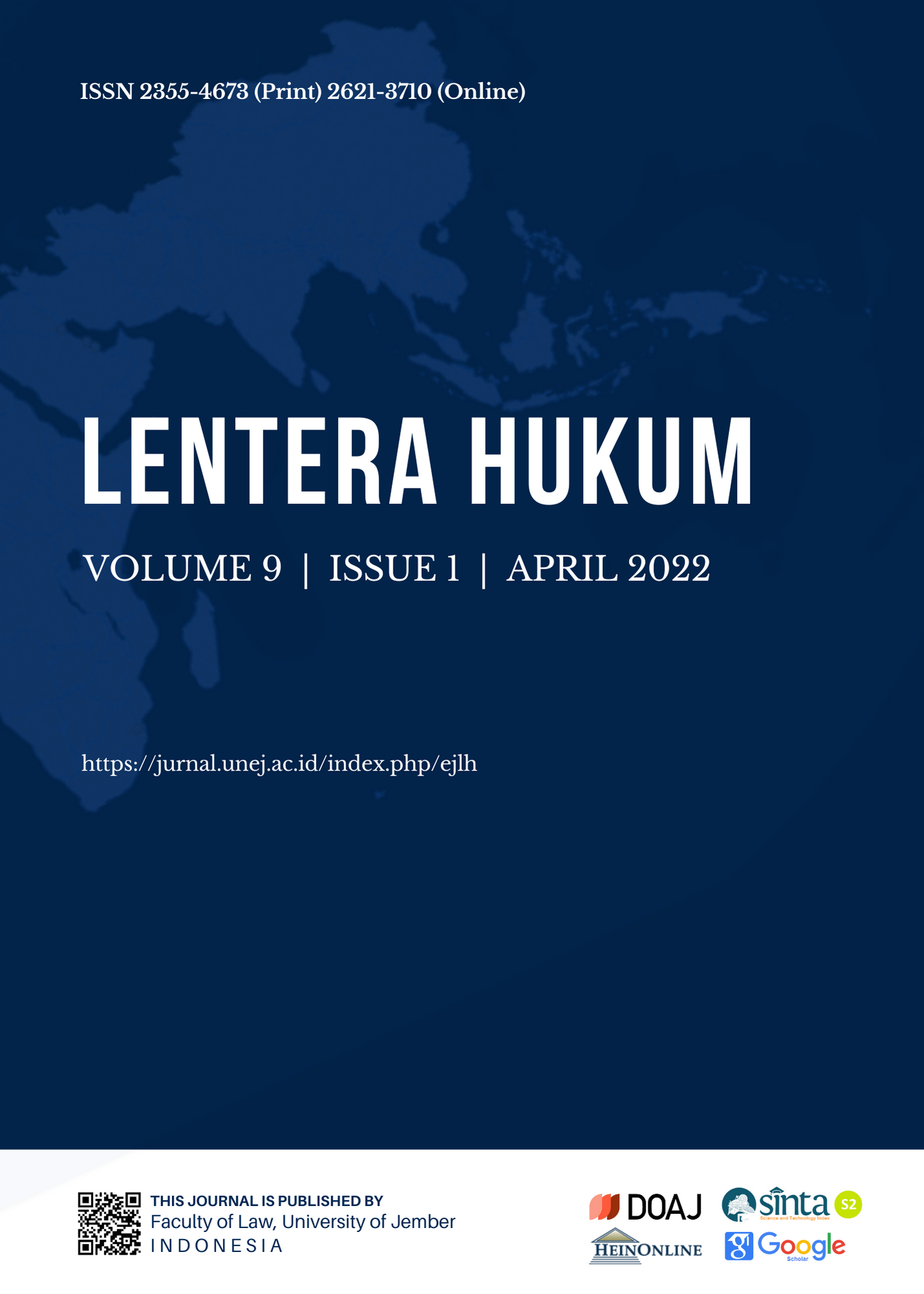 This work is licensed under a Creative Commons Attribution-ShareAlike 4.0 International License.
LENTERA HUKUM has CC-BY-SA or an equivalent license as the optimal license for the publication, distribution, use, and reuse of scholarly work. Authors who publish with this journal retain copyright and grant the journal right of first publication with the work simultaneously licensed under a Creative Commons Attribution-ShareAlike 4.0 International License that allows others to share the work with an acknowledgment of the work's authorship and initial publication in this journal.