Elimination of Child Labor in Vietnam's New Generation of Free Trade Agreements
Cuc Nguyen

Ho Chi Minh City University of Law, Vietnam

Phuoc Huu Ngo

VNUHCM University of Economics and Law, Vietnam
Abstract
As of March 2021, Vietnam negotiated and signed the new generation of Free Trade Agreements (FTAs), consisting of the Comprehensive and Progressive Agreement for Trans-Pacific Partnership (CPTPP), the European-Vietnam Free Trade Agreement (EVFTA), and the Vietnam-Eurasian Economic Union Free Trade Agreement (VN-EAEU FTA). One of the critical issues of these agreements is non-commercial provisions, especially commitments to the elimination of child labor. This study aimed to examine the implementation of the commitment to eliminate child labor in the new generation of FTAs under the principle of pacta sunt servanda and the government's responsibility to comply with international treaties according to the 2013 Constitution. Based on the obligations arising from international treaties, Vietnam must comply with all commitments agreed upon as a state member. As a result, it is necessary to implement suitable solutions to implement these commitments properly, especially the elimination of child labor, according to the three mentioned FTAs. By using comparative and evaluated methods, this study analyzed and commented on the similarities and differences between the Vietnam labor legal system and these three agreements on eliminating child labor. This study indicated relative compatibility between regulations in three FTAs and the Vietnamese legal system. Subsequently, there is a need to improve the effective implementation of these commitments by amending the definition of children, working hours, and classifying violations against the law regarding the employment of workers under 16 years old of coercive labor into the group of crimes and criminal liabilities to commercial legal entities.
KEYWORDS: Child Labor, Free Trade Agreements, Vietnam.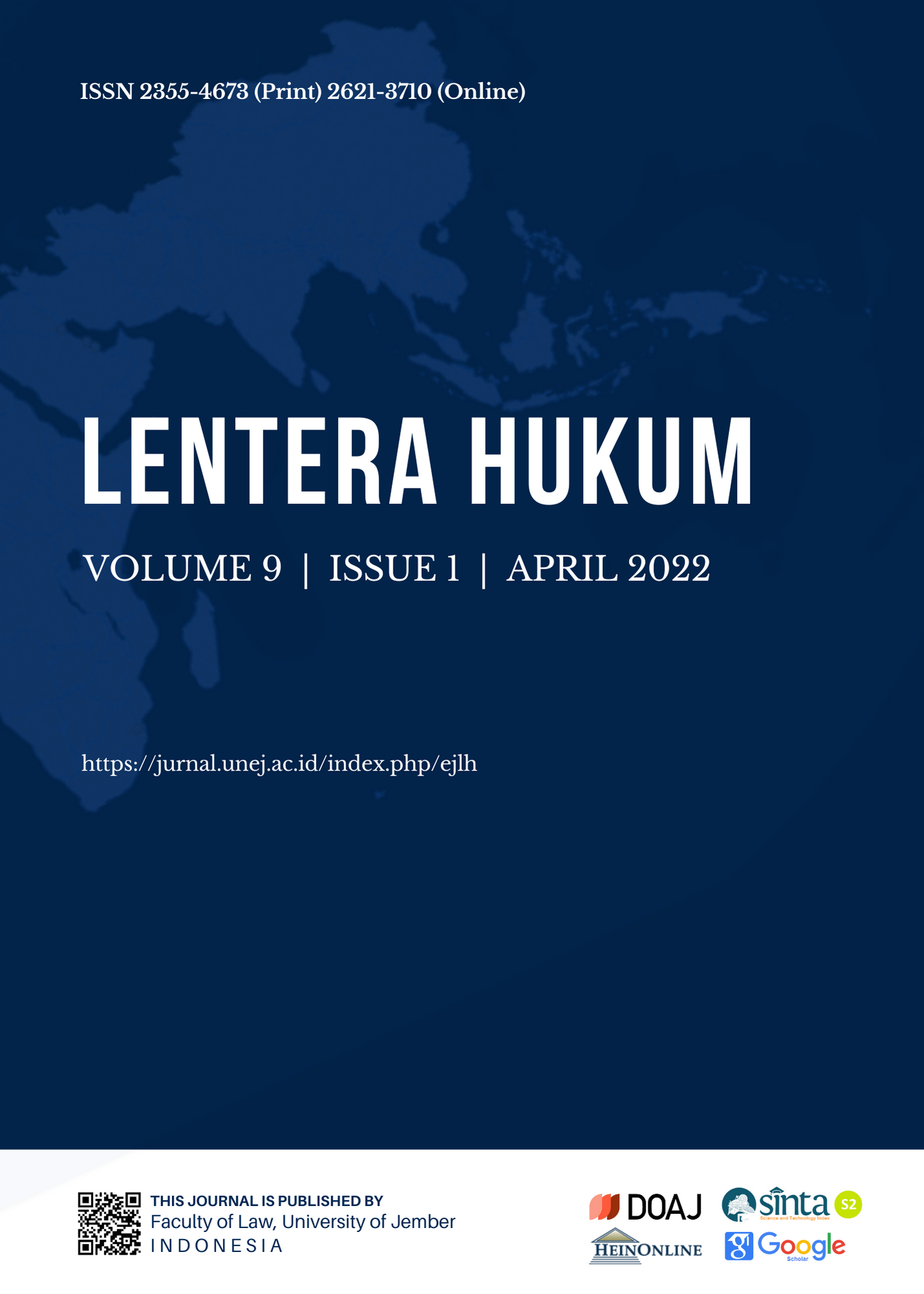 This work is licensed under a Creative Commons Attribution-ShareAlike 4.0 International License.
LENTERA HUKUM has CC-BY-SA or an equivalent license as the optimal license for the publication, distribution, use, and reuse of scholarly work. Authors who publish with this journal retain copyright and grant the journal right of first publication with the work simultaneously licensed under a Creative Commons Attribution-ShareAlike 4.0 International License that allows others to share the work with an acknowledgment of the work's authorship and initial publication in this journal.