TINJAUAN YURIDIS PERLINDUNGAN HUKUM HAK ASASI MANUSIA DALAM UNDANG-UNDANG NOMOR 17 TAHUN 2013 TENTANG ORGANISASI KEMASYARAKATAN
Veronica Agnes Sianipar

Hukum Tata Negara, Fakultas Hukum, Universitas Jember (UNEJ) Jln. Kalimantan 37, Jember 68121

Eddy Mulyono

Hukum Tata Negara, Fakultas Hukum, Universitas Jember (UNEJ) Jln. Kalimantan 37, Jember 68121

Rosita Indrayati

Hukum Tata Negara, Fakultas Hukum, Universitas Jember (UNEJ) Jln. Kalimantan 37, Jember 68121
Abstract
Pengaturan atas hak asasi manusia telah dijamin dan dilindungi dalam UUD NRI 1945 serta UU HAM itu, maka dari itu seharusnya tidak perlu lagi dibuat pengaturan oleh undang-undang untuk memastikan adanya kemerdekaan atau kebebasan bagi setiap orang itu untuk berorganisasi dalam wilayah negara Republik Indonesia. Hanya saja, bagaimana cara kebebasan itu digunakan, apa saja syarat-syarat dan prosedur pembentukan, pembinaan, penyelenggaraan kegiatan, pengawasan, dan pembubaran organisasi itu tentu masih harus diatur lebih rinci, yaitu dengan undang-undang beserta peraturan pelaksanaannya. Karena alasan itulah, pemerintah memandang perlu untuk menyusun satu undang-undang berdasarkan ketentuan UUD 1945 sebelum reformasi, yaitu UU No. 8 Tahun 1985 tentang Organisasi Kemasyarakatan. Akan tetapi, UU Ormas yang lama tersebut sudah tidak relevan lagi dengan dinamika masyakarat kini yang kemudian mendorong lahirnya UU Nomor 17 Tahun 2013 sebagai UU Ormas yang baru. UU Ormas yang baru diharapkan mampu memberikan kontribusi yang signifikan untuk mengatur ruang lingkup dan definisi ormas secara jelas terkait dengan aspek legal administratif. Walaupun demikian, nyatanya UU Ormas yang baru masih meninggalkan beberapa masalah sehingga perlu ditinjau apakah UU Ormas yang baru tersebut telah sesuai dengan konstitusi serta dapat melindungi hak asasi manusia dari tindakan anarkis melalui sanksi yang tercantum dalam batang tubuh UU tersebut.
Kata Kunci: Hak Asasi Manusia, Perlindungan Hukum, Tindakan Anarkis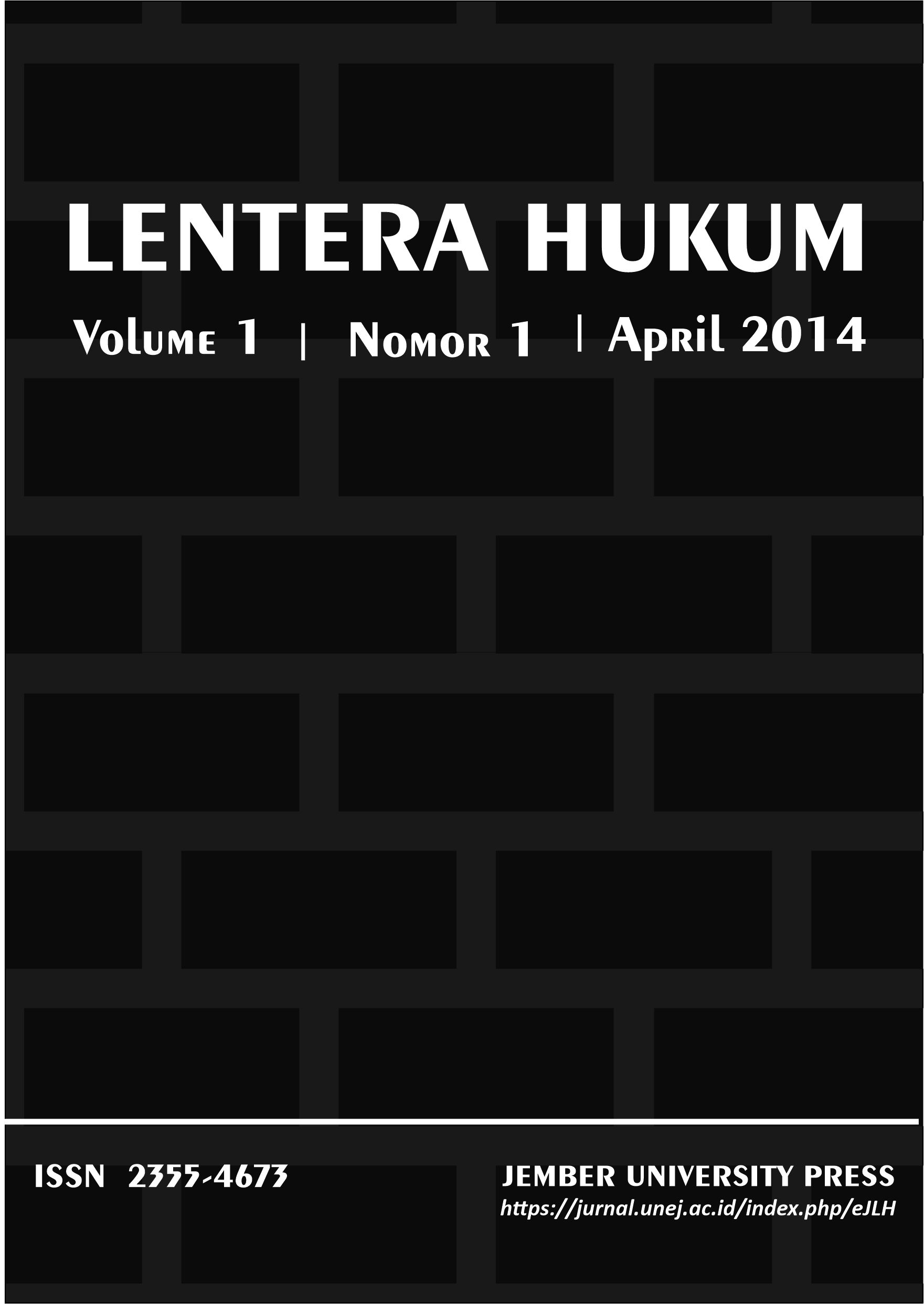 All articles published in this Journal are personal views of the authors and do not represent the views of this journal and the author's affiliated institutions. Article copyrights are with the Author(s), the publishing copyright is with the Publisher. This work licensed under a Creative Commons Attribution-ShareAlike 4.0 International (CC BY-SA 4.0), Under the following terms:
* Attribution — You must give appropriate credit, provide a link to the license, and indicate if changes were made. You may do so in any reasonable manner, but not in any way that suggests the licensor endorses you or your use.
* ShareAlike — If you remix, transform, or build upon the material, you must distribute your contributions under the same license as the original.