ANALISIS YURIDIS TINDAK PIDANA PENODAAN AGAMA (Putusan Pengadilan Negeri Sampang Nomor: 69/Pid.B/2012/PN.Spg)
Tajus Subki

Ilmu Hukum, Fakultas Hukum, Universitas Jember (UNEJ) Jln. Kalimantan 37, Jember 68121

Multazaam Muntahaa

Ilmu Hukum, Fakultas Hukum, Universitas Jember (UNEJ) Jln. Kalimantan 37, Jember 68121

Ainul Azizah

Ilmu Hukum, Fakultas Hukum, Universitas Jember (UNEJ) Jln. Kalimantan 37, Jember 68121
Abstract
Kebebasan beragama di Indonesia dapat dilihat di Undang-Undang Dasar Negara Republik Indonesia Tahun 1945 (UUD 1945) amandemen kedua pada Pasal 28E ayat (1) dan (2). Akan tetapi terdapat pula pembatasan dalam konstitusi tersebut. Warga negara yang tidak mentaati pembatasan tersebut, maka akan dikenakan sanksi sesuai dengan aturan dalam Kitab Undang-undang Hukum Pidana (KUHP). Setelah diundangkannya Undang-Undang Nomor 1/PNPS/1965 tentang Pencegahan Penyalahgunaan dan atau Penodaan Agama, maka dalam KUHP ditambahkan Pasal 156a untuk menjerat tindak pidana penodaan agama. Dalam kasus yang Penulis analisis seharusnya Jaksa Penuntut Umum menggunakan dakwaan kumulatif dengan tetap memilih Pasal 156a huruf a KUHP dan Pasal 335 ayat (1) ke-1 KUHP, hal tersebut karena kedua pasal tersebut bukan merupakan tindak pidana yang sejenis.Hakim menjatuhkan pidana penjara 2 (dua) tahun. Pasal 156a KUHP memberi ancaman pidana 5 (lima) tahun penjara. Ancaman tersebut memang tergolong sangat tinggi dan berat, karena pembuat undang-undang menganggap akibat yang ditimbulkan oleh tindak pidana penodaan agama sangat serius bagi negara dan masyarakat. Hakim Pengadilan Negeri Sampang seharusnya memvonis Terdakwa dengan menjatuhkan pidana penjara 4 (empat) tahun sesuai dengan tuntutan Jaksa Penuntut Umum, sehingga Hakim dalam menjatuhkan pidana terhadap terdakwa sesuai dengan tujuan pemidanaan dalam teori gabungan.
Kata Kunci: Tindak Pidana Penodaan Agama, Bentuk Surat Dakwaan, Tujuan Pemidanaan.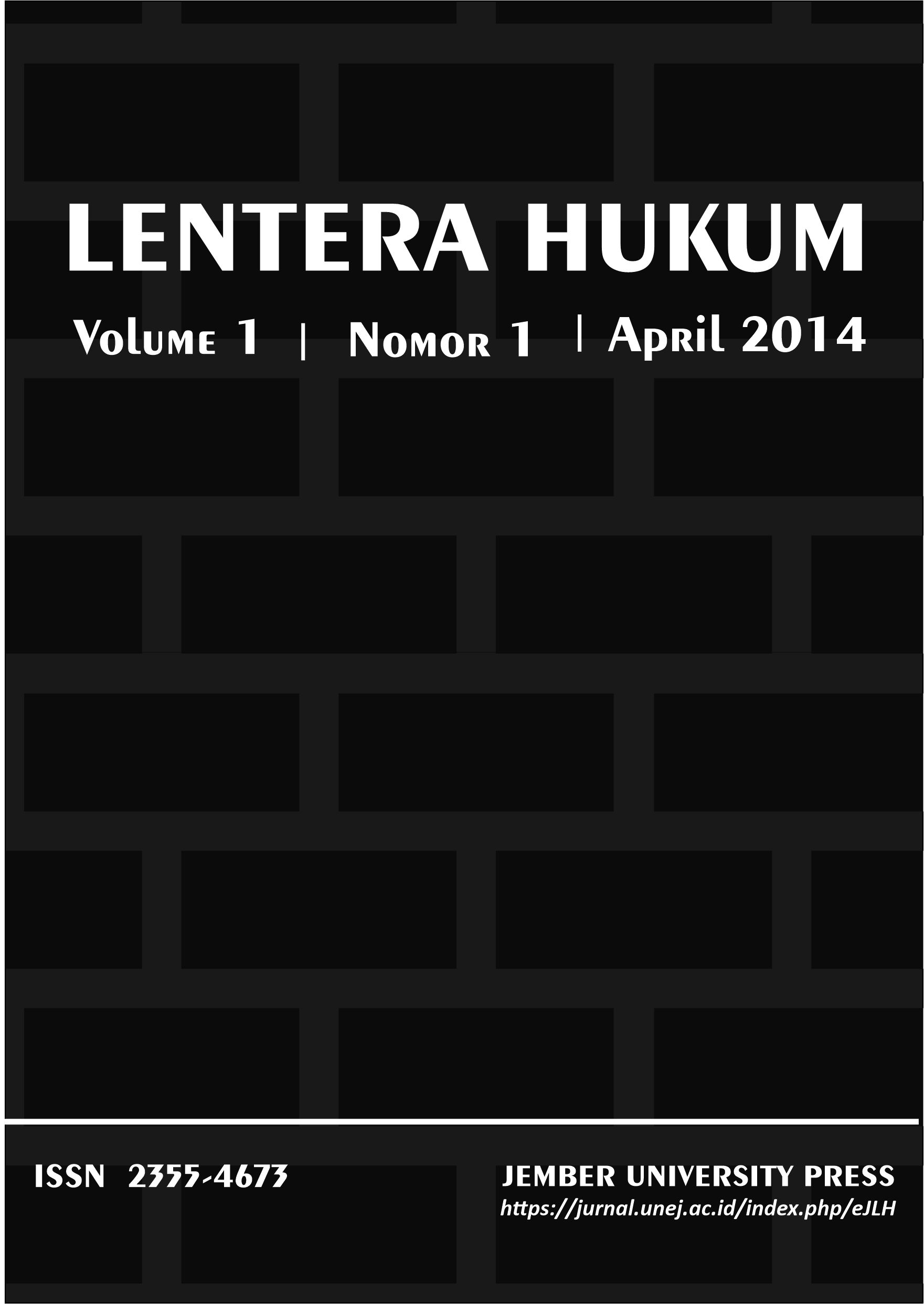 All articles published in this Journal are personal views of the authors and do not represent the views of this journal and the author's affiliated institutions. Article copyrights are with the Author(s), the publishing copyright is with the Publisher. This work licensed under a Creative Commons Attribution-ShareAlike 4.0 International (CC BY-SA 4.0), Under the following terms:
* Attribution — You must give appropriate credit, provide a link to the license, and indicate if changes were made. You may do so in any reasonable manner, but not in any way that suggests the licensor endorses you or your use.
* ShareAlike — If you remix, transform, or build upon the material, you must distribute your contributions under the same license as the original.