PENGATURAN DANA KAMPANYE PEMILIHAN UMUM SEBAGAI TANGGUNG JAWAB CALON ANGGOTA LEGISLATIF BERDASARKAN UNDANG- UNDANG NOMOR 8 TAHUN 2012 TENTANG PEMILIHAN UMUM ANGGOTA DEWAN PERWAKILAN RAKYAT, DEWAN PERWAKILAN DAERAH, DAN DEWAN PERWAKILAN RAKYAT DAERAH
Irwan Anjalline

Hukum Tata Negara, Fakultas Hukum, Universitas Jember (UNEJ) Jln. Kalimantan 37, Jember 68121

R.A. Rini Anggraini

Hukum Tata Negara, Fakultas Hukum, Universitas Jember (UNEJ) Jln. Kalimantan 37, Jember 68121

Rosita Indrayati

Hukum Tata Negara, Fakultas Hukum, Universitas Jember (UNEJ) Jln. Kalimantan 37, Jember 68121
Abstract
Tuntutan dana kampanye yang begitu besar ini menjadikan peserta pemilu harus berusaha menyiapkan dana. Dana yang digunakan peserta pemilu dapat berasal dari peserta pemilu maupun sumbangan yang sah menurut hukum dari pihak lain yang diatur oleh peraturan perundang-undangan. Namun, dari dana yang dikumpulkan muncul berbagai persoalan mengenai keabsahan dana tersebut, maupun pengaruh dana yang disumbangkan terhadap tanggung jawab peserta pemilu. Disamping partai politik membutuhkan dana besar untuk membiayai kampanye, di pihak lain besarnya dana kampanye yang disumbangkan pada partai politik membuat partai politik terjebak dalam kepentingan penyumpang dan seakan melupakan kepentingan rakyat.
Kata Kunci: Pemilu, Dana Kampanye, Peserta Pemilu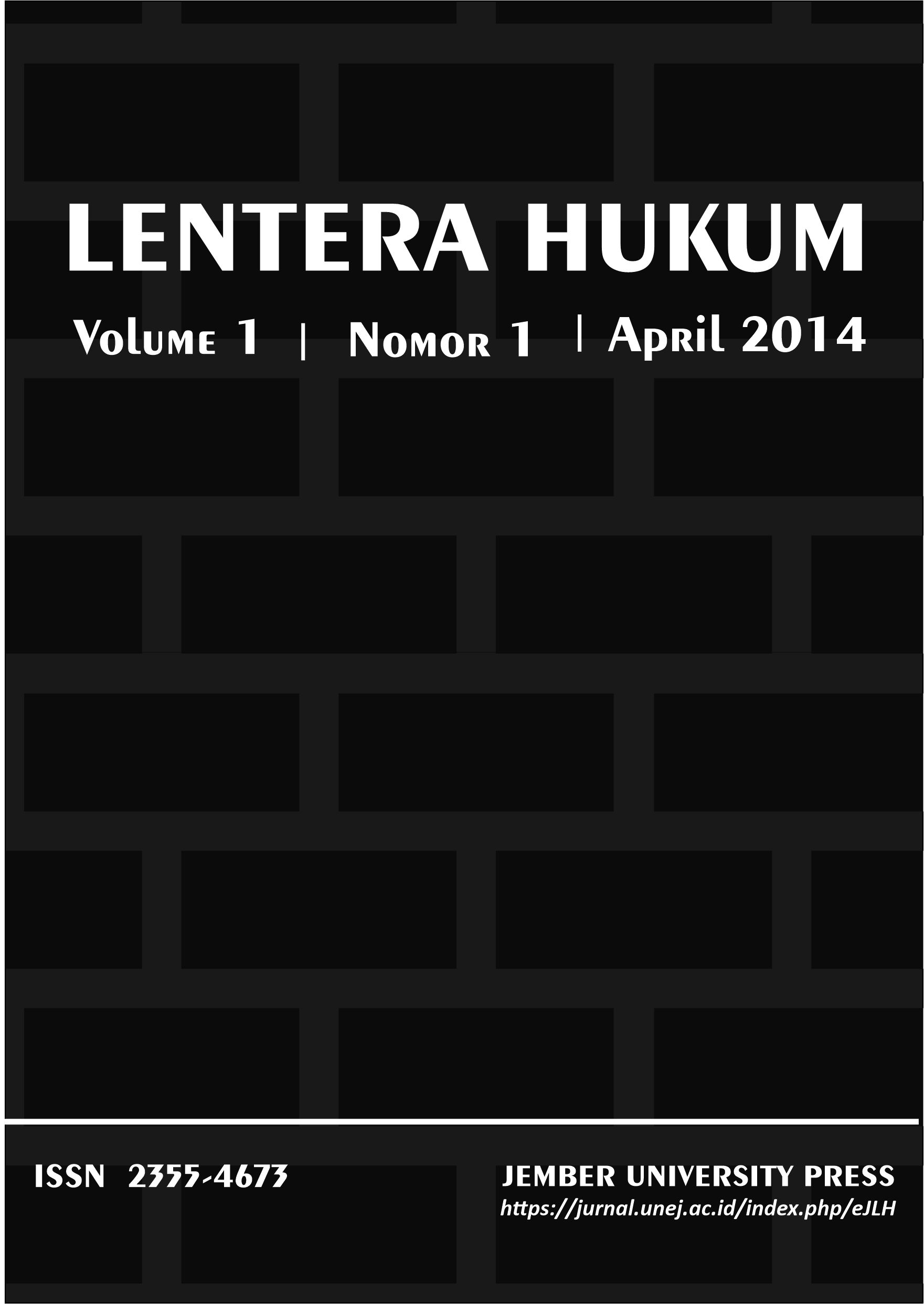 How to Cite
ANJALLINE, Irwan; ANGGRAINI, R.A. Rini; INDRAYATI, Rosita. PENGATURAN DANA KAMPANYE PEMILIHAN UMUM SEBAGAI TANGGUNG JAWAB CALON ANGGOTA LEGISLATIF BERDASARKAN UNDANG- UNDANG NOMOR 8 TAHUN 2012 TENTANG PEMILIHAN UMUM ANGGOTA DEWAN PERWAKILAN RAKYAT, DEWAN PERWAKILAN DAERAH, DAN DEWAN PERWAKILAN RAKYAT DAERAH.
Lentera Hukum
, [S.l.], v. 1, n. 1, p. 42-53, mar. 2014. ISSN 2621-3710. Available at: <
https://jurnal.unej.ac.id/index.php/eJLH/article/view/564
>. Date accessed: 21 nov. 2019. doi:
https://doi.org/10.19184/ejlh.v1i1.564
.
All articles published in this Journal are personal views of the authors and do not represent the views of this journal and the author's affiliated institutions. Article copyrights are with the Author(s), the publishing copyright is with the Publisher. This work licensed under a Creative Commons Attribution-ShareAlike 4.0 International (CC BY-SA 4.0), Under the following terms:
* Attribution — You must give appropriate credit, provide a link to the license, and indicate if changes were made. You may do so in any reasonable manner, but not in any way that suggests the licensor endorses you or your use.
* ShareAlike — If you remix, transform, or build upon the material, you must distribute your contributions under the same license as the original.