ANALISIS YURIDIS PENJATUHAN PIDANA OLEH HAKIM DALAM TINDAK PIDANA KORUPSI(Putusan Nomor : 2031 K/PID.SUS/2011)
Gress Gustia Adrian Pah

Hukum Pidana, Fakultas Hukum, Universitas Jember (UNEJ) Jln. Kalimantan 37, Jember 68121

Echwan Iriyanto

Hukum Pidana, Fakultas Hukum, Universitas Jember (UNEJ) Jln. Kalimantan 37, Jember 68121

Laely Wulandari

Hukum Pidana, Fakultas Hukum, Universitas Jember (UNEJ) Jln. Kalimantan 37, Jember 68121
Abstract
Korupsi adalah penyelewengan tugas dan penggelapan uang negara atau perusahaan untuk keuntungan pribadi maupun orang lain. Korupsi senantiasa melibatkan lebih dari satu orang. Setiap tindakan korupsi mengandung penipuan dan biasa terjadi pada badan publik atau masyarakat umum. Penyebab adanya tindakan korupsi berasal dari aspek individu, organisasi, dan peraturan yang ada.Dampak dari tindakan korupsi dapat merusak perekonomian negara, demokrasi dan kesejahteraan umum. Lahirnya Undang-undang Nomor 31 tahun 1999 sebagaimana diubah dengan undang-undang nomor 20 tahun 2001 tentang perubahan atas undang-undang nomor 31 tahun 1999 Tentang Pemberantasan Tindak Pidana Korupsi dengan adanya ancaman pidana minimum khusus, pidana denda yang lebih tinggi, dan ancaman pidana mati yang merupakan pemberatan pidana, pemberian ancaman pidana minimal khusus dalam UUPTPK adalah untuk memberikan efek jera kepada koruptor dan mencegah potensi terjadinya korupsi, oleh karena itu perimbangan Hakim dalam penjatuhkan putusan seyogyannya berpedoman dari ketentuan yang sudah di atur di dalam UUPTPK yang sudah memberikan ketentuan acaman pidana minimal khusus dalam pelaku tindak pidana korupsi.
Kata Kunci: Korupsi, Ancaman Pidana Minimal Khusus, Pertimbangan Hakim.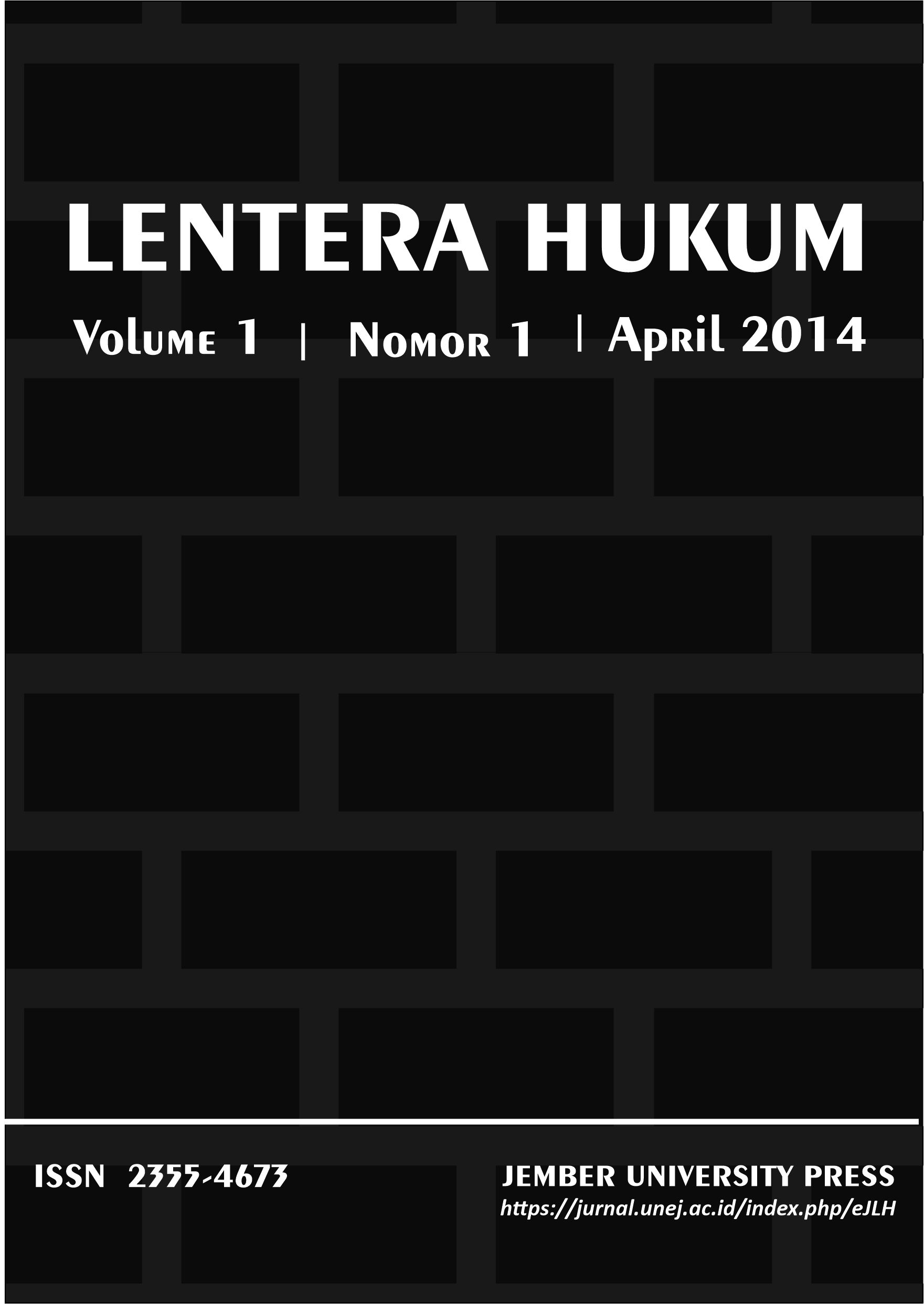 LENTERA HUKUM has CC-BY-SA or an equivalent license as the optimal license for the publication, distribution, use, and reuse of scholarly work. Authors who publish with this journal agree to the following terms:
1. Authors retain copyright and grant the journal right of first publication with the work simultaneously licensed under a Creative Commons Attribution-ShareAlike 4.0 International License that allows others to share the work with an acknowledgment of the work's authorship and initial publication in this journal.
2. Authors are able to enter into separate, additional contractual arrangements for the non-exclusive distribution of the journal's published version of the work (e.g., post it to an institutional repository or publish it in a book), with an acknowledgment of its initial publication in this journal.
3. Authors are permitted and encouraged to post their work online (e.g., in institutional repositories or on their website) prior to and during the submission process, as it can lead to productive exchanges, as well as earlier and greater citation of published work (See The Effect of Open Access).

You are free to:
Share — copy and redistribute the material in any medium or format.
Adapt — remix, transform, and build upon the material for any purpose, even commercially.

The licensor cannot revoke these freedoms as long as you follow the license terms.



LENTERA HUKUM licensed under a Creative Commons Attribution-ShareAlike 4.0 International License.