KAJIAN YURIDIS TENTANG IZIN PEDAGANG KAKI LIMA DI JALAN JAWA UNTUK MEWUJUDKAN PENYELENGGARAAN PEMERINTAHAN YANG BAIK (GOOD GOVERNANCE) DI WILAYAH KABUPATEN JEMBER
Ryza Dwi Erlinda

Hukum Tata Negara, Fakultas Hukum, Universitas Jember (UNEJ) Jln.Kalimantan 37, Jember 68121

Asmara Budi Dyah Darma Sutji

Hukum Tata Negara, Fakultas Hukum, Universitas Jember (UNEJ) Jln.Kalimantan 37, Jember 68121

Rosita Indrayati

Hukum Tata Negara, Fakultas Hukum, Universitas Jember (UNEJ) Jln.Kalimantan 37, Jember 68121
Abstract
Perkembangan Pedagang Kaki Lima (PKL) di Jalan Jawa tidak terelakkan perkembangannya dari tahun ke tahun semakin banyak dan padat seiring dengan keberadaan mahasiswa yang semakin banyak menuntut ilmu di Universitas Jember. Kadangkala keberadaan Pedagang Kaki Lima tersebut menimbulkan ketidaknyamanan terhadap jalannya lalu lintas disekitar. Pemerintah daerah dalam hal ini mempunyai kewenangan mengatur permasalahan tersebut untuk mewujudkan Pemerintahan yang Baik (Good Governance) sesuai dengan asas-asas penyelenggaraan Pemerintahan yang Baik (AUPB). Penelitian ini bertujuan untuk mengetahui tentang tindakan pemerintah yang dilakukan untuk menangani permasalahan Pedagang Kaki Lima, kemudian bagaimanakah fakta di masayrakat khususnya mengenai Pedagang Kaki Lima (PKL) apakah sesuai apa yang diatur dalam peraturan perundang-undangan yang berlaku yaitu apa yang diatur dalam Peraturan Daerah Nomor 6 tahun 2008 tentang Pedagang Kaki Lima.
Kata Kunci : Pedagang Kaki Lima, Tindakan Pemerintah, Izin, Pemerintahan yang Baik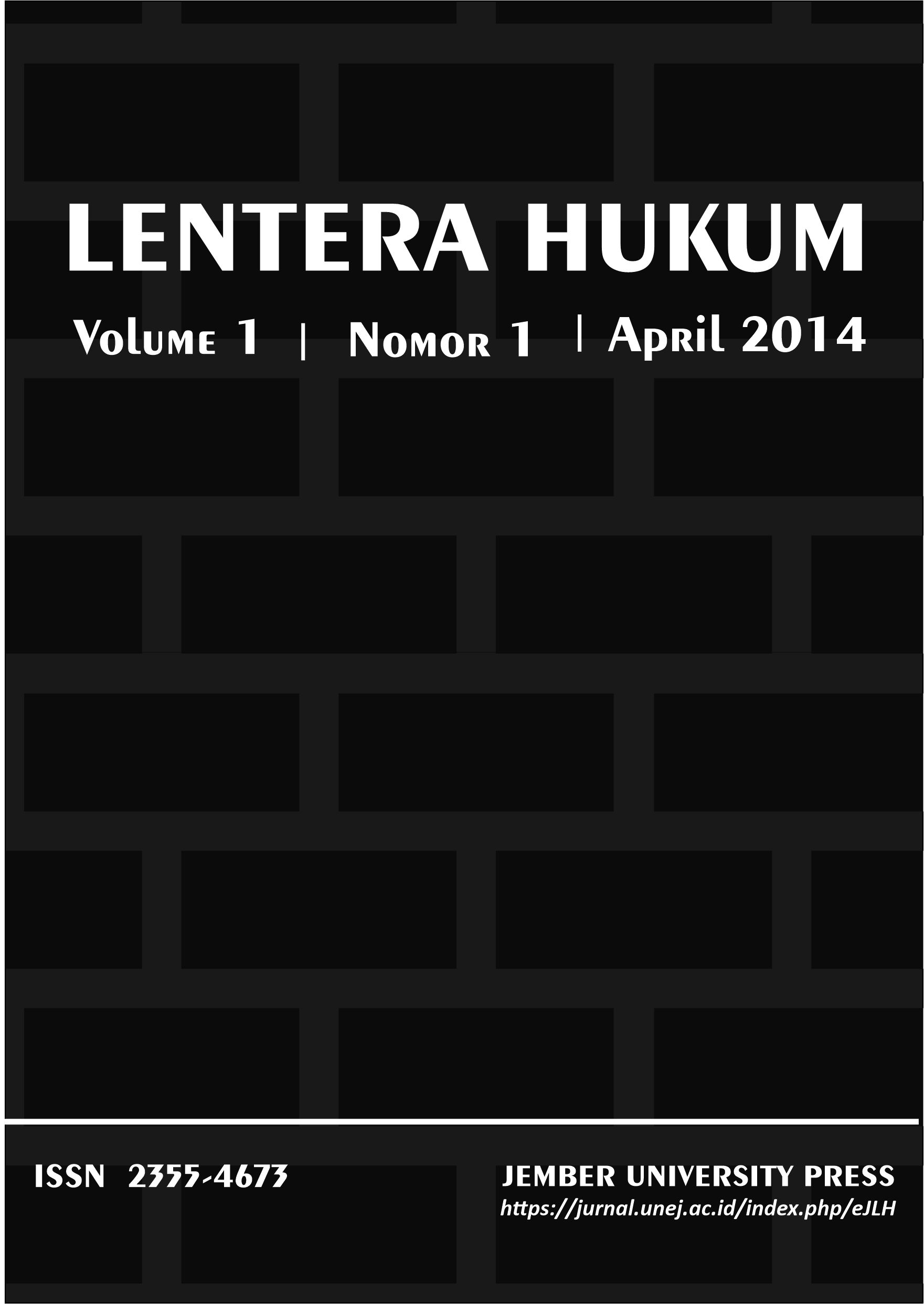 LENTERA HUKUM has CC-BY-SA or an equivalent license as the optimal license for the publication, distribution, use, and reuse of scholarly work. Authors who publish with this journal agree to the following terms:
1. Authors retain copyright and grant the journal right of first publication with the work simultaneously licensed under a Creative Commons Attribution-ShareAlike 4.0 International License that allows others to share the work with an acknowledgment of the work's authorship and initial publication in this journal.
2. Authors are able to enter into separate, additional contractual arrangements for the non-exclusive distribution of the journal's published version of the work (e.g., post it to an institutional repository or publish it in a book), with an acknowledgment of its initial publication in this journal.
3. Authors are permitted and encouraged to post their work online (e.g., in institutional repositories or on their website) prior to and during the submission process, as it can lead to productive exchanges, as well as earlier and greater citation of published work (See The Effect of Open Access).

You are free to:
Share — copy and redistribute the material in any medium or format.
Adapt — remix, transform, and build upon the material for any purpose, even commercially.

The licensor cannot revoke these freedoms as long as you follow the license terms.



LENTERA HUKUM licensed under a Creative Commons Attribution-ShareAlike 4.0 International License.