Analisis Yuridis Putusan Pemidanaan Terhadap Anak Sebagai Pelaku Turut Serta Melakukan Tindak Pidana Penyellundupan Manusia (Putusan Nomor : 167pid.Sus/2012/Pn.Ta) Juridicial Analysis Of Sentencing Decisions As A Child Act Was Involved In The Crime Of Hum
Dina Putri Hanifah

Hukum Pidana, Fakultas Hukum, Universitas Jember (UNEJ) Jln. Kalimantan 37, Jember 68121

Fanny Tanuwijaya

Hukum Pidana, Fakultas Hukum, Universitas Jember (UNEJ) Jln. Kalimantan 37, Jember 68121

Laely Wulandari

Hukum Pidana, Fakultas Hukum, Universitas Jember (UNEJ) Jln. Kalimantan 37, Jember 68121
Abstract
Anak sebagai generasi penerus bangsa adalah penerus perjuangan bangsa yang diberikan ilmu pengetahuan dan pengajaran. Undang-undang Nomor 3 tahun 1997 Pasal 1 ayat (1) tentang Pengadilan Anak, mengatur bahwa anak adalah orang yang dalam perkara Anak Nakal telah mencapai umur 8 (delapan) tahun tetapi belum mencapai umur 18 (delapanbelas) tahun dan belum pernah kawin. Anak tidak terlepas melakukan tindak pidana, pidana merupakan salah satu alat dan bukan tujuan dari hukum pidana, yang apabila dilaksanakan tiada lain adalah berupa penderitaan atau rasa tidak enak bagi yang berangkutan disebut terpidana. Yang salah satunya adalah turut serta melakukan tindak pidana oenyekunduoan manusia. Pengertian tindak pidana penyelundupan manusia sendiri adalah perbuatan kejahatan yang mencari untuk mendapat keuntungan langsung maupun tidak langsung keuntungan finansial atau materi lainnya dari masuknya seorang secara ilegal ke suatu bagian negara dimana orang tersebut bukanlah warga negara asli atau memiliki izin tinggal. Pengertian turutserta disini adalah turut sertanya seseorang atau lebih pada waktu seseorang lain melakukan tindak pidana. Di dalam pasal 55 KUHP jenis penyertaan yaitu pelaku atau Plegger, orang yang menyuruh melakukan (doenplegen), orang yang turut serta (medepleger), penganjur (uitlokker), pembantuan (medeplichtige). Pemidanaan anak di Indonesia haruslah sesuai dengan Undang-undang PengadilanAnak. Pemidanaan anak adalah suatu proses pemberian atau penjatuhan pidana kepada anak oleh hakim anak. Pidana penjara yang dapat dijatuhkan kepada anak nakal sebagaimana dimaksud dalam pasal 1 angka 2 huruf a, paling lama 1/2 ( satu per dua ) dari maksimum ancaman pidana penjarabagi orang dewasa.
Kata Kunci: Pemidanaan Anak, Tindak Pidana Penyelundupan Manusia, Putusan Nomor: 167/Pid.Sus/2012/PN.Ta)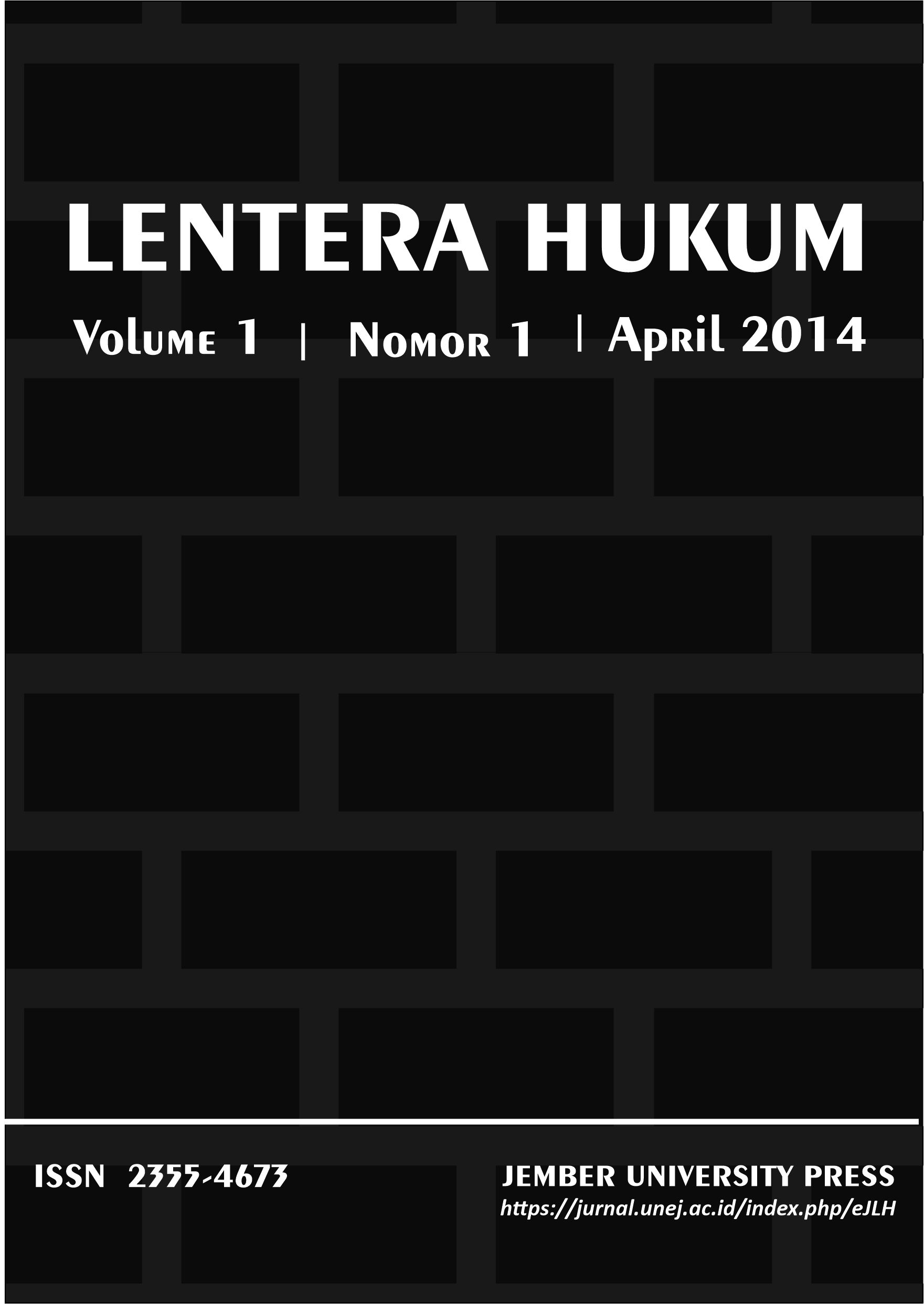 How to Cite
HANIFAH, Dina Putri; TANUWIJAYA, Fanny; WULANDARI, Laely. Analisis Yuridis Putusan Pemidanaan Terhadap Anak Sebagai Pelaku Turut Serta Melakukan Tindak Pidana Penyellundupan Manusia (Putusan Nomor : 167pid.Sus/2012/Pn.Ta) Juridicial Analysis Of Sentencing Decisions As A Child Act Was Involved In The Crime Of Hum.
Lentera Hukum
, [S.l.], v. 1, n. 1, p. 13-22, mar. 2014. ISSN 2621-3710. Available at: <
https://jurnal.unej.ac.id/index.php/eJLH/article/view/560
>. Date accessed: 26 july 2021. doi:
https://doi.org/10.19184/ejlh.v1i1.560
.
This work is licensed under a Creative Commons Attribution-ShareAlike 4.0 International License.
LENTERA HUKUM has CC-BY-SA or an equivalent license as the optimal license for the publication, distribution, use, and reuse of scholarly work. Authors who publish with this journal agree to the following terms:
1. Authors retain copyright and grant the journal right of first publication with the work simultaneously licensed under a Creative Commons Attribution-ShareAlike 4.0 International License that allows others to share the work with an acknowledgment of the work's authorship and initial publication in this journal.
2. Authors are able to enter into separate, additional contractual arrangements for the non-exclusive distribution of the journal's published version of the work (e.g., post it to an institutional repository or publish it in a book), with an acknowledgment of its initial publication in this journal.
3. Authors are permitted and encouraged to post their work online (e.g., in institutional repositories or on their website) prior to and during the submission process, as it can lead to productive exchanges, as well as earlier and greater citation of published work (See The Effect of Open Access).

You are free to:
Share — copy and redistribute the material in any medium or format.
Adapt — remix, transform, and build upon the material for any purpose, even commercially.

The licensor cannot revoke these freedoms as long as you follow the license terms.



All papers published in LENTERA HUKUM are licensed under a Creative Commons Attribution-ShareAlike 4.0 International License.