Kewenangan Pemerintah Daerah dan Partisipasi Masyarakat Dalam Pengelolaan Potensi Daerah
Mifta Farid

University of Jember

Antikowati Antikowati

University of Jember

Rosita Indrayati

University of Jember
Abstract
This article describes the relationship between the authority local governments and participation in the management of the potential of the region. The authors argue that local government has a broad authority within its jurisdiction to manage local potentials. One of the tasks borne by government is by following the country, namely hold some of the state as organization power, one of them is given to the public and private in publishing licensing. On one side, the role of the community is very important in the management of the potential of the region as a form of concern of the community development of area, then with the participation of the community hope to increase the income of the around and for the local government assets. On the other hand, residents as a their nets a an ongoing activity. Later in this article explain also forms of public participation in the management of the potential of the region. This article use the study literature regarding the authority local governments and the study legislation about the authority local governments that applies. The results of the study concluded that extent authority local governments one of which is the licensing on the management regional potential, on the other side, required public participation in the management of potential an area.
Keywords: Local Government, Public Participation, Local Potentials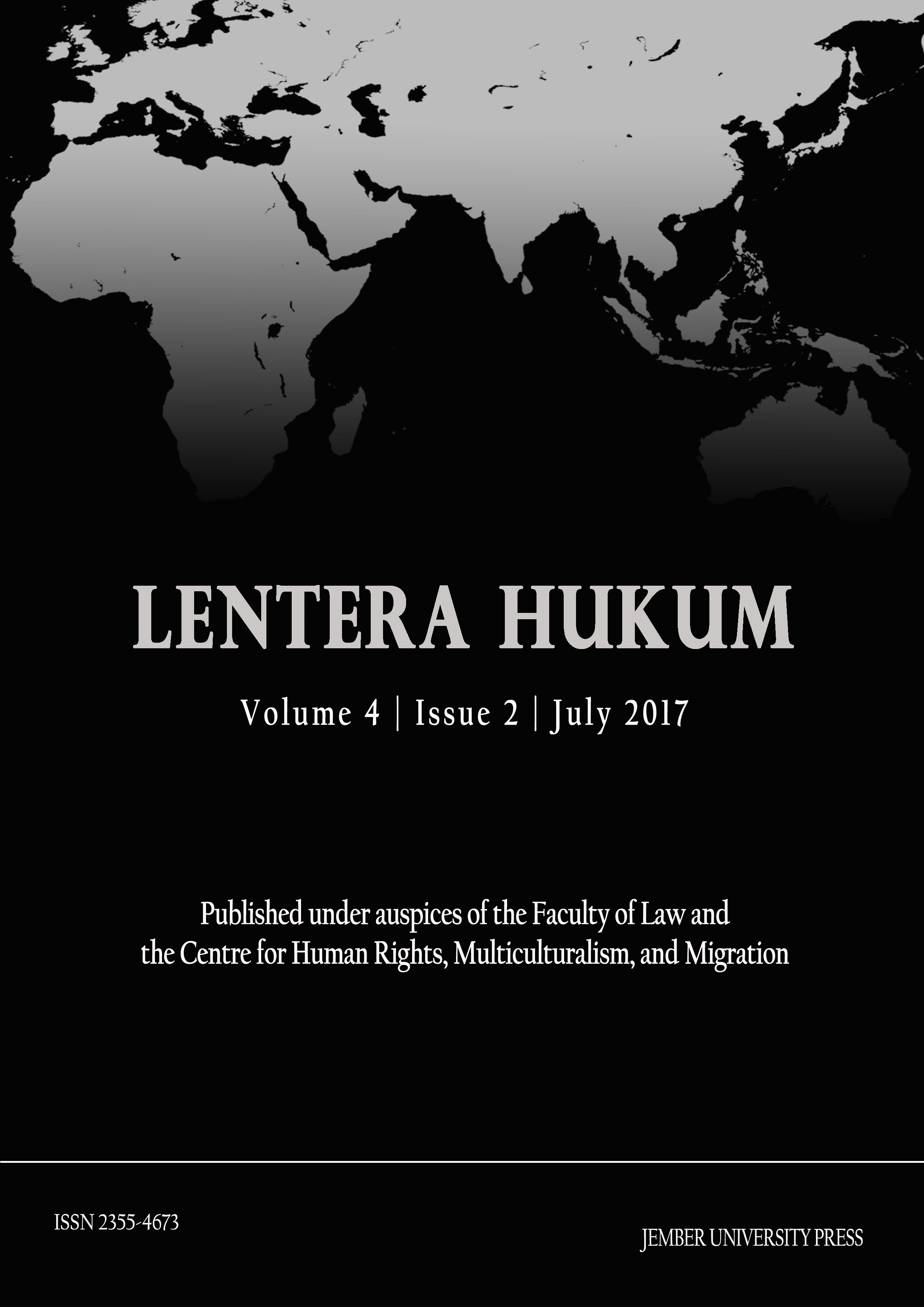 How to Cite
FARID, Mifta; ANTIKOWATI, Antikowati; INDRAYATI, Rosita. Kewenangan Pemerintah Daerah dan Partisipasi Masyarakat Dalam Pengelolaan Potensi Daerah.
e-Journal Lentera Hukum
, [S.l.], v. 4, n. 2, p. 71-84, aug. 2017. ISSN 2355-4673. Available at: <
https://jurnal.unej.ac.id/index.php/eJLH/article/view/5128
>. Date accessed: 19 sep. 2017.
Penulis yang mengusulkan naskahnya untuk dapat diproses penerbitannya pada Lentera Hukum dianggap telah menyetujui beberapa hal sebagai berikut:
1. Penulis tidak dapat menarik naskah yang telah usulkan untuk diproses hingga mendapat jawaban dari Ketua Dewan Penyunting atas status naskah artikel ilmiahnya (diterima atau ditolak untuk diterbitkan).
2. Penerbit tidak bertanggung jawab terhadap kasus plagiasi atas artikel yang terbit pada Lentera Hukum.
3. Penerbit tidak bertanggung jawab atas data dan isi dari artikel yang diterbitkan pada Lentera Hukum, dan sepenuhnya merupakan tanggung jawab penulis.
4. Penulis yang artikelnya diterbitkan pada Lentera Hukum menyetujui lisensi berikut:

Lentera Hukum by University of Jember is licensed under a Creative Commons Attribution-NonCommercial 4.0 International License.