Cerai Gugat Akibat Murtad (Studi Putusan Pengadilan Agama Palu No: 0249/Pdt.G/2016/PA.Pal)
Diana Aristanti

Universitas Jember

Dyah Ochtorina Susanti

Universitas Jember

Pratiwi Pusphitho Andini 

Universitas Jember
Abstract
 
Marriage can be over when one of the parties becomes apostate in which apostate may cause problems of housewifery. In this research, it argues that the judge adopts a verdict according to the Law Number 1/ 1974 and Compilation of Islamic Law. The article uses legal research which accords to the norms in the positive law including the judge decision. It concludes that apostate can affects the marriage and the children right to inheritance. Additionally, divorce may not be renewed except both conducts a new marriage. In pertaining to the children right to heritance, children could not inherit their apostate parent(s) because Islamic law determines that apostate can be the reason of losing the right to inheritance.
Keywords: Divorce, Apostate, Adjudication, Children Right to Inheritance.
References
Almanhaj, "Orang yang Tidak Berhak Mendapatkan Harta Waris" https:// almanhaj.or.id/ 2020orang-yang-tidak-berhak-mendapat-harta waris.html diakses pada 23 Desember 2016.
M. Yahya Harahap, Kedudukan Kewenangan dan Acara Peradilan Agama ( Undang-Undang No. 7 Tahun 1989) ( Jakarta: Pustaka Kartini, 1997).
Mustofa Hasan, Pengantar Hukum Keluarga (Bandung: Pustaka Setia, 2011).
Ria Kusuma Wardhani, Tesis, Kewenangan Pengadilan Agama Atas Gugatan Perceraian Yang Diajukan Oleh Suami Yang Tidak Beragama Islam Lagi, (Semarang: Program Studi Magister Kenotariatan Program Pascasajana Universitas Diponegoro, 2009).
Rizka Anugerah Marta, 2014, Pembagian Harta Waris Terhadap Cucu Berdasarkan Hukum Islam (Putusan Mahkamah Agung RI Nomor 981/K/AG/2013) Skripsi, Jember: Fakultas Hukum Universitas Jember.
Rusli Muhammad, Potret Lembaga Peradilan Indonesia, (Jakarta: Raja Grafindo, 2006).
Suara Merdeka, "Ustadz Menjawab Suami Murtad" http://berita. suaramerdeka.com/ smcetak/ ustadz-menjawab-suami-Murtad/ diakses pada tanggal 25 September 2016 pukul 21.03 WIB.
Thalib Al Hamdani, Risalah Nikah (Hukum Perkawinan Islam) (Jakarta: Pustaka Amani , 2002).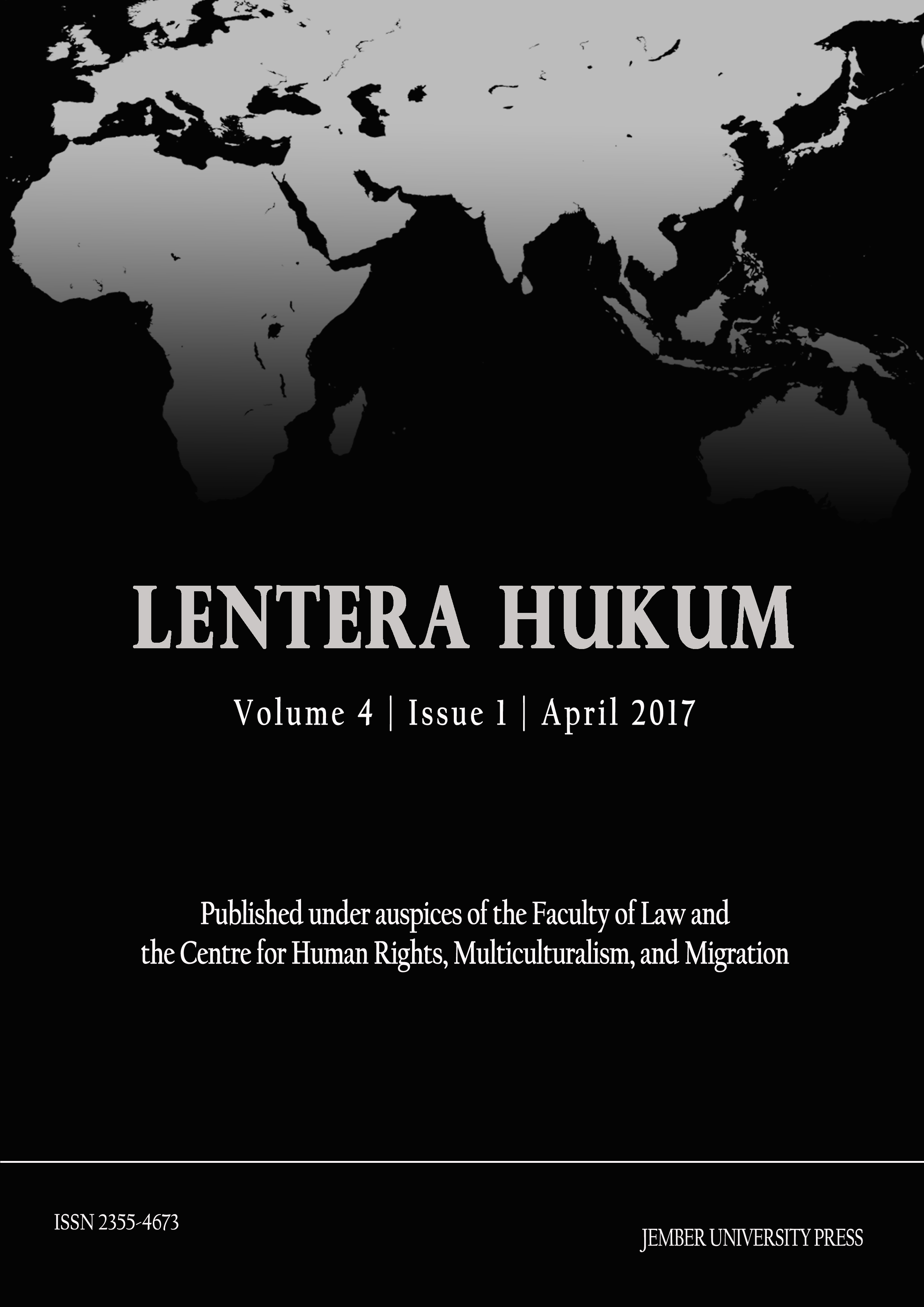 LENTERA HUKUM has CC-BY-SA or an equivalent license as the optimal license for the publication, distribution, use, and reuse of scholarly work. Authors who publish with this journal agree to the following terms:
1. Authors retain copyright and grant the journal right of first publication with the work simultaneously licensed under a Creative Commons Attribution-ShareAlike 4.0 International License that allows others to share the work with an acknowledgment of the work's authorship and initial publication in this journal.
2. Authors are able to enter into separate, additional contractual arrangements for the non-exclusive distribution of the journal's published version of the work (e.g., post it to an institutional repository or publish it in a book), with an acknowledgment of its initial publication in this journal.
3. Authors are permitted and encouraged to post their work online (e.g., in institutional repositories or on their website) prior to and during the submission process, as it can lead to productive exchanges, as well as earlier and greater citation of published work (See The Effect of Open Access).

You are free to:
Share — copy and redistribute the material in any medium or format.
Adapt — remix, transform, and build upon the material for any purpose, even commercially.

The licensor cannot revoke these freedoms as long as you follow the license terms.



LENTERA HUKUM licensed under a Creative Commons Attribution-ShareAlike 4.0 International License.