Risk Mitigation of Disease Pandemic in the Indonesian Banking Industry: In Response to COVID-19
Nikmah Mentari

Center for Local Law Development Studies, Indonesia

Uni Tsulasi Putri

Universitas Ahmad Dahlan, Indonesia
Abstract
As an intermediary institution, the banking industry plays a critical function in the economy. Unpredictable conditions such as disease pandemic, exemplified from the unprecedented COVID-19 outbreak, result in loss to the banking industry due to the weakening of the national economy. In the future, then, the banking industry requires early preventive action for a similar case through specific risk mitigation towards disease pandemic. This paper aims to discuss the urgency of the risk mitigation towards the pandemic in the banking industry, following the risk mitigation scheme in facing the pandemic with its relevant regulation. This paper shows that the pandemic's responsive risk mitigation has become essential to strengthen the banking's intermediary function and performance during the pandemic. The existing risk mitigation regulation solely relates to the non-performing loan in normal conditions. In the meantime, disease pandemic like COVID-19 is excluded because it is beyond the normal situation. Its adverse impact has leveraged more significant extent due to emergency conditions. In case of a disease pandemic, the bank can soon take early preventive action before the pandemic strikes within the domestic territory without waiting for central government-specific regulation, but it should. However, it remains practiced under the relevant laws.
KEYWORDS: Risk Mitigation, Disease Pandemic, COVID-19, Banking Industry, Indonesia.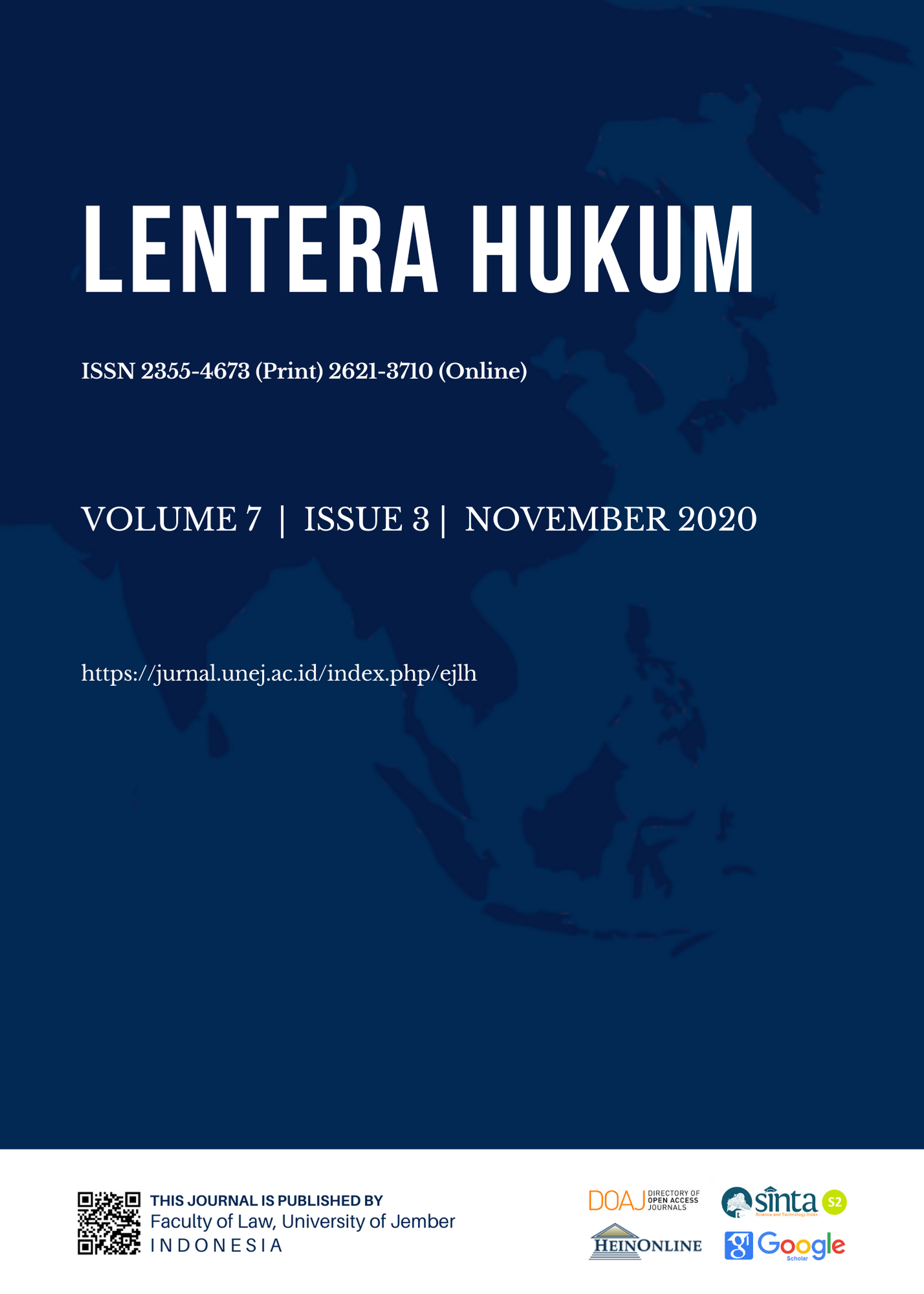 This work is licensed under a Creative Commons Attribution-ShareAlike 4.0 International License.
LENTERA HUKUM has CC-BY-SA or an equivalent license as the optimal license for the publication, distribution, use, and reuse of scholarly work. Authors who publish with this journal agree to the following terms:
1. Authors retain copyright and grant the journal right of first publication with the work simultaneously licensed under a Creative Commons Attribution-ShareAlike 4.0 International License that allows others to share the work with an acknowledgment of the work's authorship and initial publication in this journal.
2. Authors are able to enter into separate, additional contractual arrangements for the non-exclusive distribution of the journal's published version of the work (e.g., post it to an institutional repository or publish it in a book), with an acknowledgment of its initial publication in this journal.
3. Authors are permitted and encouraged to post their work online (e.g., in institutional repositories or on their website) prior to and during the submission process, as it can lead to productive exchanges, as well as earlier and greater citation of published work (See The Effect of Open Access).

You are free to:
Share — copy and redistribute the material in any medium or format.
Adapt — remix, transform, and build upon the material for any purpose, even commercially.

The licensor cannot revoke these freedoms as long as you follow the license terms.



All papers published in LENTERA HUKUM are licensed under a Creative Commons Attribution-ShareAlike 4.0 International License.