Death Penalty in Indonesia: Revisiting the Debate Between the Retentionist and the Abolitionist
Abdul Jalil Salam

Ar-Raniry State Islamic University, Indonesia

Zahlul Pasha Karim

Ar-Raniry State Islamic University, Indonesia
Abstract
Historically, Indonesia's death penalty does not originate from religious doctrine but a series of democratization processes agreed upon in the legislation. Amidst these processes, two competing opinions respond to Indonesia's death penalty: the retentionist and the abolitionist. These different approaches to address the death penalty, whether imposed or abolished, result in competing perspectives and arguments in regulatory and practical issues both in the national and international arena. This study aimed to revisit the death penalty discourse in Indonesia that opposes the human approach by assuming that the death penalty violates human rights. The data were analyzed in three steps, among other things, unitization, comparison, and conclusion. This study showed that the death penalty remains relevant to Indonesia despite the long struggle of its rejection. It concluded that Indonesia's imposition of the death penalty is regarded as worth defending, with specific and selective applications. The specific application means that the death penalty is applicable for corruptors, drug dealers, terrorists, gross human rights violators, and premeditated murders. Selective application means that a convict sentenced to death must be proven in court with a level of accuracy considered and accepted in law.
KEYWORDS: Death Penalty, Criminal Law, Right to Life, Indonesian Law.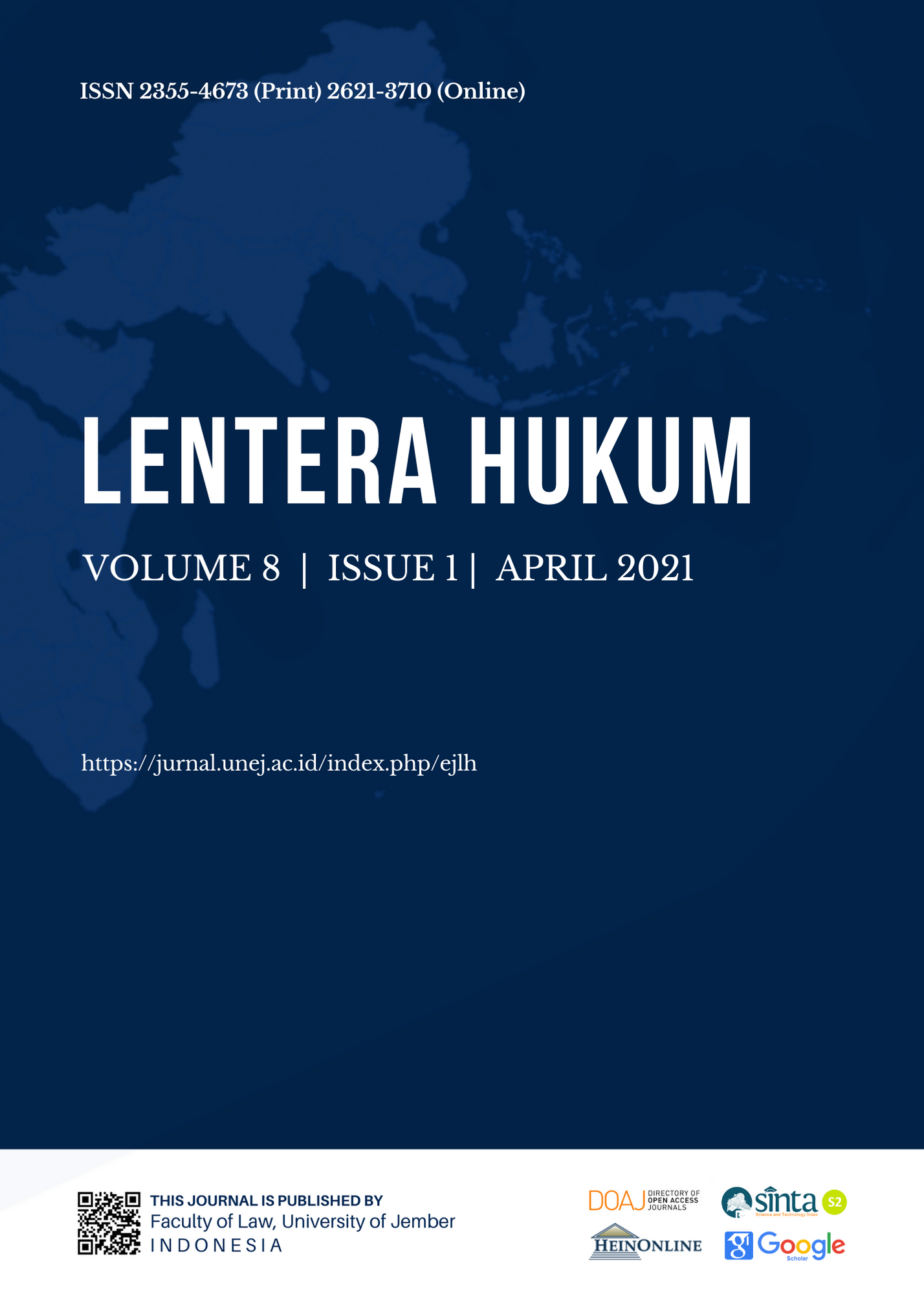 This work is licensed under a Creative Commons Attribution-ShareAlike 4.0 International License.
LENTERA HUKUM has CC-BY-SA or an equivalent license as the optimal license for the publication, distribution, use, and reuse of scholarly work. Authors who publish with this journal agree to the following terms:
1. Authors retain copyright and grant the journal right of first publication with the work simultaneously licensed under a Creative Commons Attribution-ShareAlike 4.0 International License that allows others to share the work with an acknowledgment of the work's authorship and initial publication in this journal.
2. Authors are able to enter into separate, additional contractual arrangements for the non-exclusive distribution of the journal's published version of the work (e.g., post it to an institutional repository or publish it in a book), with an acknowledgment of its initial publication in this journal.
3. Authors are permitted and encouraged to post their work online (e.g., in institutional repositories or on their website) prior to and during the submission process, as it can lead to productive exchanges, as well as earlier and greater citation of published work (See The Effect of Open Access).

You are free to:
Share — copy and redistribute the material in any medium or format.
Adapt — remix, transform, and build upon the material for any purpose, even commercially.

The licensor cannot revoke these freedoms as long as you follow the license terms.



All papers published in LENTERA HUKUM are licensed under a Creative Commons Attribution-ShareAlike 4.0 International License.