The Reverse Burden of Proof in Indonesia's Money Laundering: A Review
Adinda Putri Jade

Universitas Muhammadiyah Malang, Indonesia

Yaris Adhial Fajrin

Universitas Muhammadiyah Malang, Indonesia

Diah Nadia Putri

Universitas Muhammadiyah Malang, Indonesia

Aisya Sanghra Devi Nugraha

Universitas Muhammadiyah Malang, Indonesia
Abstract
Money laundering has become one of Indonesia's serious criminal offenses. Then, cases related to it should proceed under the specific regulation and procedure. In Indonesia, money laundering is a further crime preceded by predicate offenses. In practice, there are two main problems to apply in money laundering: first, the principles' difference between national and international criminal laws, and second, their norm contradiction. Although the money laundering crime is claimed to be a further crime, it is separated from the preceded crime in prosecution, investigation, and evidence. This study aims to review the juridical contention of the reverse burden of proof in money laundering by considering the existing challenges to apply the norms. This study confirms that there is a juridical problem in the reversal of proof mechanism in money laundering. Therefore, the government should harmonize the existing laws relating to the reverse of the burden of proof in money laundering. It is essential to reform the existing regulations by harmonizing laws related to this case. It considers the existing fragmented criminal provisions set out in the Criminal Code and special laws to indicate serious crimes. This harmonization contributes to restoring the return of the state's losses resulted from this crime. Regulatory reform is inevitable. The government then needs to strengthen diplomatic relations with other countries, especially to enforce national laws through Mutual Legal Assistance (MLA) and extradition of money laundering perpetrators.
KEYWORDS: Indonesian Money Laundering, Money Laundering Act, Reverse Burden of Proof.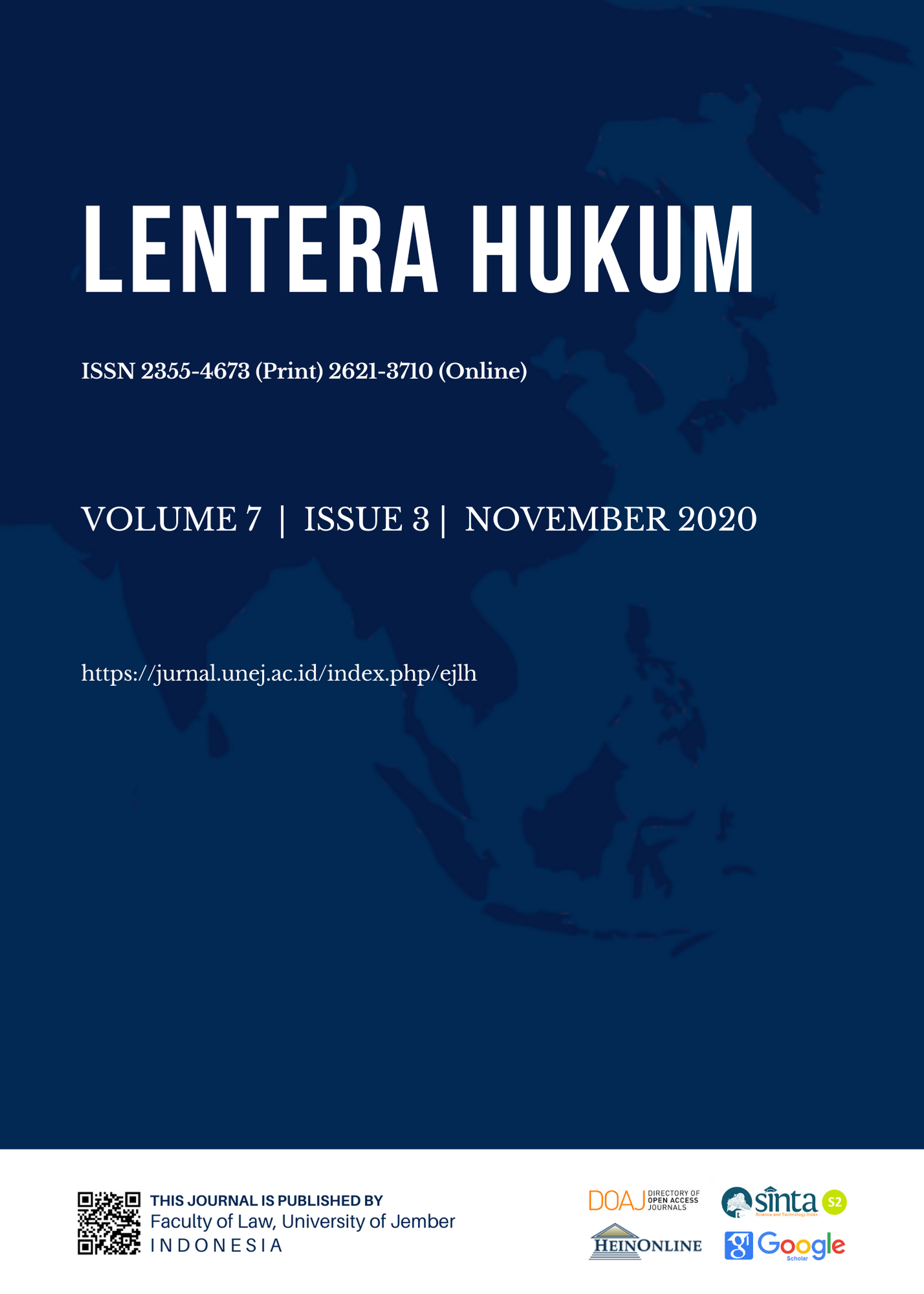 This work is licensed under a Creative Commons Attribution-ShareAlike 4.0 International License.
LENTERA HUKUM has CC-BY-SA or an equivalent license as the optimal license for the publication, distribution, use, and reuse of scholarly work. Authors who publish with this journal agree to the following terms:
1. Authors retain copyright and grant the journal right of first publication with the work simultaneously licensed under a Creative Commons Attribution-ShareAlike 4.0 International License that allows others to share the work with an acknowledgment of the work's authorship and initial publication in this journal.
2. Authors are able to enter into separate, additional contractual arrangements for the non-exclusive distribution of the journal's published version of the work (e.g., post it to an institutional repository or publish it in a book), with an acknowledgment of its initial publication in this journal.
3. Authors are permitted and encouraged to post their work online (e.g., in institutional repositories or on their website) prior to and during the submission process, as it can lead to productive exchanges, as well as earlier and greater citation of published work (See The Effect of Open Access).

You are free to:
Share — copy and redistribute the material in any medium or format.
Adapt — remix, transform, and build upon the material for any purpose, even commercially.

The licensor cannot revoke these freedoms as long as you follow the license terms.



All papers published in LENTERA HUKUM are licensed under a Creative Commons Attribution-ShareAlike 4.0 International License.