Legal Aspects of Artificial Intelligence on Automated Decision-Making in Indonesia
Lessons from the European Union, the United States, and China
Denindah Olivia

Universitas Padjadjaran, Indonesia
Abstract
This paper analyzes the importance of Indonesia's comprehensive legal framework on automated decision-making empowered by Artificial Intelligence, comparing it to the European Union, the United States, and China. Specifically, this paper inquires about the status quo of the legal protection of automated decision-making In Indonesia. The analysis highlights profiling in an automated decision-making system with the following discussion about personal data protection. In this context, the European Union's member states set out the General Data Protection Regulation (GDPR) that prohibits automated decision-making to a certain extent. In the United States, the practice of automated decision-making is rather usual. Simultaneously, China takes an exceptional measure instead and develops this automation through a social credit system. The analysis concludes that Indonesia has weak legal protection towards personal data and profiling, which later becomes the basis in facilitating automated decision-making. The provision of automated decision-making and profiling is the absolute bare minimum to Indonesia's Personal Data Protection Bill due to insufficient legal certainty. In the end, it is paramount for lawmakers to consider a comprehensive regulation on automated decision-making by adopting the European Union's GDPR framework.
KEYWORDS: Artificial Intelligence, Automated Decision-Making, Personal Data Protection.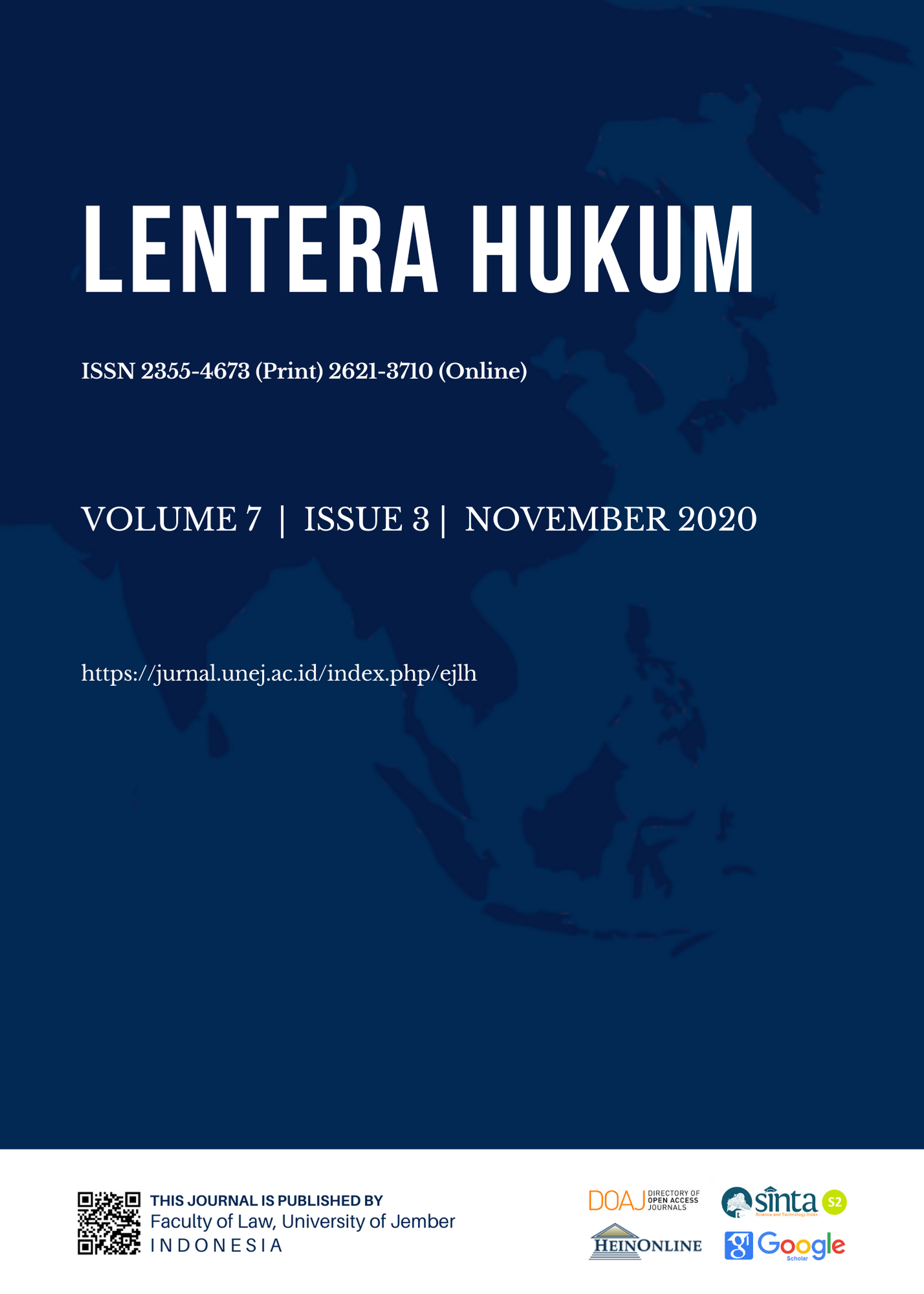 This work is licensed under a Creative Commons Attribution-ShareAlike 4.0 International License.
LENTERA HUKUM has CC-BY-SA or an equivalent license as the optimal license for the publication, distribution, use, and reuse of scholarly work. Authors who publish with this journal agree to the following terms:
1. Authors retain copyright and grant the journal right of first publication with the work simultaneously licensed under a Creative Commons Attribution-ShareAlike 4.0 International License that allows others to share the work with an acknowledgment of the work's authorship and initial publication in this journal.
2. Authors are able to enter into separate, additional contractual arrangements for the non-exclusive distribution of the journal's published version of the work (e.g., post it to an institutional repository or publish it in a book), with an acknowledgment of its initial publication in this journal.
3. Authors are permitted and encouraged to post their work online (e.g., in institutional repositories or on their website) prior to and during the submission process, as it can lead to productive exchanges, as well as earlier and greater citation of published work (See The Effect of Open Access).

You are free to:
Share — copy and redistribute the material in any medium or format.
Adapt — remix, transform, and build upon the material for any purpose, even commercially.

The licensor cannot revoke these freedoms as long as you follow the license terms.



All papers published in LENTERA HUKUM are licensed under a Creative Commons Attribution-ShareAlike 4.0 International License.