Examining Recall of the House Member: How Does It Impact on Eradicating Corruption in Indonesia?
Jayus Jayus

University of Jember, Indonesia

Muhammad Bahrul Ulum

University of Jember, Indonesia

Moch. Marsa Taufiqurrohman

University of Jember, Indonesia
Abstract
This study aims to discuss the existing contentious recall policy that becomes the legitimate reason to replace or retire the House member proposed by political parties. The discussion also examines to what extent recall, in practice, whether it enables the promotion of Indonesia's anti-corruption agenda. Through the recall, political parties can withdraw their members in the House, either in the form of dismissal or changing positions before the end of the term of office of members who sit in the House of representatives. This study finds that the existing recall policy impedes democracy and negates how to eradicate corruption in Indonesia. As a result, the current policy needs an option to ensure that recall will work as it is expected. Therefore, this alternative should include constituents to propose recall, which will disrupt the existing parties' domination, resulted in a more participatory system, and it reflects the more reciprocal ways to link people, parties, and the House in Indonesian politics. The judiciary's role is another essential aspect to highlight, in which the process and settlement of the recall may involve the Constitutional Court as the hub of the political and constitutional settlement.
KEYWORDS: Indonesian Democracy, Anti-Corruption Agenda, Recall Policy, Political System.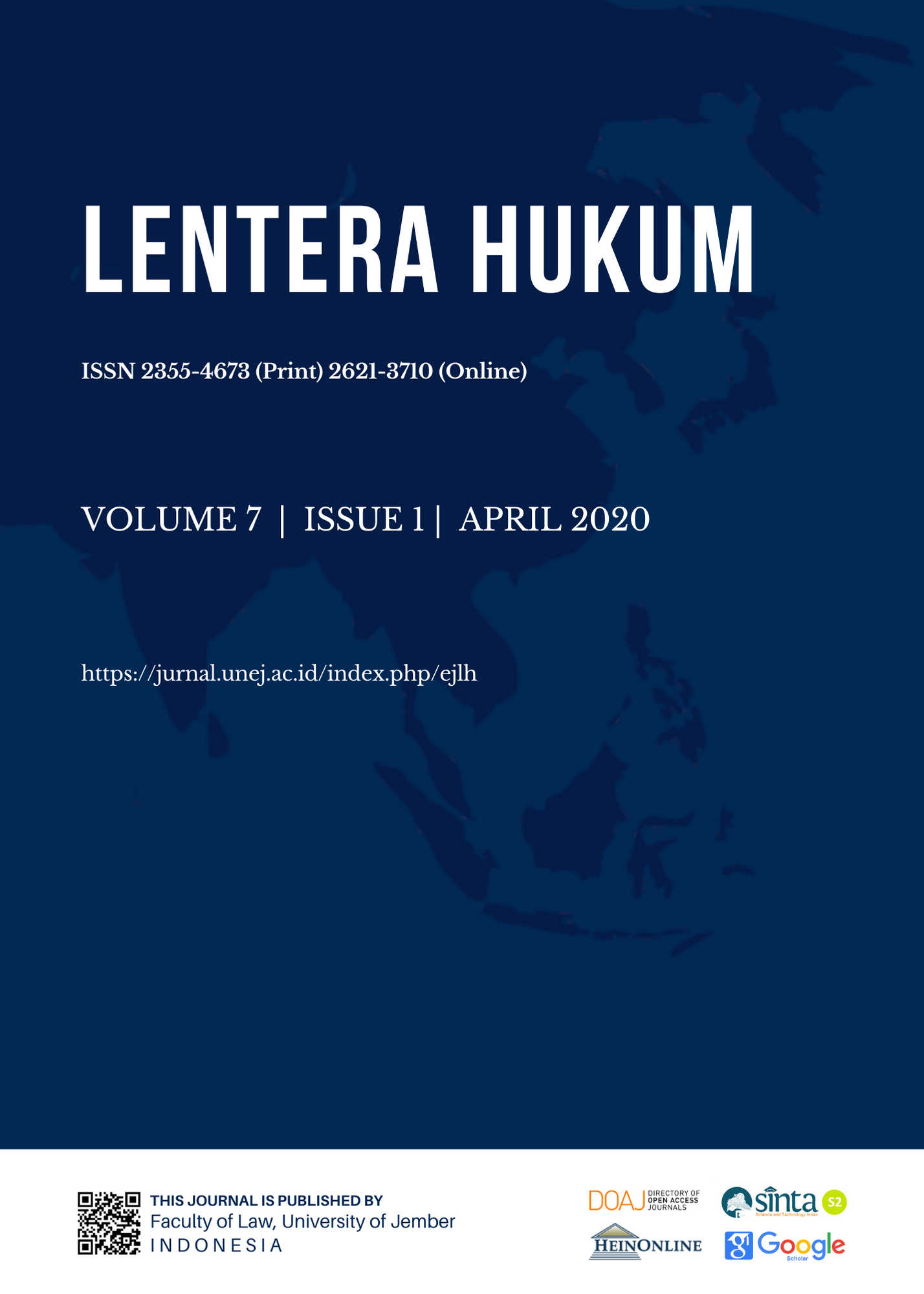 This work is licensed under a Creative Commons Attribution-ShareAlike 4.0 International License.
LENTERA HUKUM has CC-BY-SA or an equivalent license as the optimal license for the publication, distribution, use, and reuse of scholarly work. Authors who publish with this journal agree to the following terms:
1. Authors retain copyright and grant the journal right of first publication with the work simultaneously licensed under a Creative Commons Attribution-ShareAlike 4.0 International License that allows others to share the work with an acknowledgment of the work's authorship and initial publication in this journal.
2. Authors are able to enter into separate, additional contractual arrangements for the non-exclusive distribution of the journal's published version of the work (e.g., post it to an institutional repository or publish it in a book), with an acknowledgment of its initial publication in this journal.
3. Authors are permitted and encouraged to post their work online (e.g., in institutional repositories or on their website) prior to and during the submission process, as it can lead to productive exchanges, as well as earlier and greater citation of published work (See The Effect of Open Access).

You are free to:
Share — copy and redistribute the material in any medium or format.
Adapt — remix, transform, and build upon the material for any purpose, even commercially.

The licensor cannot revoke these freedoms as long as you follow the license terms.



All papers published in LENTERA HUKUM are licensed under a Creative Commons Attribution-ShareAlike 4.0 International License.