Garuda Indonesia-Rolls Royce Corruption, Transnational Crime, and Eradication Measures
Satria Unggul Wicaksana Prakasa

Universitas Muhammadiyah Surabaya, Indonesia
Abstract
The appointment of Emirsyah Satar, former President Director of PT Garuda Indonesia, and former Director of PT Mugi Rekso Abadi, Soetikno Soearjo who was the beneficial owner of Connaught International Pte. Ltd. as an intermediary for bribery against the Emirsyah in the alleged bribery case of aircraft and aircraft engine procurement from Airbus SAS and Rolls Royce PLC by PT. Garuda. Cross-border corruption carried out by Rolls-Royce is not only corruption committed by a private entity, but the case is also related to efforts to recognize the concept of Foreign Affairs Bribery as a new type of corruption. This research aims to find out the corruption as a transnational crime committed by multinational corporations and how inter-state cooperative actions can prosecute corruption cases. Legal questions raised are: (1) how can the United Nations Convention Against Corruption mechanism be used in exposing the Garuda Indonesia-Rolls Royce corruption case as a transnational crime, and (2) what legal remedies which can be applied to punish corruption committed between Garuda Indonesia-Rolls Royce? This study argues that, as part of transnational crime, of course, Garuda Indonesia and Rolls-Royce's corruption is an extraordinary crime that is not only detrimental to business practices but also the rule of law in Indonesia and other countries involved. Corruption done by Rolls-Royce, which involved Emirsyah Satar as a former director of Garuda Indonesia, has harmed Indonesia. Thus, Jurisdiction of criminal acts of corruption is needed.  It should be under the legal system of corruption eradication in Indonesia. There is a need for interpretation because Indonesia is part of the state which ratified UNCAC through Law No. 7 of 2006. Therefore, recognizing the Foreign Affairs Bribery concept as part of a judge's rechtvinding (finding of law) of the Criminal Court that multinational/transnational corporations comply with and respect the rule of law and eradication of corruption in Indonesia. It includes in making lex specialis (law governing a specific subject matter) related to Foreign Affairs Bribery so that similar cases do not occur in the future for Indonesia.
Keywords: Corruption, Transnational Crime, Garuda Indonesia, Rolls-Royce.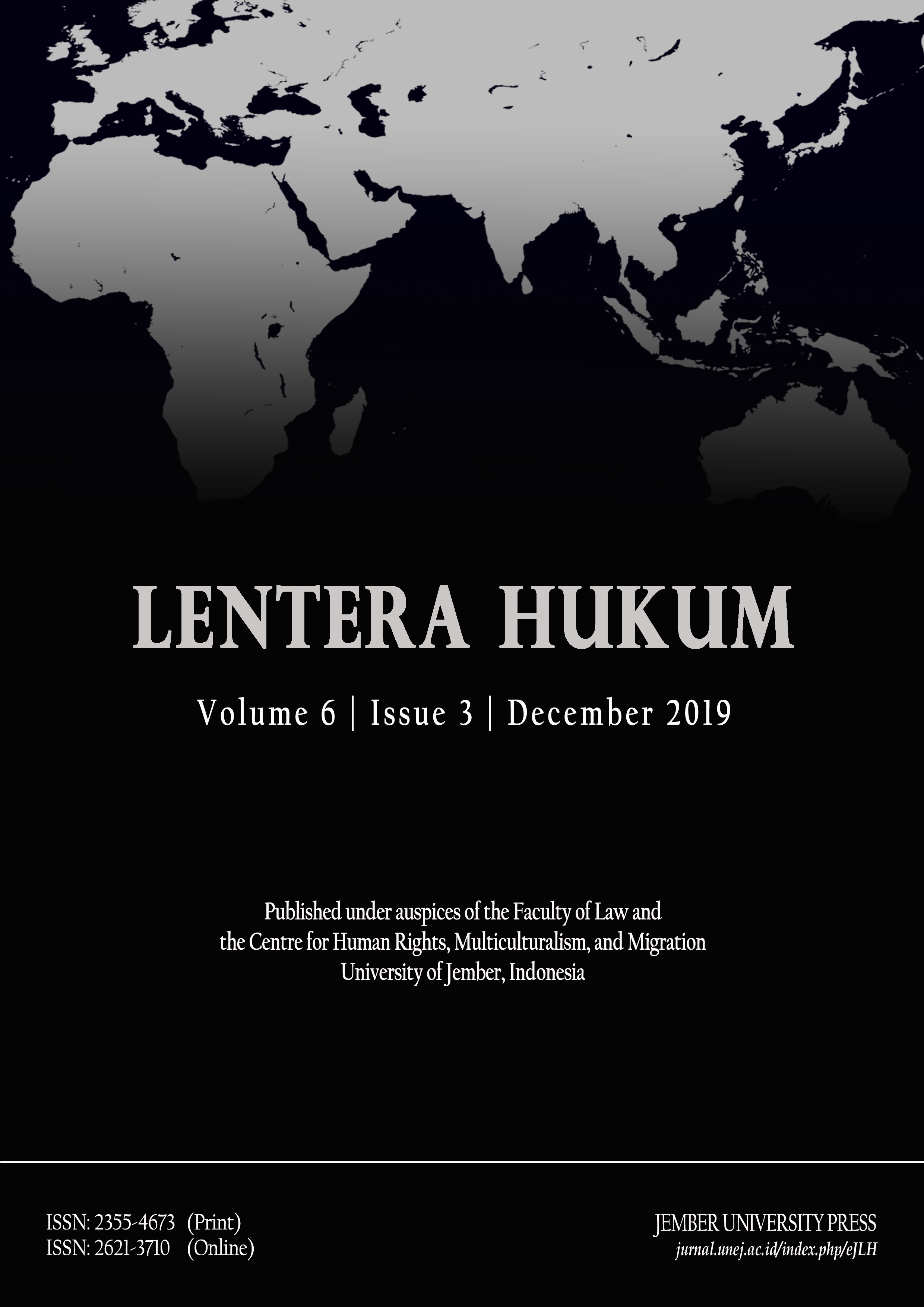 This work is licensed under a Creative Commons Attribution-ShareAlike 4.0 International License.
LENTERA HUKUM has CC-BY-SA or an equivalent license as the optimal license for the publication, distribution, use, and reuse of scholarly work. Authors who publish with this journal agree to the following terms:
1. Authors retain copyright and grant the journal right of first publication with the work simultaneously licensed under a Creative Commons Attribution-ShareAlike 4.0 International License that allows others to share the work with an acknowledgment of the work's authorship and initial publication in this journal.
2. Authors are able to enter into separate, additional contractual arrangements for the non-exclusive distribution of the journal's published version of the work (e.g., post it to an institutional repository or publish it in a book), with an acknowledgment of its initial publication in this journal.
3. Authors are permitted and encouraged to post their work online (e.g., in institutional repositories or on their website) prior to and during the submission process, as it can lead to productive exchanges, as well as earlier and greater citation of published work (See The Effect of Open Access).

You are free to:
Share — copy and redistribute the material in any medium or format.
Adapt — remix, transform, and build upon the material for any purpose, even commercially.

The licensor cannot revoke these freedoms as long as you follow the license terms.



All papers published in LENTERA HUKUM are licensed under a Creative Commons Attribution-ShareAlike 4.0 International License.