ASEAN E-Commerce Legal Framework and Alignment of Lao PDR: A Review
Phet Sengpunya

University of Pecs, Hungary
Abstract
In the era of digital technology, the internet has become a new channel for meeting and social interaction of people all around the world, and it has also become an essential platform for commercial activities, especially e-commerce. E-commerce has become a significant driving force for the growth of the economy for all regions around the world. For example, ASEAN, ICT, and e-commerce are recognized as an essential segment for regional integration. ASEAN developed its legal framework in order to promote and facilitate the development of ICT and the growth of e-commerce within the region. Unlike the European Union, ASEAN is not a supranational organization, and it cannot legislate for a whole community. Thus its e-commerce legal framework is developed by harmonizing the Member Countries' national laws into the regional legal system. This paper aims to introduce how ASEAN designs its legal framework for regional cooperation, with a focus on e-commerce. The paper presents how Lao PDR, as a member country of ASEAN, fulfills provisions agreed under the e-ASEAN framework to help understand the way ASEAN Member Countries undertake action to align with ASEAN e-commerce legal framework. To this end, this paper also provides an overview of the e-commerce of ASEAN as a whole and Lao PDR.
Keywords: ASEAN, Lao PDR, E-Commerce Legal Framework, Regional Legal System.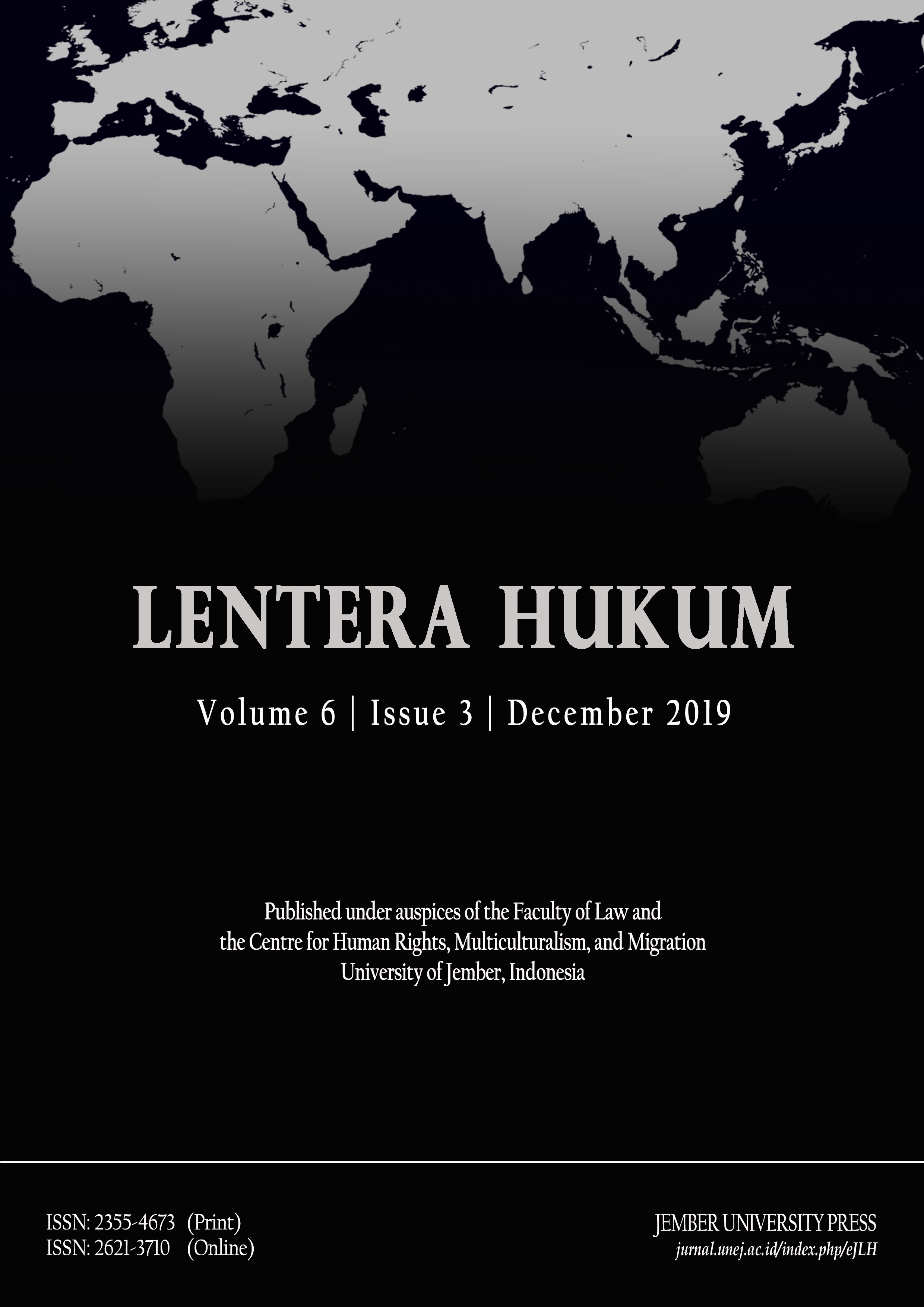 This work is licensed under a Creative Commons Attribution-ShareAlike 4.0 International License.
LENTERA HUKUM has CC-BY-SA or an equivalent license as the optimal license for the publication, distribution, use, and reuse of scholarly work. Authors who publish with this journal agree to the following terms:
1. Authors retain copyright and grant the journal right of first publication with the work simultaneously licensed under a Creative Commons Attribution-ShareAlike 4.0 International License that allows others to share the work with an acknowledgment of the work's authorship and initial publication in this journal.
2. Authors are able to enter into separate, additional contractual arrangements for the non-exclusive distribution of the journal's published version of the work (e.g., post it to an institutional repository or publish it in a book), with an acknowledgment of its initial publication in this journal.
3. Authors are permitted and encouraged to post their work online (e.g., in institutional repositories or on their website) prior to and during the submission process, as it can lead to productive exchanges, as well as earlier and greater citation of published work (See The Effect of Open Access).

You are free to:
Share — copy and redistribute the material in any medium or format.
Adapt — remix, transform, and build upon the material for any purpose, even commercially.

The licensor cannot revoke these freedoms as long as you follow the license terms.



All papers published in LENTERA HUKUM are licensed under a Creative Commons Attribution-ShareAlike 4.0 International License.